Dieses Event ist beendet.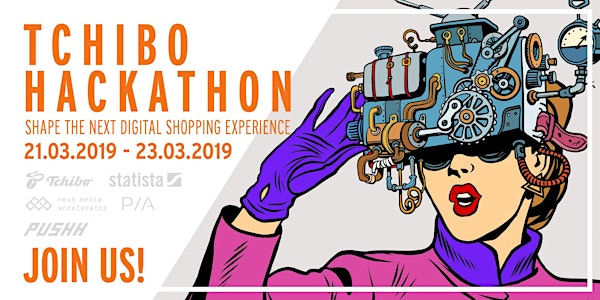 Tchibo.Hack - Shape the next digital shopping experience.
Zeit und Ort
Veranstaltungsort
Tchibo GmbH Headquarter Überseering 18 22297 Hamburg Germany
Karte und Wegbeschreibung
Beschreibung


WHAT THE HACK?
Tchibo is vastly associated with coffee-culture. We are sure you know very well the physical shops all around the country and abroad and, most likely, you ever bought something at Tchibo that was not coffee.
At #TchiboHack we are challenging you to think far beyond within the frame of a digitalized and extremely connected world.
Tchibo stands for inspiration, pre-selection, and emotional and personal interaction. There is coffee as one key pillar and non-food as a second, and apart from all relevant marketing touchpoints, Tchibo customers use the online shop, the physical shops, as well as the Tchibo branded shelf space in supermarkets.
In this hackathon, you have a wide range of topics to work on.
Think, for example:
How to improve and innovate the DIGITAL shopping experience.

How to make shopping at Tchibo more customized and enjoyable?

Is there anything missing in the online shop that would provide a better shopping experience and inspiration?

How to better connect the online shops with the physical shops?
This hackathon consists of two-and-a-half days. You will be given the opportunity to turn your ideas into real prototypes, meet like-minded people, have an entrepreneurial experience, eat, drink and win prizes.
WHO CAN COME?
EVERYONE IS WELCOME - The word "Hackathon" may sound too techy, but remember this is an event to explore, experiment and learn by turning together creative ideas into projects. You can be an avid coffee consumer, a shopping lover, an entrepreneur in the making or simply a curious mind. #innovateordie
SOUNDS COOL. HOW CAN I PRESENT MY IDEA?
Very easy. Every participant is given one minute of time, on Thursday afternoon, during the kick-off to present their idea to the rest of the crowd. Afterwards, we all get together in teams to start working.
DO I NEED TO HAVE AN IDEA TO PARTICIPATE?
NOPE. If you have one already that's great. If not, you can always join other teams and work on other projects. Gather with people that complement your perfect team. Ideally you are at least one developer, one designer and one business mind.
WHAT DOES IT COST ME?
Nothing, nada, zero. Everything we provide will be free, so you only need to worry about what you want to achieve over the weekend.
CAN I STAY OVERNIGHT?
The venue will be open 24 hours, so you can hack as much as you can take. There are also showers that can be used, so you can feel fresh before getting back to work.
WHAT DO I NEED TO BRING?
A laptop, at best an idea, and motivation. The rest you get from us!
Do not forget your chargers!
ARE THERE ANY API'S WE CAN USE?
Not only coffee and food will boost your work: you will also have access to API's from Tchibo and Statista to build your idea on.
PROGRAMM
//// 21. 03. 2019 ////
17:30 - Registration
18:00 - Opening Ceremony/ Welcome by Tchibo
18:30 - Orga Infos
19:00 - Presentation Ideas (max.1 Minute each)
19:30 - Team Building & Registration / Foods & Drinks
20:00 - Hacking Begins
Open End Working Hours
//// 22. 03. 2019 ////
9:00 - Breakfast
9:30 -13:00 - Working Hours & Mentorship
13:00 - Lunch
14:00-19:30 - Working hours & Mentorship
19:00 - Dinner
Open End Working Hours
//// 23 .03. 2019 ////
9:00 - Breakfast
11:00 - Submit your presentations!
13:00 - Lunch
14:00 - Closing Ceremony
15:00 - Jury - Deliberation
16:00 - Announcement winners
PRIZES
"Best Overall" - 1.500€ + Tchibo Coffee Box
"Most Innovative" - 500€ + Tchibo Coffee Box
"Best Omnichannel* Feature " - 1.000€ + Tchibo Coffee Box
*think of channel integration at it's best. Customers can simultaneously use multiple channels (on and offline) to boost their shopping experience.
JURY

Ines von Jagemann ( Member of the Mgmt Board Digital)
Dr. Phillip Andrée (Director Online Vertrieb)
Stefan Richter (Founder & CTO Freiheit)
Tobias Schlottke (Co-Founder OMR)
Christian Tiedemann (CEO PIA Group)
MENTORS
Serhat Kaya (Sales & Marketing)
Derek Wahl (Customer Development Sales, B2B, Enterprise)
David Aguirre (Creative Digital Strategy & Conception)
Sarah Lee (Design Print and Online, presentation)
Christoph Schepan (Tech & Product)
Christoph Kastaun (Head of Core Applications)
Daniel Moll (Senior Consultant Techn. & Integration)
Frerk Lätari (Head of Online Technology Engineering & Integration)
Christian Cramer (Head of Online Intelligence)
Christian Zweckerl (Head of Business Development OV)
Viktoria Tarnow (Head of CRM)
Sebastian Pieper (Head of X-Channel)