TCFA Roots & Blues Weekend
When and where
Location
Trumansburg Conservatory of Fine Arts Congress Street at McLallen St Trumansburg, NY 14886
Refund Policy
Contact the organizer to request a refund.
Description
The Trumansburg Conservatory of Fine Arts is pleased to host our second annual Acoustic Roots and Blues Workshop!
We have a spectacular faculty line-up for 2013:
Del Rey, Steve James and Peter LaVine
Classes will include:
Ukulele Blues Party. In this repertiore class Del Rey will teach blues and jazz songs from the 1920s and '30s that suit the ukulele, good for strumming or picking.
Fingerstyle Blues and Rags for the Ukulele. In this instrumental Del Rey will teach picking syncopated melodies and arranging tunes for ukulele.
Roots & Blues Fingerstyle. In these sessions with Steve James guitarists will learn fingerpicking and slide techniques not through dry exercises but by playing songs from James' own repertoire.
Flat Picking the Blues. In these sessions with Peter LaVine guitarists will learn how to flat-pick the blues, improve their understanding of the fretboard, and build improvisational skills.
All three are experienced instructors and awesome musicians. Come prepared with your instrument(s) to enjoy a weekend filled with small group classes, informal jamming sessions and a faculty concert! We've got a great weekend scheduled, and are really thrilled to be offering this workshop again in 2013.
Trumansburg is a beautiful little village near Ithaca, NY in the heart of the Finger Lakes region of New York State. It is near Taughannock Falls State Park, and accomodations are available in the village and nearby Ithaca.
Faculty
Del Rey


Del Rey started playing guitar when she was four. At the age of fourteen she was introduced to the world of traditional acoustic music. Lou Curtiss, proprietor of Folk Arts Rare Records and artistic director of the San Diego Folk Festival introduced her to living artists like Sam Chatmon, Lydia Mendoza and Howard Armstrong, and to recordings, especially those of the great blues guitarist Memphis Minnie. Her guitar playing is influenced by country blues, stride piano, classic jazz and hillbilly boogie-all filtered through the sensibility of an autodidact trailor-park aesthete.
Del Rey plays preforms and teaches internationally. She has recorded five solo albums and collaborated with Steve James, Suzy Thompson, Matt Weiner, The Yes Yes Boys and the Blues Gators on other records. She has written a number of magazine articles and instructional books for Acoustic Guitar Magazine and Homespun Tapes.
"Rey is one of the greatest modern players of the metal-bodied resonator guitar." Acoustic Guitar Magazine
"Del Rey is one of the most sublime modern guitarists " La Hora del Blues
"Whilst known for her amazing instrumental skills ... it should not be overlooked that she always provides a very entertaining show, full of variety, drama and humour." Blues In Britain
"To listen to Rey is to abandon all hope of ever viewing the world in the same comfortable way."
Dirty Linen Magazine
"The guitarist's guitarist's guitarist!" Adam Franklin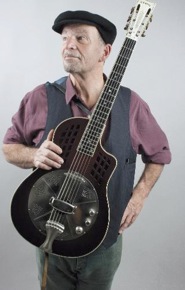 If Steve James is well known in the world of contemporary folk, blues and roots music, it's not because he has a high-power publicist. He has toured internationally and extensively, performing at festivals, concert venues and clubs and offering a variety of music workshops for the sizable "hands-on" contingent in his ferociously loyal audience. Steve has released six records on including "Short Blue Stories" in collaboration with Del Rey. In addition, he's created numerous instruction books, print lessons and articles, DVDs and on-line tutorials for guitar, slide guitar and mandolin for Acoustic Guitar and Homespun."Old-timey yet in the moment, traditional yet innovative, Steve James' guitar playing and songs will take you to places long gone as well as destinations you've never been to…and you don't even have to leave your chair to go to take his musical rides "Jody Denberg DJ at KUT Radio Austin
"Steve James is a great instrumentalist, a prolific composer, and a dynamic stage presence.He is one of the few contemporary songwriters to manage the neat trick of working within older traditions while consistently producing lyrics that sound fresh and smart rather than cute or nostalgic. His singing conveys both the depth and the humor of his material, and his live shows have a crackling energy that is light years away from the museum-style presentation of many acoustic blues revivalists. It's a hell of a show."Elijah Wald, Author of numerous books on American Roots and Blues music
"A true American hero" Third Coast Magazine
"...his songs possess the same charm as the older songs he performs." Washington Post
Peter LaVine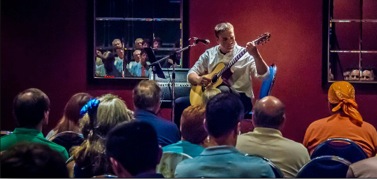 Instructor Peter LaVine has been teaching guitar in the for 8+ years in Central New York. He teaches in his private studio, at Cazenovia College, and has offered instruction through Guitar League. He is a contributor to the Guitar Foundation of America's Soundboard Magazine.
Peter is an accomplished player in many styles. At the 2013 Roots & Blues workshop, Peter will be focusing on flat-picking the blues.
Friday, April 12
7:30 PM Doors open for faculty concert
8:00 PM - 10:00 PM Faculty Concert (open to the public, no charge for workshop attendees)
Saturday, April 13
8:00 AM - 10:00 AM Workshop registration

10:30 AM - 12:00 PM Group classes

2:00 PM - 3:30 PM Group classes

4:00 PM - 5:30 PM 1 on 1 follow-ups with instructors

7:30 PM Student jam session
Sunday, April 14
10:30 AM - 12:00 PM Group classes

2:00 PM - 3:30 PM

Student performances (Open Mic)

4:00 PM - 5:30 PM

Group classes
5:30 PM Closing session
Accomodations in the Village of Trumansburg include:
Ithaca, NY is about 10 miles south of Trumansburg. There are many hotels and bed & breakfasts in Ithaca to choose from.