TCE Virginia Career & Biz ShowUp (ON AIR) @ http://YouTube.com/user/TheCareerEngineer/live

Multiple Dates
Event Details
 JOIN US FOR THE TCE's LIVE "Career & Biz" Broadcast 
 TCE Career & Biz ShowUp
and we are inviting
...the WORLD
Featuring TCE Virginia (Hampton Roads, Richmond, Roanoke) Area Members, Partners & Friends.  
---
Follow our TCE Spreecast Channel too! 
---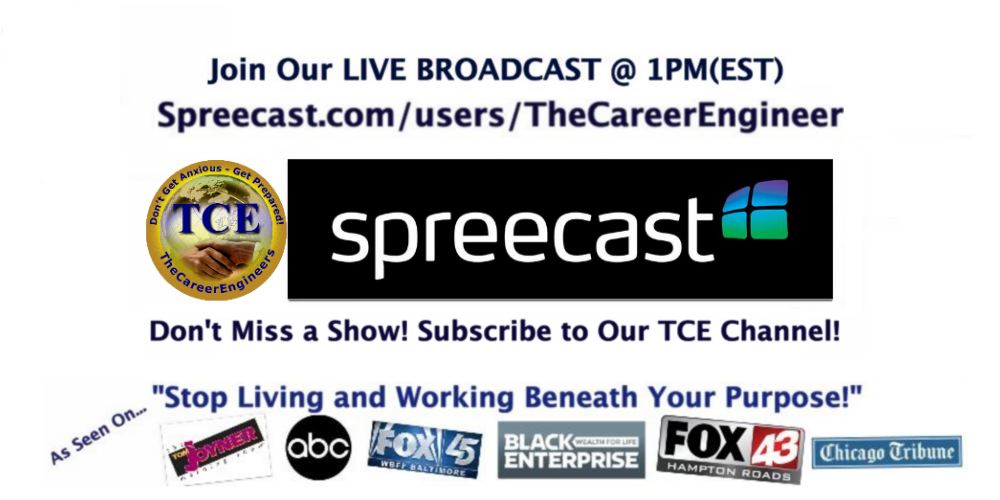 ---
TCE Broadcast is Sponsored By...
---
---
This Months Showcase:  Virginia (The Old Dominion) 
Meet our TCE Virginia Hosts, TCE Members,
Fans, Friends and  Partners  
---
---
TCE invites YOU to BECOME a Premium Member 
---
The Career Engineers Network (TCEN) "Where We Build REALationships"  is a unique networking community where employees, employers & entrepreneurs connect online & offline.
Our purpose is to bring America's workforce & the marketplace, "Real People", together for networking, business connections, personal empowerment and social enrichment.  Premium Biz Memberships Under $90 Bucks, Virtual & Career Memberships Under $50 bucks per year!  Join Today
Virginia Career & Biz ShowUp OFF-LINE Locations 
Shula's Richmond at the Hilton Richmond Hotel & Spa!    .
725 Bistro located inside the Chesapeake Marriott Hotel. 
---
The TCE Network is a "No Hustle Zone"
---
 Which means we don't support:  scam artist, secret selling(or net-recruiting promoted as networking), unethical business practices, lousy business dealings, high pressure sales pitches,  hidden business fees, network organizations that hustle versus help, folks who waste our time, ...you get the idea!     Francina R. Harrison, The Career Engineer 
Copyright @2007 - 2013 Francina R. Harrison, MSW.  All Rights Reserved
Have questions about TCE Virginia Career & Biz ShowUp (ON AIR) @ http://YouTube.com/user/TheCareerEngineer/live?
Contact The Career Engineer
Organizer
The Career Engineer
The Career Engineer® (TCE) TCEnow.com  & MyTCEnow.com Virginia based consulting firm established in 2003 that delivers entrepreneurial expertise in the area of career self-sustainability, workforce preparation and adult transitional services.  
TCE has re-engineered the careers of more than 10,000 adults during our career tenure with our unique career strategy, which includes (resume designs, coaching, eBranding social entrepreneurship). A Virginia double SWAM, retired military family owned business, TCE is well verse in the active duty services members, government employees transition and lifestyle. "Don't Get Anxious – Get Prepared."
As Seen on...
Monday, October 15, 2012 - 10:09 AM
On October 19, 2012 "America's Career Engineer" stops in Richmond to meeting "boutique style" with select professionals in the Richmond area.  Fresh from her visit to the DOL White House Forum on Jobs in America, Francina Harrison "The Career Engineer" holds a special meeting of TCE Richmond to "build bridges" and "break bread".   Ms. Harrison says, "I truly enjoying visiting Richmond, supporting our host Ms. Josi Hopkins and bringing the TCE brand to this new market place for our organization.  We are looking forward to working with Greater Richmond professioanls who want to increase their career positioning, grow their businesses and engage in the TCE brand of "out of the box" thinking to overcome this 21st century marketplace."  Limited general seating is available and RSVP are STRONGLY encouraged @ TCE Richmond  .