TCE DC Career & Biz ShowUp (LIVE Broadcast) @ http://YouTube.com/user/TheCareerEngineer/live

Multiple Dates
Event Details
JOIN US FOR THE TCE's LIVE "Career & Biz" Broadcast 
 TCE Career & Biz ShowUp
and we are inviting
...the WORLD
Featuring TCE Washington DC Area Members, Partners & Friends. #TCenow #TCEdc #DCJobs #DCBiz 
Follow our TCE Spreecast Channel too!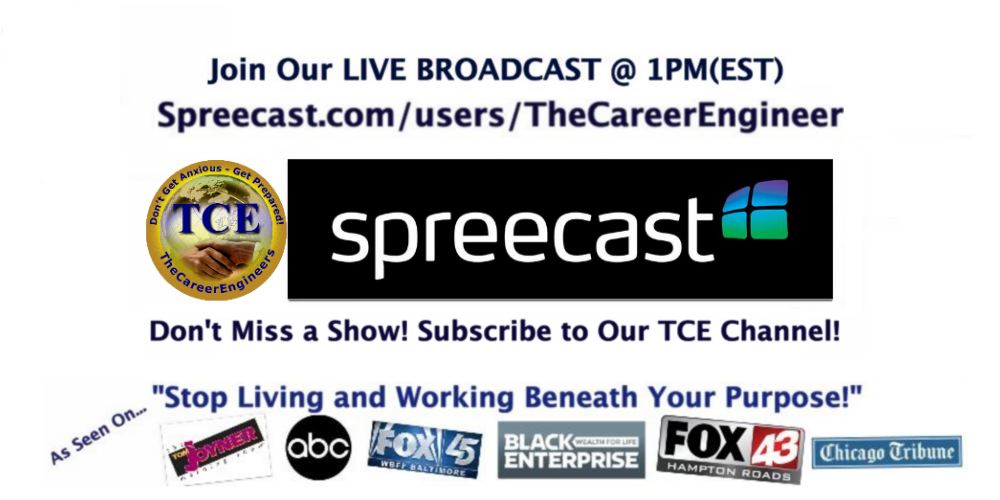 ---
TCE Broadcast is Sponsored By...
---
---
This Months Showcase:  WASHINGTON DC Area, TCE
---
Members, Businesses, Partners and Friends 
 TCE Career & Biz Pitch Opportunity:
Bring your career or business brand "A Game"

(1 Minute) Brand Pitches, (3 Minutes) for TCE Premium Members  

Employees, Employers & Entrepreneurs in the Room) 

No Hustle Zone & ZERO networking awkwarness
---
TCE invites YOU to BECOME a Premium Member 
---
The Career Engineers Network (TCEN) "Where We Build REALationships"  is a unique networking community where employees, employers & entrepreneurs connect online & offline.
Our purpose is to bring America's workforce & the marketplace, "Real People", together for networking, business connections, personal empowerment and social enrichment.  Premium Biz Memberships Under $90 Bucks, Virtual & Career Memberships Under $50 bucks per year!  Join Today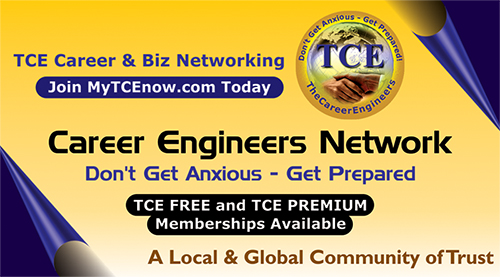 ---
*The TCE Network is a "No Hustle Zone"
---
 Which means we don't support:  scam artist, secret selling(or net-recruiting promoted as networking), unethical business practices, lousy business dealings, high pressure sales pitches,  hidden business fees, network organizations that hustle versus help, folks who waste our time, ...you get the idea!   It's NOT welcomed here, don't do it, don't try it....we are NOT the right network for you!
Have questions about TCE DC Career & Biz ShowUp (LIVE Broadcast) @ http://YouTube.com/user/TheCareerEngineer/live?
Contact The Career Engineer
Organizer
Don't Get Anxious - Get Prepared!
TCE delivers career & business re-engineering strategies that build confidence, courage, increasing your value and visibility which increases your income potential and your chances to get hired! CONTACT: info@TCEnow.com or call or text us 757-745-4823