TCCY Children's Advocacy Days 2018

Tuesday, March 13, 2018 at 10:00 AM

-

Wednesday, March 14, 2018 at 12:00 PM (CDT)
Event Details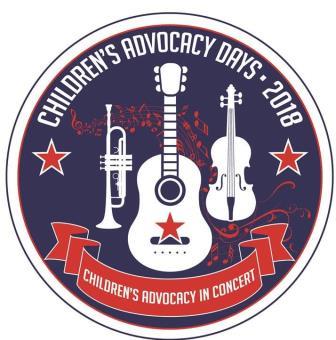 "Systems are like orchestras with many specialized players. To be in harmony, all the players must be in tune and highly skilled."
Child Advocates are the voice for children who cannot be their own voice. That voice is most effective when it is amplified with many individual voices in chorus. That is why the 30th annual Children's Advocacy Days 2018 theme is "Children's Advocacy in Concert."
To make beautiful music, a group of skilled performers must be in harmony and in tune. To sing and play the song of Tennessee's children, advocates share a score, arranged to showcase the talents of each.
To assure the future well-being of Tennessee children, skilled advocates – educators, counselors, social workers, administrators, policymakers and planners – speak on their behalf from a shared commitment and message.
While we celebrate the many ways advocates serve children – as educators, therapists, policymakers and planners – we all share the same melody that children should be safe, healthy, nurtured and supported, and engaged in activities that help them succeed in school and in life.
Each year children's advocates gather in harmony to network, share information and updates on children's issues, share what they know about the needs of Tennessee children with policymakers, and enjoy Nashville.
STATE OF TENNESSEE
TENNESSEE COMMISSION ON CHILDREN AND YOUTH
Andrew Jackson Building, Ninth Floor
502 Deaderick Street
Nashville, Tennessee 37243-0800
CHILDREN'S ADVOCACY DAYS 2018
AGENDA
TUESDAY, MARCH 13, 2018
9:00 a.m.       Registration and Continental Breakfast Opens
10:00 a.m.     Welcome and Opening Remarks – Brenda Davis, Chair, TCCY
10:15 a.m.    Challenge to Participants – First Lady Crissy Haslam
10:25 a.m.    Southern Word
10:30 a.m.    Tennessee's Opioid Crisis – Doug Overbey, U.S. Attorney, Eastern District of Tennessee
10:50 a.m.    Advocacy 101 and Legislative Update – Linda O'Neal, Executive Director, TCCY
11:10 a.m.    John Seigenthaler Making KIDS COUNT Media Award – Dolly Parton, Accepted by David Dotson
11:15 a.m.    Luncheon/Advocacy Opportunities – Sponsored by the Tennessee Juvenile Court Services                         Association 
Connect with your TCCY Regional Coordinator

Visit Co-Sponsor Booths

Network with Other Children's Advocates from Across the State
12:45 p.m.    RECONVENE
12:50 p.m.    Glencliff Culinary Art Student Recognition
12:55 p.m.    "Adverse Childhood Experiences and their Repressed Relationship to Adult Well-being, Disease, and Death: Turning gold into lead"–
Dr. Vince Felitti, Clinical Professor of Medicine; Faculty of Department of Medicine, University of California, San Diego
1:55 p.m.       Blue Ribbon Task Force Panel Discussion –
Pam Lachman,

Crime and Justice Institute at Community Resources for Justice

, Washington, D.C., Moderator

Stacy Miller, Assistant District Attorney, Nashville

Kathy Sinback, Administrator, Metro Nashville Juvenile Court

Dr. Altha Stewart, Director, Center for Justice Involved Youth, UT Health Science Center, Memphis
2:45 p.m.       BREAK
3:00 p.m.       Governor's Awards for Excellence in Early Foundations Presentations –
   Governor Bill Haslam and First Lady Crissy Haslam
3:30 p.m.       Commissioners' Panel – Moderated by Jude White, Executive Director, Governor's Children's                            Cabinet
Department of Children's Services - Bonnie Hommrich, MSSW, Commissioner

Department of Education – Dr. Candice McQueen, Commissioner

Department of Health – Dr. Michael Warren, Deputy Commissioner

Department of Human Services - Danielle Barnes, JD, Commissioner

Department of Mental Health and Substance Abuse Services - Marie Williams, LCSW, Commissioner

TennCare, Division of Health Care, Finance and Administration – Dr. Wendy Long, Deputy Commissioner
4:30 p.m.   Southern Word
4:40 p.m.   Closing Remarks
5:00 p.m.   NETWORKING RECEPTION – Sponsored by Camelot of Tennessee - War Memorial                    Auditorium
Lobby
Open to all Children's Advocacy Days Participants and members of the General Assembly
WEDNESDAY, MARCH 14, 2018
7:30 a.m.   Continental Breakfast and Networking – Sponsored by Omni Visions
8:00 a.m.   Reconvene and Opening Remarks – Brenda Davis, TCCY Chair
8:10 a.m.   "Childhood Stress and Poverty: The Impact of Adverse Childhood Experiences on                              Health" –
Dr. Roy Wade, Jr., Assistant Professor, Pediatrics, Children's Hospital of Philadelphia
9:10 a.m.   Borderless Arts Tennessee Performance – Allie Hemmings, Soloist         
9:20 a.m.   Jim Pryor Child Advocacy Award – Recipient, Matt Timm, Ph.D., Nashville
John Seigenthaler Making KIDS COUNT Media Awards
Joan Garrett McClane, Chattanooga Times Free Press

Chris Bundgaard, WKRN-2, Nashville, Nexstar Media Group

Becky Magura, Brent Clark and Cindy Putnam, WCTE-22, Cookeville

Yoshie Lewis, Producer/Writer, Pretzel Pictures
9:40 a.m.   Break
10:00 a.m.GUBERNATORIAL FORUM – Rhori Johnston, Journalist and Co-Anchor of News                             Channel 5
Participants:
Randy Boyd, Former Commissioner of Tennessee Economic and Community Development

Karl Dean, Former Mayor of Nashville

Craig Fitzhugh, Tennessee State House of Representatives Minority Leader
11:10a.m.  Unsung Hero's Awards – Kristen Rector, Executive Director, Prevent Child Abuse Tennessee
Carolyn Remeder – West Tennessee

Cindy Fry – Middle Tennessee

Jessica Reinhold – East Tennessee
11:25 a.m. Building Strong Brains Tennessee Update – Richard Kennedy, Associate Director, TCCY
11:40 a.m.  Tennessee Commission on Children and Youth; a Look Back and a Look Forward –                           Richard Kennedy, Associate Director, TCCY
12:00 p.m.   Adjourn and Advocacy Opportunities
Visits with Legislators and Networking with other Councils

House of Representatives Committees

Senate Committees
Children's Advocacy Days 2018 is March 13-14 at War Memorial Building in Nashville.
When & Where

War Memorial Auditorium
301 6th Ave N
Nashville, TN 37243


Tuesday, March 13, 2018 at 10:00 AM

-

Wednesday, March 14, 2018 at 12:00 PM (CDT)
Add to my calendar
Organizer
TCCY's Vision: All children in Tennessee are safe, healthy, educated, nurtured and supported, and engaged in activities that provide them with opportunities to achieve their fullest potential.
TCCY's Mission: The Tennessee Commission on Children and Youth advocates to improve the quality of life for children and families and provides leadership and support for child advocates.
TCCY works with state agencies, juvenile courts, child advocacy groups, interested citizens and other organizations to improve services to children. The commission members, central office staff and regional coordinators are engaged in the following activities:
Improving the coordination of services for children;

Collecting and disseminating statistical and programmatic information;

Informing citizens and organizations about children's issues;

Tracking legislation and making recommendations to the Governor and Legislature;

Administering the Federal Juvenile Justice and Delinquency Prevention Act and state Court Appointed Special Advocate funds.