Event Information
Location
AT&T Executive Education and Conference Center
1900 University Avenue
Austin, TX 78705
Join us for lunch as we discuss Texas higher education and workforce.
About this event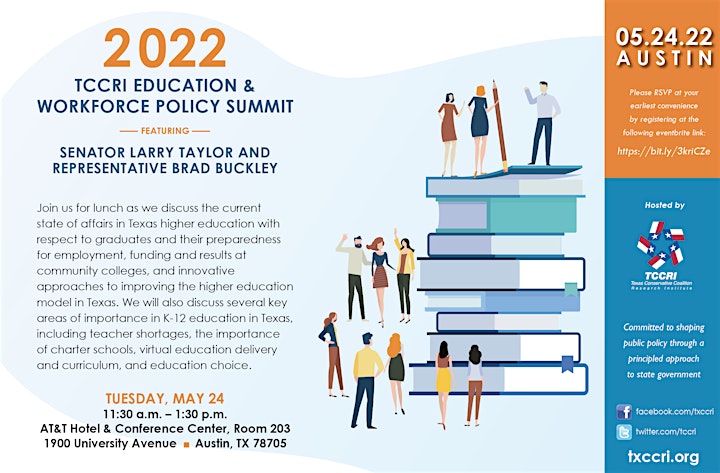 Join us for lunch on Tuesday, May 24th, 2022, from 11:30 a.m. - 1:30 p.m. in Austin (AT&T Hotel & Conference Center, Room 203, 1900 University Avenue, Austin, TX 78705), as we discuss the current state of affairs in Texas higher education with respect to graduates and their preparedness for employment, funding and results at community colleges, and innovative approaches to improving the higher education model in Texas.
We will also discuss several key areas of importance in K-12 education in Texas, including teacher shortages, the importance of charter schools, virtual education delivery and curriculum, and education choice.
Featuring:
State Senator Larry Taylor, Chairman of the Senate Committee on Education
State Representative Brad Buckely, Member on the House Committee on Public Education
More participants to be listed soon...
Date and time
Location
AT&T Executive Education and Conference Center
1900 University Avenue
Austin, TX 78705