Description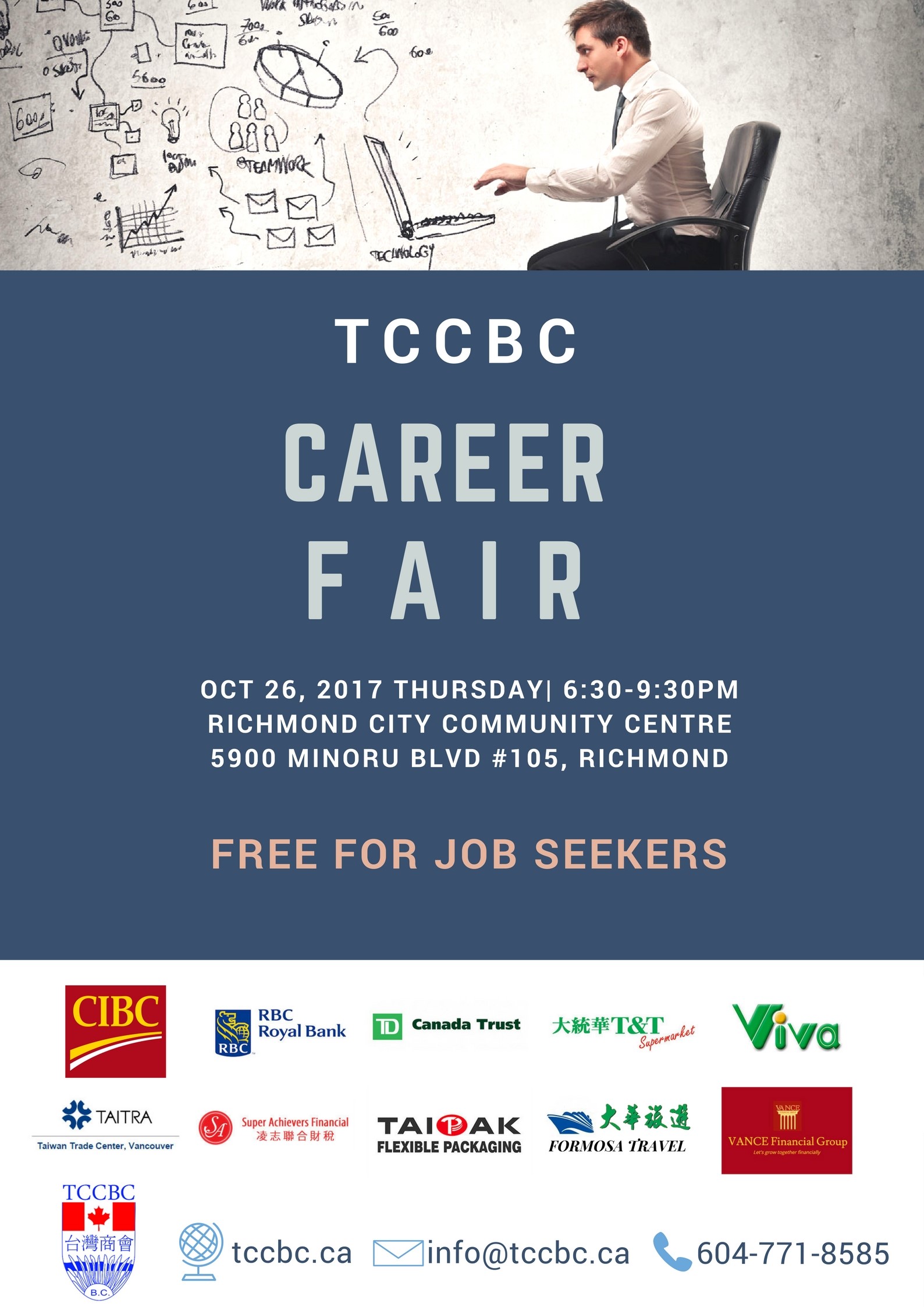 Are you looking for your dream job or a part time internship? Come meet the hiring companies and learn more about the job market and the industry needs at Oct. 26, 2017, 6:30~9:30 pm, in Richmond City Community Centre.
It's free for all job seekers!
After registration, please fill out the registration form, attached with your resume, and email to your applying companies or info@tccbc.ca. You might be able to have your interview onsite!!

For quality control purpose, please only register for ONE entrance time per person.
If you have any problem, please contact 604-771-8585 or info@tccbc.ca for more information.
在找工作機會或著實習機會嗎?
歡迎報名參加 10/26 6:30~9:30PM 在列治文社區活動中心 卑斯省台灣商會第三屆就業博覽會
所有的求職者皆免費!
在登記之後, 請將您的履歷寄送至求職公司
每位求職者僅需登記一次 如有任何問題 歡迎洽詢 604-771-8585
Viva Pharmaceuticals: hr@vivapharm.com
T&T: recruitment@tntsupermarket.com
Taiwan Trade Center: klo@ttcv.org
CIBC: jerry.wei@cibc.com
RBC: james.chow@rbc.com
TD Trust: mark.lin@td.com
Taipak Converting: joey@taipakconverting.com
Formosa Travel: 3399formosa@gmail.com
Super Achievers Financial: superachieversfinancial@gmail.com
Vance Financial: JennyChen@vancefinancial.net
Freedom 55 Financial: adeline.Lin@f55f.com
Miniso: abigail.l@minisoca.onmicrosoft.com
Date and Time
Location
Richmond City Centre Community Centre
5900 Minoru Blvd #105
Richmond, BC V6X 0L9
Canada