TCA - BAY AREA BONALU

Saturday, July 27, 2019 from 9:30 AM to 1:30 PM (PDT)
Event Details
Telangana Cultural Association (TCA)
TCA cordially invites you with your family and friends to celebrate
Bay Area Bonalu 

 (@ Kanaka Durga temple, in Shivavishnu temple premises, Livermore.)
 
For details about Bonalu, please visit the link below
https://en.wikipedia.org/wiki/Bonalu
Please scroll down to the end of this message for details on Bonam preparation.
Venue:
1232 Arrowhead Ave, Livermore, CA 94551
Time: Saturday, July 27, 2019 9:30am - 1:30pm
(This event is time-sensitive. Please plan to arrive at the temple by 9:30 am)
Are you planning to bring BONAM? 
please contact us for details and co-ordination
Contact Information:
Sagar Kotha:(925)-231-5022
Dhanunjaya Boda: (925) 963-1751
Srinivas Gujju: (408) 480-4664
Madhavi Annam: (408) 757-8072
Hari Prasad: (908) 720-4496
Venu Surakanti: (925) 408 6575
Vinoy Mereddy:(650) 968 2708

http://www.telanganaculture.org/
Visit and like us on https://www.facebook.com/Telangana-Cultural-Association-112053645520054/
Open the image below to find the instructions to prepare the Bonam.
Bonam details: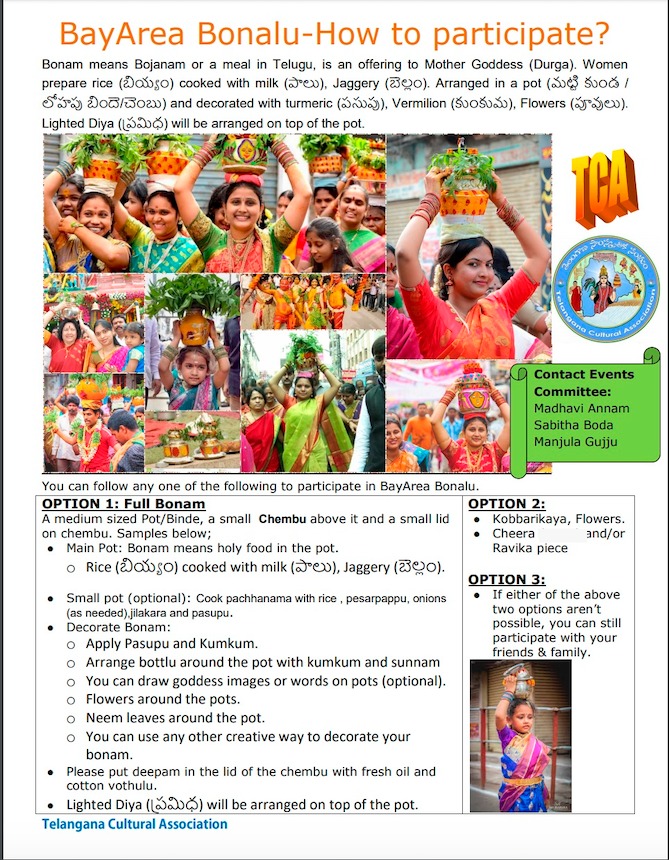 When & Where

Livermore Shiva-Vishnu Temple
1232 Arrowhead Avenue
Livermore, CA 94551


Saturday, July 27, 2019 from 9:30 AM to 1:30 PM (PDT)
Add to my calendar
Organizer
About Telangana Cultural Association
This Organization is formed to help preserve and promote Telangana Cultre and festivals world wide. TCA's charitable activities include supporting and funding education for needy and underprivileged students in India and USA. 
http://telanganaculture.org/