TBOX 2019, Chicago's Original 12 Bars of Xmas in Wrigleyville, The World's Largest, Longest-Running Christmas / Costume / Charity Bar Crawl!
About this Event
Want To Save $$ on Your Ticket? Get a Promo Code Here!
TBOX 2019 is THE ORIGINAL - Festa's 24th Annual Twelve Bars of Xmas, The World's Largest, Longest-Running Holiday Bar Crawl. It's Saturday, December 14, kicking off with HAIRBANGER'S BALL at 9AM at Cubby Bear, and contiuing in 30+ Wrigleyville Bars. Ticket incudes FREE BREAKFAST, $12 of GIFT CARDS to Use During Day, Swag Including Gloves, Gym Bags, & Koozies, Our World-Famous Cereal Shots, Stickers & Picture Frames, Great Drink Specials, and Contest & Prizes Galore, plus our all new MEME GARDEN - all part of Chicago's Best Costume Party and Christmas Celebration! If You Have an Affiliate Discount Code, Use It! If Not, You Can Get a Promo Code On Our Website!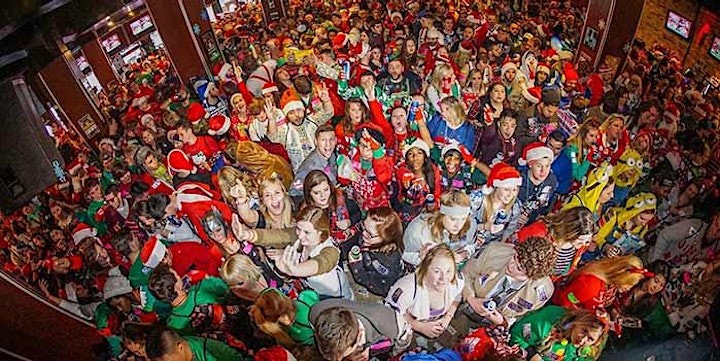 Are You Ready for An Amazing Experience December 14, 2019? GOOD!
But You Also Get a Ton of Free Stuff with Your Ticket, and Here it All Is!!
We think TBOX is an amazing value and will pretty much be your most exciting day of the Year. What's better than an all-day, 30-bar, Christmas Costume Bar Crawl in Wrigleyville? Well… an all-day, 30-bar, Christmas Costume Bar Crawl with…
🎄 Live Music from Hairbanger's Ball, Stache, & UltraBeat, plus All-Day Karaoke with DJ Kev Rokken
🎄 Fr ee Breakfast Buffet AND $12 of Gift Cards to use at bars during TBOX
🎄 SWAG! Free Drinking/Texting Gloves ** Gym Bags ** T-Shirt Koozies
🎄 12 TBOX Bars are CHRISTMAS POPUPS you get FREE Admission to - Hit Them All at The 12 Bars of Xmas!
🎄 Contests to Win Bulls Tickets, Cubs & Bulls Luxury Packages, Free DOS TOROS Gift Certificates, Cash, Wrigleyville Bars Gift Cards, & More!
🎄 Our Soon to Be World-Famous MEME GARDEN to take FACE IN THE HOLE Pix In!
🎄 And… Great $4-7 Drink Specials on all your favorites – Bud Light, Effen, Bon&Viv Spiked Seltzer, Cruzan Rum, & Maker's Mark
Read On for Details! If you'd like a Savings Coupon, RSVP to Our Invite & Join Our Facebook Group! You Can also win tix & get discounts following our Instagram & Twitter.
This Year's TBOX Theme is MEMES! TBOX 2019 will be the World's First Meme-Themed Bar Crawl. We will have Meme Picture Frames, Meme Scavenger Hunts, Meme-Themed Bar Stops, and encourage you to dress either in Crazy Christmas / Holiday Costumes OR as your Favorite Meme! In advance of TBOX, we'll also be having Contests for You to Win Prizes including Free Tickets!