Description
TBOX2018 is THE BIGGIE, The Original 12 BARS OF XMAS, the World's Largest and Longest-Running Bar Crawl, Only In Chicago. TBOX is THE Chicago Bucket List Party Experience, Rocking Wrigleyville since 1996, with over 200,000 Attendees in 23 years! This year, BIG BROTHER Reality TV Star BRETT ROBINSON will be our Guest of Honor and Leading the Opening Ceremonies at Cubby Bear 9-10AM! (Groups of 6-150, Check Our Group Rates Page)
Start your day at the OPENING CEREMONIES at CUBBY BEAR at 9AM, then you can choose a Kickoff Bar and get free bonus gift cards - 17 Bars having kickoffs listed here. WHEN YOU COME TO PICK UP YOUR MATERIALS, STATE YOUR PREFERENCE FROM AVAILABLE ONES! We will make every effort to put you with your friends as legal capacity permits.

TBOX goes from 10AM to 8PM in 32+ bars, and it's a wild day of Crazy Costumes, Flying Cereal Shots, and Holiday Cheer up and down Clark Street - it's Chicago Biggest CHRISTMAS POP-UP and has 3 Awesome Xmas Pop-Up Bars: Elf'd Up, Christmas Club, and Santa Baby!
This year's theme is "TOY BOX" - dress for Christmas, Ugly Sweaters, Onesies, Pajamas... or as a Toy! TBOX is also be conducting a toy drive and donating over $20,000 to local charities, bringing our total to Over $263,000 in donations!
ALL THE FREE STUFF THAT COMES WITH YOUR TICKET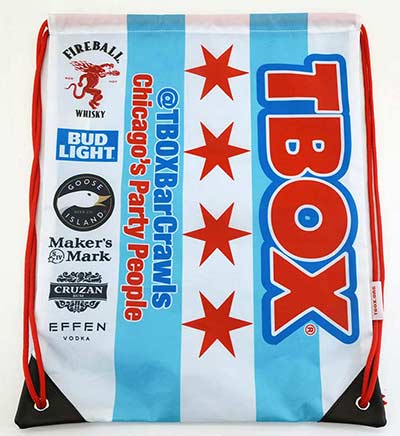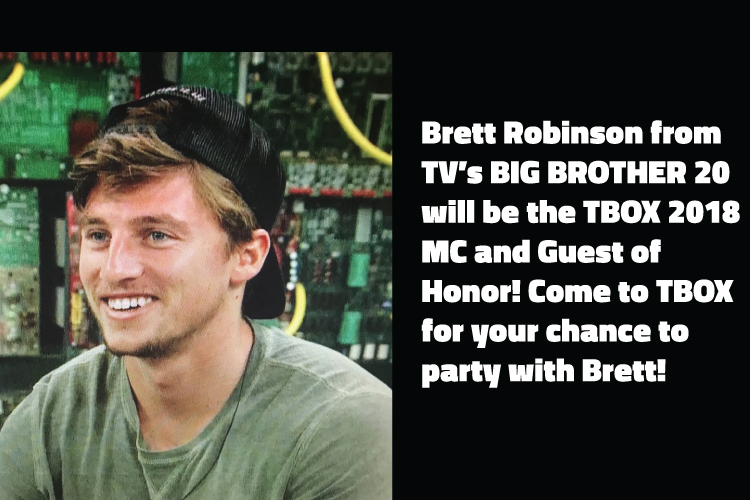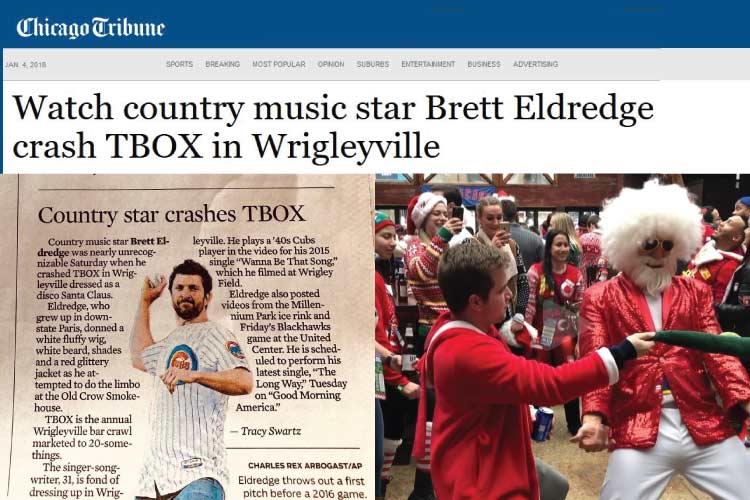 TBOX is an incredible scene, with tens of thousands of revelers in holiday-themed costumes, pajamas, and toy costumes parading around Clark Street and enjoying the festivities. Over 100 couples have met and gotten married at TBOX thru the years, the iconic "Cereal Shots" will be given throughout the day, and TBOX gives out over 200,000 collectible stickers throughout. The event opens and closes at Cubby Bear, and includes an exclusive after-concert with Chicago band HELLO WEEKEND. Early Bird Discounts available now! Includes swag package of unique goodies, and coupons and gift cards for local bars & restaurants.
Complete TBOX 2018 Event Information
TBOX 2018 Packet Pickup Locations & Times
All the Fun, Crazy things that Make TBOX Unique
History of TBOX Timeline - How we went from 1 to 200,000 people!