TBL Networks Steak and Learn: Limelight Private Cloud as a Service
When and where
Location
Hondos Prime Restaurant 4120 Cox Road Glen Allen, VA 23060
Description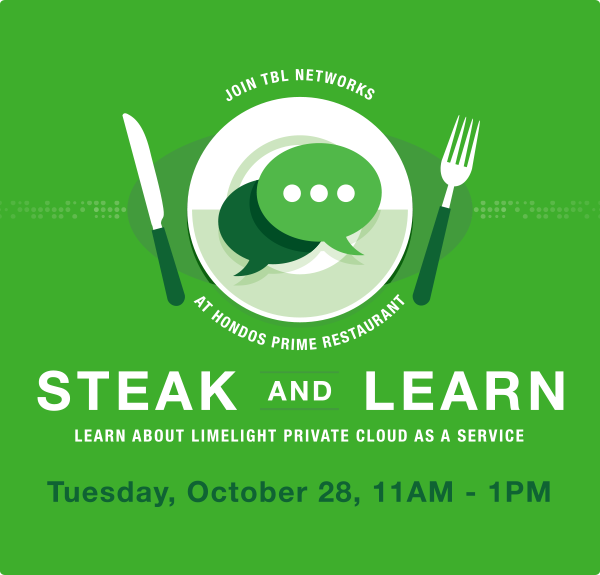 Introducing TBL's Limelight PCaaS (Private
Cloud as a Service) — your own private cloud
with no capital expense.

Predictable Costs for Organizations
TBL's Limelight PCaaS is priced as a monthly, per user expense. This structure allows you to plan on predictable costs to offer services as your user-base expands. You no longer need to worry about adding another user and reaching the next inflection point resulting in a costly expansion of the system. Best of all, this means it's an operating expense – no huge outlay of capital dollars. Instead, Limelight PCaaS offers the scalability to grow or shift priorities, giving you ultimate control over your bottom line.

Network Equipment at your Location
With Limelight PCaaS, the network equipment sits on your premises but is completely owned and managed by TBL, leaving your IT Department unburdened and able to focus on the things that matter. TBL offers Limelight Collaboration for voice, video and collaboration solutions, Limelight Desktop for virtual desktop services and Limelight Infrastructure for server virtualization. This way your equipment, your network, your technology are all close at hand and dedicated to you, not hundreds of miles away in some bunker shared with thousands of strangers.

Quick Recap
All technology refreshes included

No capital expenditures

Scalability to grow or shift priorities

Control over your bottom line

Stategically aligned with VCE, EMC and CISCO

Finally, you can have your cake and eat it too!

Available to Select
Menu selection will be ordered the day of the event.
Broiled Chicken Breast

Jumbo Lump Crabcake

Chef's Fish du Jour

Filet Mignon

Penne Pomadoro