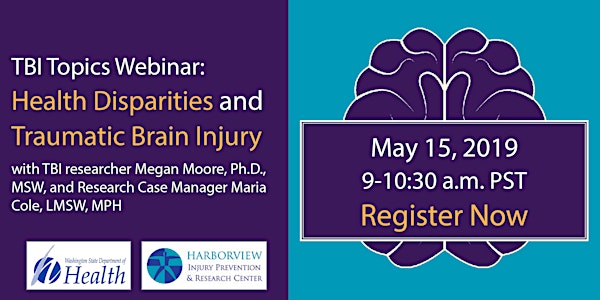 TBI Topics Webinar: Health Disparities and Traumatic Brain Injury
Description
Join two experts on research in health disparities and communities to explore how these factors intersect with traumatic brain injuries.
All registrants will also be invited to continue the conversation by joining an online discussion platform about TBI for public health and medical professionals and community partners.
This webinar is part of a free series aimed at improving Traumatic Brain Injury research, care, prevention, and community programs. The series is hosted by the researchers at University of Washington's Harborview Injury and Prevention Research Center and community health professionals and advocates from across the country. The TBI Topics series is a joint initiative of HIPRC and the Washington State Department of Health to improve care, prevention, education, and community involvement around TBI.
Schedule of Events
Introduction & Orientation to Zoom Tools

"Traumatic Brain Injury and the Health Disparity Landscape"
TBI & community researcher Megan Moore, Ph.D., MSW
Sidney Miller Endowed Associate Professor in Direct Practice, School of Social Work, University of Washington
Core Member, Harborview Injury Prevention & Research Center; Seattle, WA

"Navigating Health Disparities in the BRITE Project"
Community researcher and case manager Maria Cole, LMSW, MPH
Case Manager-Research, Baylor Scott & White Institute for Rehabilitation, Dallas, TX


Live Q&A with Presenters
Instructions on Recording Access
Orientation to Online Discussion Platform
This will be an online event hosted through Zoom video conferencing service (https://zoom.us/). Meeting room information will be sent to all registered participants prior to the event. Details about their service can be found on Zoom's FAQ.
While our content is geared toward educating professionals in public health and medical fields, we encourage people from all regions and backgrounds to attend. Prior presentations have been attended by regional and international viewers ranging from researchers and registered nurses to caregivers and families of impacted patients.
Will I be able to talk with the speakers?
We will have a designated Q&A period at the end of the webinar to allow presenters to address questions. Depending on volume and time constraints we may be unable to respond to every individual, but we will do our best to address all questions asked.
Will I be able to review the content later?
Yes, we plan to make recordings available to registrants in the weeks following the webinar. Registered users will be emailed once the videos are ready for viewing.
What does my registration include?
All registrants will have access to the webinar, webinar recording, and the online discussion platform.
I am registered but can no longer attend.
We invite you to view the webinar recording on your own time and engage discussion through the online discussion platform.
More questions?
Email us at hiprc@uw.edu.
---
This webinar is a joint initiative of HIPRC and the Washington State Department of Health
Washington State Department of Health works with others to protect and improve the health of all people in Washington State so they can enjoy longer healthier lives. Our programs and services help prevent illness and injury, promote healthy places to live and work, provide information to help people make good health decisions and ensure our state is prepared for emergencies. To accomplish this, we collaborate with many partners every day. We actively seek to understand the life and work experiences, skills, talents, cultures, ancestries and histories of our employees and the public to better serve everyone. By taking time to ask 'questions for understanding' and fully consider other points of view before we make decisions we are able to communicate and collaborate with partners and the public ethically and respectfully. We strive to work side-by-side with partners, communities and individuals to improve health and support a strong public health system.