TBHQ is a loving abandonment of conventional songcraft. Healing through improvisation, externalizing the internal din
About this event
Doors 7pm
Show 730pm
~~~~~
TBHQ
Bentley Anderson x Nick Neuburg
Eve Essex
~~~~~~~~
TBHQ is the nom de plume of Hazel Rigby, a native New Yorker turned Los Angeleno, whose new album Cairo looks to heal its listener through improvisation styles and new age tones, forging a sonic terrain that is at times nostalgic and disorienting; abrasive yet poignant
~~~~~~~
Bentley Anderson is a New York City musician working in the realm of noise, experimental, and rock music. His music focuses on a texture-based aesthetic that explores the language of sound and improvisation as composition. He also runs the cassette label Decontrol.
~~~~~~~
Eve Essex is a multi-instrumentalist and composer based in Brooklyn, NY. Primarily a woodwind player, she employs a wide instrumentation including alto saxophone, piccolo, and voice, supported with live processing, beds of synthesizers, drum machine, and other sounds. Operating between songwriting, composition, and instrumental improvisation, her work slides easily from structured electronic pop to open-ended melodic explorations.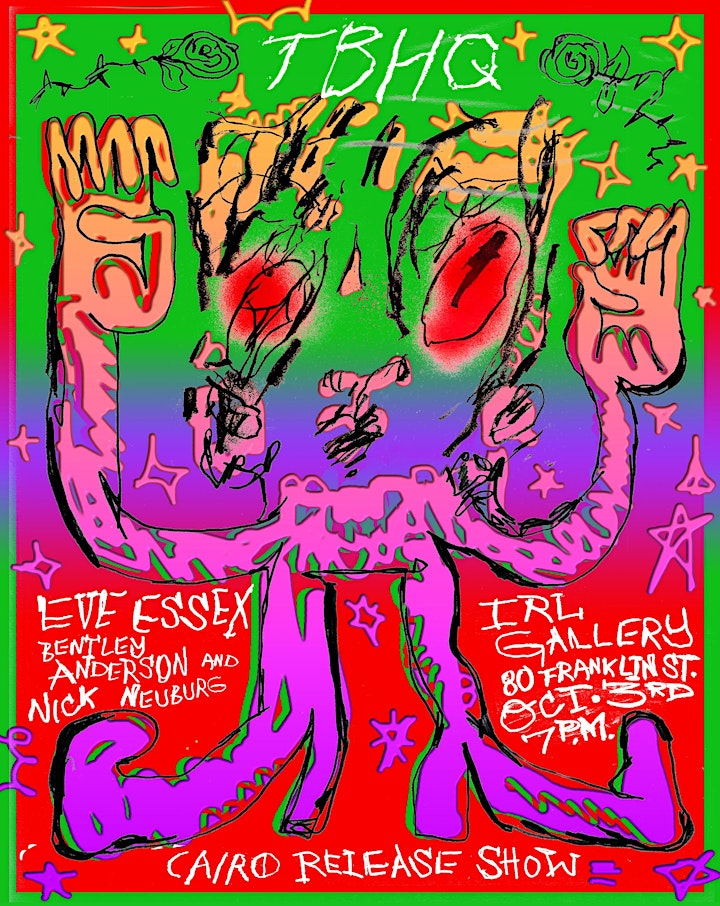 Organizer of TBHQ, Bentley Anderson x Nick Neuburg, Eve Essex
IRL is a gallery focused on Art + Sound.
We are also a music venue & community oriented creative platform.
We are located at 80 Franklin St in Brooklyn, NY.
NYC covid guidelines apply for every event held at IRL. Please have your vax card or negative test ready.
ALL SALES FINAL, PURCHASE NOT REFUNDABLE FOR ANY REASON