Taylor's University Film Festival 2019
About this Event
We are pleased to announce that our Inaugural Taylor's University Film Festival (TUFF) will be held on November 20-22, 2019 at Taylor's Lakeside Campus. This event is hosted by the School of Media and Communication and Taylor's University Film Society.
We believe it is imperative to expose emerging filmmakers to the broader film community as this actively encourages them to create films. The Taylor's University Film Festival (TUFF) will provide an opportunity for students to screen their creative work and be acknowledged through awards.
Six filmmaking industry experts were invited to judge over fifty-five submissions that were entered in both student and emerging categories from across Malaysia. Each of the submissions are competing for Best Student Film and Best Emerging Film Awards. These and other awards will be presented at the Festival Finale on the 22nd November.
Selected short films will be screened at Taylor's Library Theatrette and Lecture Theatre 9. These films will run continuously throughout the festival. Apart from the screenings we also have an exciting lineup of special events during the three-day festival.
We are delighted to collaborate with Center for Future Learning and ARVR Malaysian Chapter to organize a masterclass focused on Narrative Storytelling for Filmmakers using Extended Reality (XR). You may reserve your seat and book for the session by registering in HRSS at https://tinyurl.com/ARVRTUFF
We are honoured to screen the acclaimed Malaysian film BUNOHAN with Director Dain Said. He is an accomplished film director who will be available for a Q&A session after the screening. In addition the Malaysian Film Board, FINAS will present on applying for grants to finance Independent Films. Two experienced filmmakers (Mien Ly and Patrick Lim) will share their filmmaking journey by screening one of their films and providing an insight into their work. All these events are open to the Taylor's Community and the general public who are interested in seeing experienced filmmakers as well emerging filmmakers at Taylor's Lakeside campus.
Our exciting festival program schedule is outlined below. To reserve your seats for festival events please sign-up here.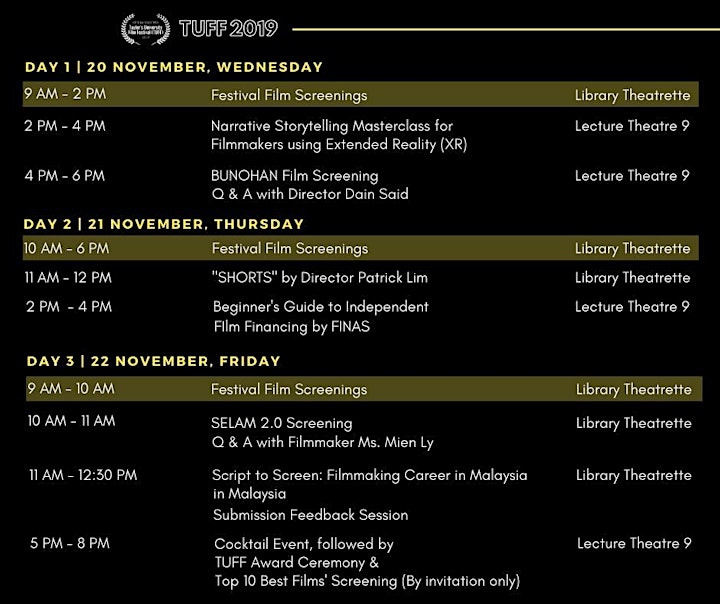 Our list of selected films is officially out! This year, the entries received were exceptional. Congratulations to all of our official selections for Taylor's University Film Festival 2019! A very big THANK YOU to all who submitted as well, we look forward to viewing your future films. Once again, congratulations and thank you to all filmmakers, we can't wait to see you at the festival!
#taylorsfilmfest #tuff2019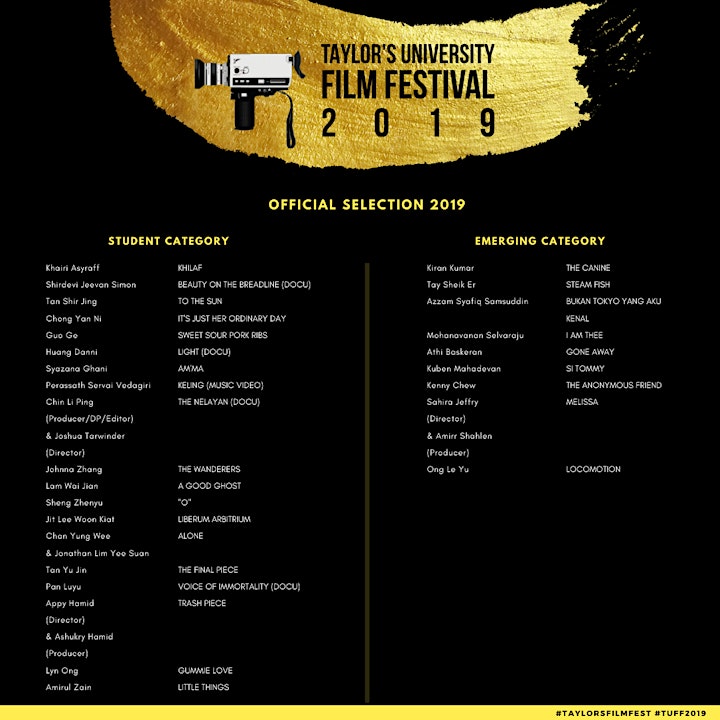 TUFF 2019 EVENT HIGHLIGHT
DAY 1, WED, NOV 20, 2019
1:30 PM - 2:00 PM Opening Ceremony of TUFF
2:00 PM- 4:00 PM Narrative Storytelling Masterclass for Filmmakers using Extended Reality (XR)
Here are the details of the XR Masterclass:
TUFF XR Narrative Storytelling Masterclass Program
"Storytelling traces its roots back to the very beginning of human experience. It's found its way through multiple forms, from oral traditions to art, text, images, cinema, and multimedia formats on the web.
As we move into a world of immersive technologies, how will virtual and augmented reality transform storytelling?" (Craig & Georgieva, 2018).
Augmented reality (AR) increases the sense of reality by including virtual information within a real environment while Virtual Reality (VR) creates immersive experiences where there is total engagement.
This session will show how immersive storytelling has been applied and transformed through new technologies that make the audience an active participant in the story.
These presentations, masterclasses, panel session and showcase will demonstrate the opportunities for storytelling through augmented reality and virtual reality.
Here is the list of speakers and showcase:
1) Dato Kamil, keynote address
2) Dr. Andrew Yew, speaker
3) Mahen Bala (film director), speaker
4) Ram Chia (Founder, Grand Theft Records)
5) Aaron Lim (Senior Product Lead, HTC)
UPDATES:
OFFICIAL SELECTION FILMS SCREENING SLOTS.
BLOCK 1
DAY 1 | 20TH NOVEMBER 2019, WEDNESDAY | MORNING
10AM – 12PM (WITH FILMMAKERS Q&A) @ Library Theatrette
EMERGING FILMS, SERIES ONE
BLOCK 2
DAY 1 | 20TH NOVEMBER 2019, WEDNESDAY | EVENING
6PM – 8PM (WITH FILMMAKERS Q & A) @ Lecture Theatre 9
EMERGING FILMS, SERIES TWO – OPENING NIGHT SCREENING
BLOCK 3
DAY 2 | 21st NOVEMBER 2019, THURSDAY | MORNING
10AM – 11AM (WITH FILMMAKERS Q&A) @ Library Theatrette
STUDENT FILMS: SERIES ONE
BLOCK 4
DAY 2 | 21st NOVEMBER 2019, THURSDAY | EVENING
4PM – 8PM (WITH FILMMAKERS Q & A) @ Lecture Theatre 9
STUDENT FILMS: SERIES TWO
BLOCK 5
DAY 3 | 22nd NOVEMBER 2019, FRIDAY
9AM – 1 PM (WITH FILMMAKERS Q & A) @ Library Theatrette
DOCUMENTARY FILM SERIES I (STUDENT)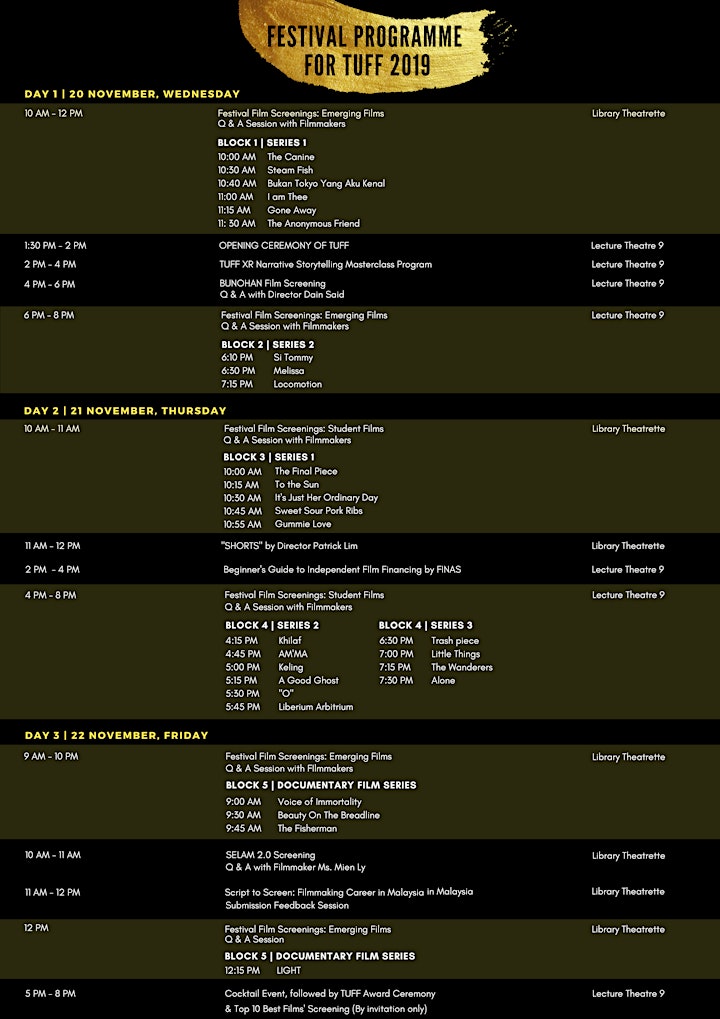 To keep updated and get more info, follow us on:
Main website: https://www.taylorsfilmfest.com/
Instagram: taylorsfilmfest
Facebook: Taylor's University Film Festival 2019
TUFF IS ORGANISED BY
IN COLLABORATION WITH THE FOLLOWING PARTNERS