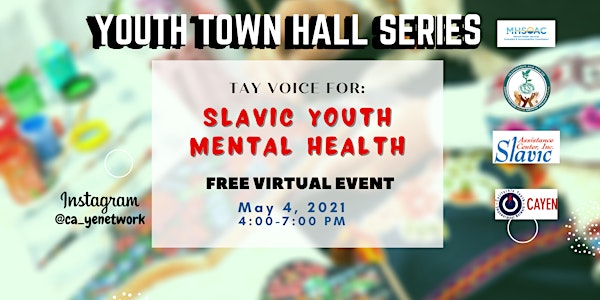 TAY Voice for Slavic Youth Mental Health
We are a Transitional Age Youth (TAY) group advocating for behavioral health supports among the Slavic youth community in Sacramento.
About this event
We are a Transitional Age Youth (TAY) group with The Slavic Assistance Center in collaboration with The California Youth Empowerment Network. We are advocating for support and resources for Slavic youth's behavioral health in Sacramento County. Our group is specifically focused on the behavioral health issues of substance abuse which are prevalent among Slavic youth in Sacramento County. In addition to bringing awareness to this issue, we are asking for more resources to be allocated toward this problem. This may include things like a youth resource center, counseling, or groups on high school/college campuses that assist with substance abuse and addiction. Join our Town Hall to learn about the current problems and inequities happening in our community. Decision-makers, join us and get to know about the problems directly affecting youth from youth in the community. We hope you will take action, in learning about the issues in our community which are extremely important for all age groups.