Description
Salah satu alasan wajib pajak enggan membayar pajak adalah persepsi rumitnya masalah perpajakan, begitu pula bagi para pelaku Startup atau UMKM.

Baru mendirikan Startup atau UMKM? Sebagai sebuah usaha, kini Anda sudah memiliki kewajiban perpajakan. Training ini mengajarkan tentang Pajak apa saja yang harus dibayarkan, cara menghitung dan bagaimana membayarnya.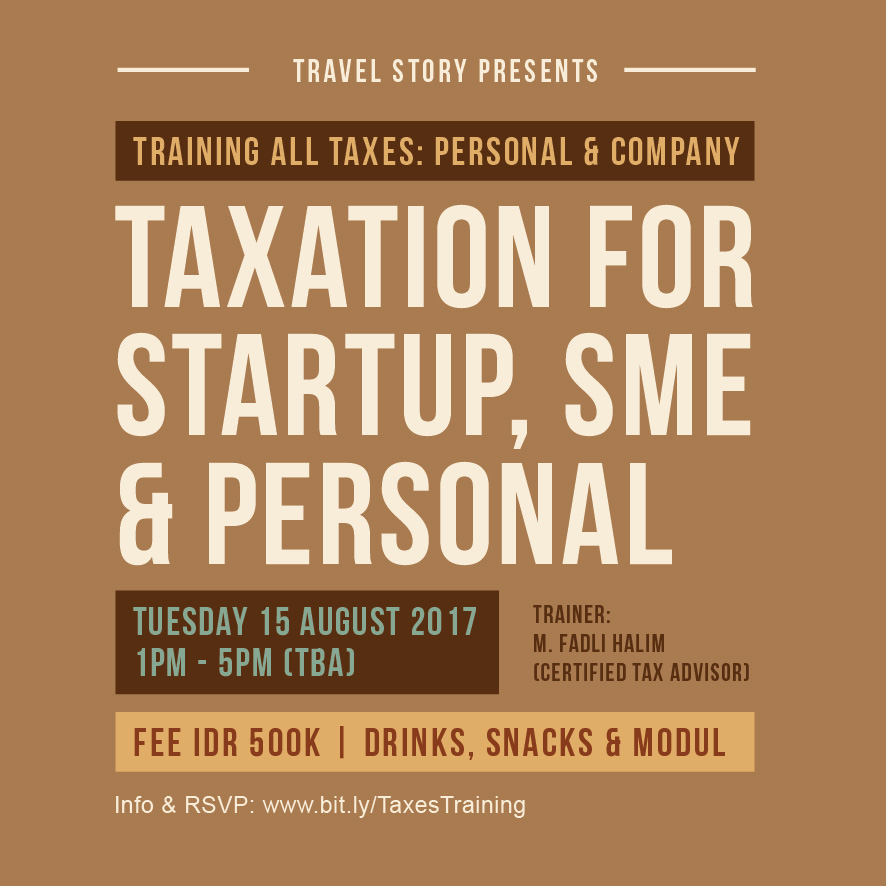 Overview
Membekali peserta dengan berbagai ketentuan yang berlaku beserta guidance yang mudah dipahami sehingga dapat menjadi pedoman dasar dalam pembayaran, penyetoran dan pelaporan pajak.
Learning Material
All Taxes - PPh Badan/Orang Pribadi, PPh Pasal 21, 22, 23, 26 dan PPh Final
Training Objectives
Tax For Personal and Corporate:
Konsep kewajiban perpajakan untuk Orang Pribadi, Badan Usaha dan UMKM (Omset <4,8M per tahun)

Training SPT Tahunan, PPh Badan dan SPT Masa
Implementation
3 Hours Training (Presentasi & Diskusi)

1 Hour Q&A Session
Target Participants
Small Business Owner, Startup Founders, Professional Freelancer, Employees and Personal
Trainer
M. Fadli Halim
(Certified Independent Tax Advisor/Consultant)
Time & Location
TBA (Tentative: South Jakarta Area)
Investment Fee: IDR 500,000
Inc. Coffee/Tea, Snacks & Modul
For further information and investment fee, please contact:
travelstorycompany@gmail.com
0818976755
* Maximum 6 persons per class
** Tentative location (Cafe or Co-Working Space in South Jakarta)

Available for private group on weekend, just request the date & location.