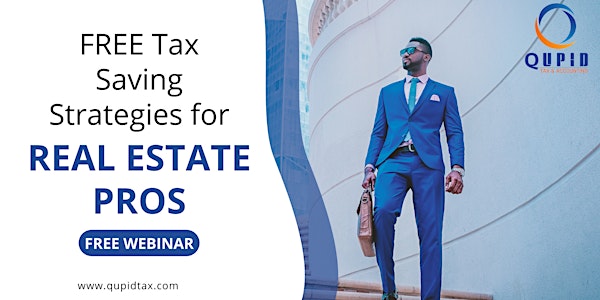 Tax Strategies for Real Estate Pros & Small Business Entrepreneurs
Let's Talk Taxes! How real estate agents, brokers, investors and entrepreneurs can pay LESS in taxes. Bring your tax questions!!
About this event
Presented by Qupid Tax & Accounting
The webinar is geared towards real estate industries and entrepreneurs alike and will provide participants with the basic principles, understanding and resources needed to navigate the tax system.
During the webinar, the Tax Accountant will:
Explain common tax errors
Explain general bookkeeping concepts and best practices
Demonstrate how to use financial benchmarks for maximum tax savings
Cover filling requirements
Go over write offs and Credits
Talk about business expenses
Cover strategies used by the wealthy's to pay $0 in taxes
• Trust/Estate taxation
Provide information on various services offered by Qupid Tax firm
And much more...
Join us every other Saturdays @ 3pm for a FREE Talk about your taxes and how you can pay less every year.
Bring your own general tax questions!!
About the Presenter:
Jayson Faustin is the founder and CEO of Qupid Tax & Accounting. He has a passion for everything taxes, accounting and real estate. So, as an accountant and a real estate investor himself, he knows first hand the importance of maximizing your deductions and credits to lower tax liabilities. He's been helping real estate pros and other entrepreneurs save 10's of thousands of dollars in taxes every year.