Description
Members-Only Ask The Expert Call
Tax Reform 101
hosted by The CFO Leadership Council
Thursday, February 22, 2018
12:00PM - 1:00PM ET
Note: Dial In info will be sent in your registration confirmation
Join us for this timely hour-long "Ask The Expert" call where KPMG experts will discuss significant implications of the Tax Reform bill.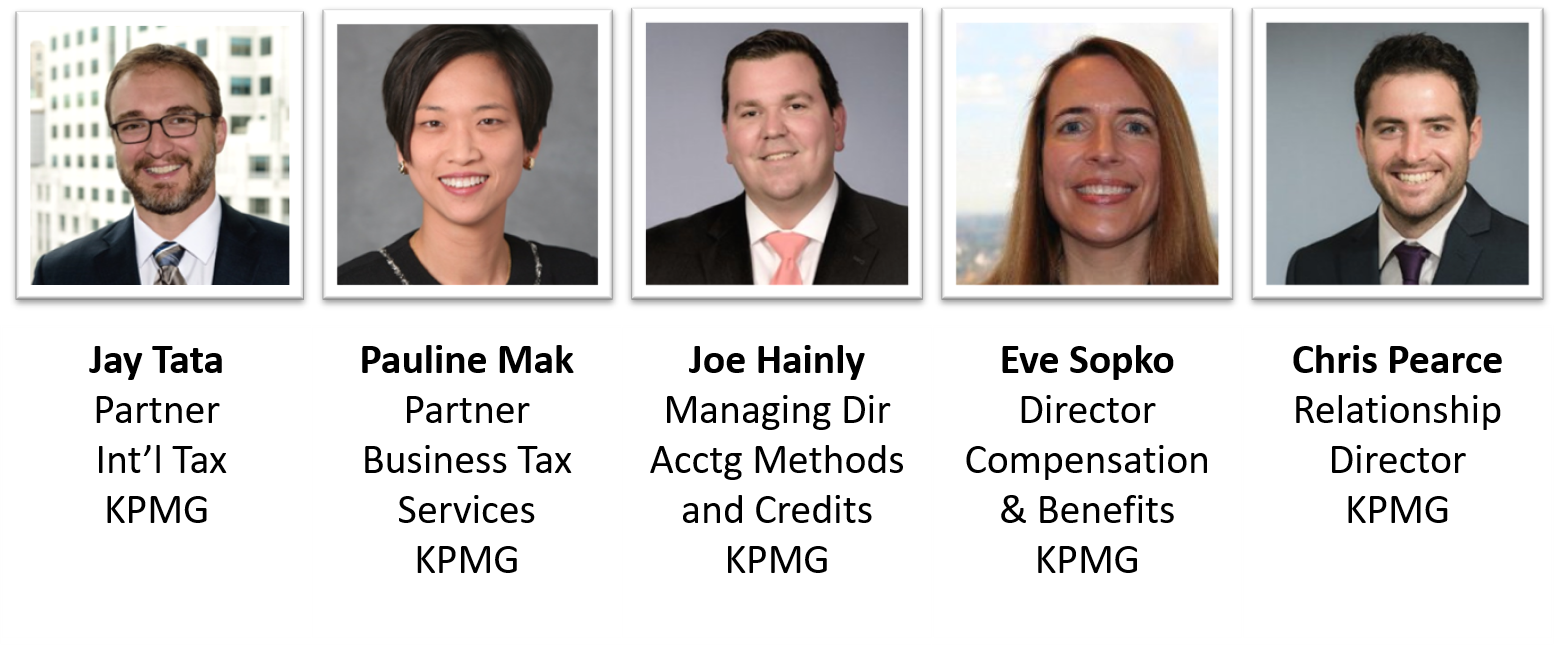 Discussion
After a year of twists and turns on the U.S. tax reform front, a tax reform bill (H.R. 1) was approved by Congress, and President Trump signed it on December 22. Many of H.R. 1's business tax measures represent significant changes to the current system and many are effective for years after December 31, 2017.
Throughout 2017, board members and c-suite finance executives have been turning to their tax teams and advisors for high-level updates on the legislative process and the possible impacts of the various proposals. Now, with the law on the books, it's time to get down to what H.R. 1 may specifically mean to their organizations.
KPMG LLP (KPMG) is pleased to invite you to a 60-minute Webcast on H.R. 1 for the nontax professional. Taking a "tax reform 101" approach, the Webcast covers what's in the new law and how companies are planning to tackle the implementation of the new law. The webcast will also include an overview of domestic and international planning ideas being implemented by organizations.
Topic Questions
If you have specific questions in advance of the presentation, please send them to Angela Tise angela@cfolc.com for inclusion in the presentation.
We know this topic can generate hours of conversation and because we value your time and have only allocated one hour, we want to work as many of your questions as possible in to the initial discussion. Please note, we will leave time for Q&A at the end and we will also invite your questions and comments as the presentation is happening.
Registration
To register for this program, simply click on the green tickets button. All CFO Leadership Council members can attend this event for free. Non-member senior financial executives who are CFOs, Vice Presidents of Finance, Directors of Finance and Controllers (or the like) are welcome to attend this program.

Please note that these calls are offered to current CFOLC members only. The CFO Leadership Council reserves the right to decline any registration.
CPEs are not offered.
---
More Information
For more information about this program or The CFO Leadership Council, please contact Angela Tise, Northeast Regional Director at angela@cfolc.com.
---
About Our Speakers
Jay Tata – Partner, International Tax, KPMG
Jay leads KPMG's International Tax practice in New England. He has extensive experience advising public and privately held multinational corporations on global tax planning and cross-border acquisitions, dispositions, financings, and restructurings. He joined KPMG in 1999 and was promoted to partner in 2007.
Pauline Mak – Partner, Business Tax Services, KPMG
Pauline is a partner in KPMG's Business Tax Services practice in Boston. Pauline has 28 years of experience serving technology, life sciences, and manufacturing clients in Massachusetts and California. She is the New England and Upstate New York business unit leader of KPMG's Accounting for Income Taxes Group (ASC 740).
Joe Hainly – Managing Director, Accounting Methods and Credits, KPMG
Joe is a Managing Director in KPMG's Boston Accounting Methods and Credit Services ("AMCS") practice. He has nearly twelve years of public accounting experience in tax consulting, accounting methods and tax credits for public and privately held companies.
Eve Sopko – Director, Compensation & Benefits, KPMG
Eve is a Director in the Compensation and Benefits group of KPMG's Global Mobility Services practice with more than 20 years of experience in executive compensation and employee benefit plan issues. She rejoined KPMG in 2014 after spending six years at another Big Four Firm and two years in the corporate tax department of a medical device company.
Chris Pearce – Relationship Director, KPMG
Chris is a Relationship Director focused on developing long-term business relationships with public and privately held companies across the New England and Upper State New York region. He provides strategic advice and coordinated support for clients across all domestic and international service lines.