| | |
| --- | --- |
| Taurus New Moon Sacred Sound & Cacao Ceremony | |
Event Details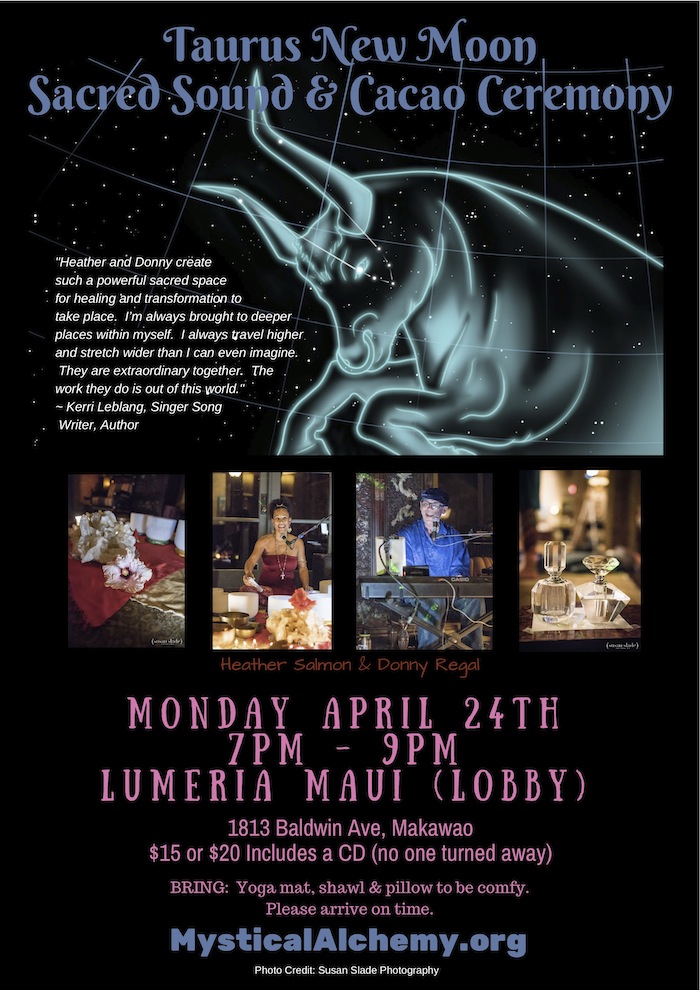 JOIN US IN PERSON OR ON OUR LIVE FEED!
You are invited to the New Moon in Taurus Sacred Sound & Cacao Ceremony! Taurus is the time the Earth Empress reigns with a protective and loving heart as new life upon the Earth begins. We welcome you to join us for this special ceremony as we empower the energies of the Empress within and strengthen our creative abilities and our ability to bring new life in all of it's various forms into fruition.

JOIN US IN PERSON OR ON OUR LIVE FEED!

Mystical Alchemy Ceremonies bring sound healing, music and ritual together in an inspiring and transformational way. Innovative visionary mystics Heather Salmon and Donny Regal bring decades of experience as professional prayerformers, healers and agents of change.

Each journey is unique and their sound baths are deeply relaxing and healing for the mind, body and spirit. Mystical Alchemy ceremonies incorporate sacred and uplifting music, as well as ritual and guided medtiations supported by the vibrational frequencies of 432 hz crystal singing bowls, Tibetan bowls, chimes, vocal toning, guided imagery, isochronic tones and binaural beats that assist with brainwave entrainment.

SACRED CACAO
It's thought cacao was first used as a health elixir and ceremonial medicine as far back as 1900 BC by the ancestors of Central America, the Olmec people, before becoming a ritualistic medicine used by the Aztec and Mayan cultures. Signifying both life and fertility, it was ingested by Royalty in ceremonial God worship and in sacrificial ritual.

CACAO IS ASSOCIATED WITH UNIVERSAL LOVE
Due to certain active ingredients that help release 'feel good' emotions, cacao is considered a heart opener. Creating feelings of emotional intimacy and pleasure.

Our Sacred Cacao is lovingly prepared with the finest organic ingredients and offered as cacao nuggets to be eaten.

Recipe >>> http://blackswantemple.org/blog/ceremonial-cacao-nugget-elixir-recipes/

BRING: yoga mat, pillow and shawl to be most comfy. Also, bring photos or keepsakes of any ancestors you wish to honor. Please be on time!

Monday, April 24th, 2017
7pm - 9pm

Lumeria Maui (LOBBY)
1813 Baldwain Ave
Makawao (Maui)

$15 or $20 includes a CD
(Volunteer work trade positions available. Email BlackSwanTemple@gmail.com or call Heather at 310-415-8821. No one turned away)

Please arrive by 7pm as it can be disruptive to enter late.

Watch on FACEBOOK LIFE for FREE!!! >>> https://www.facebook.com/MysticalAlchemy/

To be most comfortable we recommend that you bring your own yoga mat, blanket, pillow and water. There are couches that are ideal for people who need more support.

TESTIMONIALS
"It was the most magical, spiritual experience of my life."
Candy C. (New York)

"The sound healing really took me to a whole other level."
Janalyn R. (Canada)

"Sound healing became so important to my process of rebuilding. I experienced times of total bliss and sadness but all worth it. Made for a wonderful journey."
Jeremy M. (Hawaii)

Lastly please note the following:

Promptness -- as we are creating sacred space and it is distracting when people arrive late so we request that you make every effort to arrive by 7:00pm. If you do come in after we have begun, please enter quietly and mindfully.

Children -- we highly value diversity and welcome children who can hold a sacred space. Please be aware that our sound baths are a time of quiet inner reflection and stillness and we like this to be honored without any unnecessary distractions.

Lumeria Maui Grounds -- please be aware that we are guests on the property. You are welcome to enjoy and make dinner or lunch reservations in the restaurant 808-579-8877. Please also note that the Lumeria Spa is reserved for their guests only! As we end our events during their quiet hours they ask that we leave directly afterwards and not doddle or roam the grounds.


MORE ABOUT MYSTICAL ALCHEMY

Guided by the energies of astrology, the cycles of nature as well as planetary and current issues these innovative visionary mystics bring decades of experience as professional performers, healers and agents of social change. Heather and Donny have collaborated on these popular prayerformances with such luminaries as Alex and Allyson Grey, Maribai Devi, Dr. Rev. Matthew Fox, Marsh Engle, One Million Called Movement, The Shift Network, the Pachamama Alliance and they have been featured at festivals including Burning Man, the Harmony Festival, Mystic Garden, the One Love Experience, Maui's Earth Day, Flow Festival and Source Festivals, as well as at Unity Church of Marin, World Beat Center (San Diego), Alchemist Conference (LA), the Contra Costa Crystal Fair, the Oakland Cosmic Mass, plus retreat centers, hot springs and yoga studios in California, Hawaii, Oregon, Mexico and Canada! In addition, Mystical Alchemy has produced 25 Sound Healing and music CDs and 2 DVDs to date, as well as a many many inspirational social media pieces!

HEATHER SALMON

Heather's passion is bridging healing and the performing arts into a powerful and lasting transformational experience. She is extensively trained in the healing and performing arts including Sound Healing, Anahata and Kundalini Yoga, Aerial Yoga Play, Advanced Clinical Hypnotherapy, Reflexology, Astrology, Aromatherapy, Non Violent Communication, Astrology, Reiki, Huna, Sound, Intuitive and Transpersonal Energy Healing, Deep Emotional Release Body Work, Classical Ballet, Belly Dance, Improv, Acting and Theater. Heather has been engaged in sound healing as a shamanic vocal rebirthing practice for 17 years and has traveled and trained with renown international teachers including Karinia Sheld, Tom Kenyan, Mantak Chia, Jonathan Goldberg and Nara Boone. She plays 432hz crystal singing bowls which are tuned to the solfeggio scale and other sound healing instruments. Heather holds a degree in Economics from the University of Toronto and she is a Pachamama Alliance "Awakening the Dreamer, Changing the Dream" certified facilitator committed using her work to bringing about a socially just, environmentally sustainable and peaceful world. She is also an ordained minister through the Church of the Essenes (2005) and an ordained High Priestess through the Temple of Isis (2010). In 2010 Heather founded the Black Swan Temple and subsequently relocated in December 2012 to Maui with her beloved Donny to cultivate their living eco temple complete with a food forest as a model of sustainability. They offer prayerformances, retreats, workshops, classes and Mystery School Trainings based on the Sevenfold Path of Peace!

DONNY REGAL

Donny Regal works with music as a spiritual source of inspiration, healing and spiritual awakening. He has provided musical support for spiritual events, ceremonies, dances and Tantric pujas for the last twenty five years and has worked with Sophia and other spiritual recording artist as a producer and musician to create many Spiritual and New age albums. He has studied the work of Margo Anand, Lori Grace Star and Mantak Chia and Marshal Rosenberg, Robert Gonzales and has been integrating this work into his intimate relationships for many years. He is highly versed in Compassionate Communication and is constantly integrating it into his Tantric practice. He is the developer of "The Lover's Language."

For more information visit www.MysticalAlchemy.org or email us at BlackSwanTemple@gmail.com or call 310-415-8821

Mahalo nui for helping to spread the word!
When & Where

Lumeria Maui
1813 Baldwin Ave
Makawao, HI


Organizer
Mystical Alchemy
Email: MysticalAlchemy.net
Website: https://blackswantemple.org/organizer/mystical-alchemy/
Phone: 310-415-8821
Taurus New Moon Sacred Sound & Cacao Ceremony