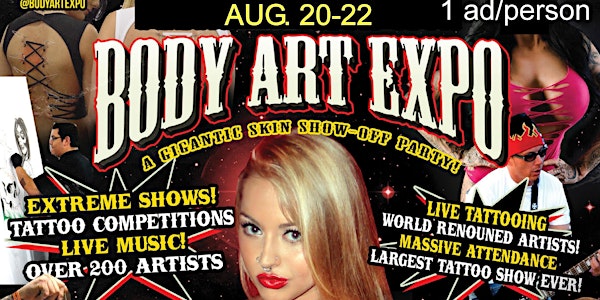 TATTOO & BODY ART EXPO
Up to 300 Tattoo Artists tattooing onsite, plus over 20 tattoo contests over 3 days, plus freak side shows, art fusion contest and all.
When and where
Location
Los Angeles Convention Center 1201 South Figueroa Street Los Angeles, CA 90015
About this event
The World Famous Tattoo and Body Art Expo SUPER SHOW 2021 will be held at the L.A. CONVENTION CENTER 8/20-22/2021 with over two hundred fifty America's best artists tattooing on-site!
This is the huge gathering of America's Top-Notch artists tattooing at Body Art Expo at this extraordinary event show-casing of life-time achievement stories of great tattoo artists.
Get your tattoos -- whether you want a large or small piece, black-and-grey, color, Asian, Portrait, Unusual, or piercing anywhere on your body, get them all at the expo. This is where you'll find the best choices along with great prices.
Dress to impress, it's a show-off party too. See the hot babe contest, spectacular sideshows, music, beer, plus 20 tattoo contests, it's a party you've got to be there!
Buy your tickets online or at the show -- Check out BodyArtExpo.com for info - BodyArtExpo.com - produced by Mega Shows.