Description
Instructor: Wafa Ghnaim
These 2-hour drop in sessions are designed to assist students who are working on independent projects using Palestinian embroidery, and need assistance. Most students in this class will have completed the Palestinian Embroidery 101 class (for more information, you can check www.tatreezandtea.com/upcoming-events). Students must have an independent project that they have either a) acquired materials for but need guidance to start, b) have a specific project in mind and need guidance, c) are working on an independent project and need creative inspiration, tips or mentorship, d) feel stuck on starting or finishing their project. Wafa will assist each student in the execution and planning of their project, provide creative inspiration, offer improvement ideas and mentor students in the various questions and concerns that arise when working on medium to large scale embroidery projects. You will be in the great company of other, like-minded embroiderers who can also join forces with you to help give you inspiration and guidance!
Please contact Wafa at wafa@tatreezandtea.com to discuss your eligibility for these drop in sessions. This course requires instructor approval before registration.
Maximum participation is set to five students a session. Tickets are refundable up to 7 days in advance of the session date. Sessions do not have a minimum registration requirement – as long as one student is registered, Wafa will hold the session.
SESSIONS ARE LOCATED IN VARIOUS VENUES, PLEASE SEE BELOW FOR REFERENCE:
11/17: Session will be held at City Tower, at 10 City Point in Brooklyn, NY above the Dekalb Avenue station (BQR) and is in the same building as City Point with Target and Trader Joe's. Enter the residential entrance and notify the concierge that you are here for a session with Wafa, on the 18th floor. Make your way up the elevators to the 18th floor and the conference room is located to the right of the elevators, on the right hand side.
12/1: For our last Brooklyn workshop, Wafa will be at TATTER: A Gathering of Material Culture, which is at 505 Caroll Street, Suite 2B in Brooklyn, New York. The building requires that you call in to the studio to be let in and we can be found on the second floor.
---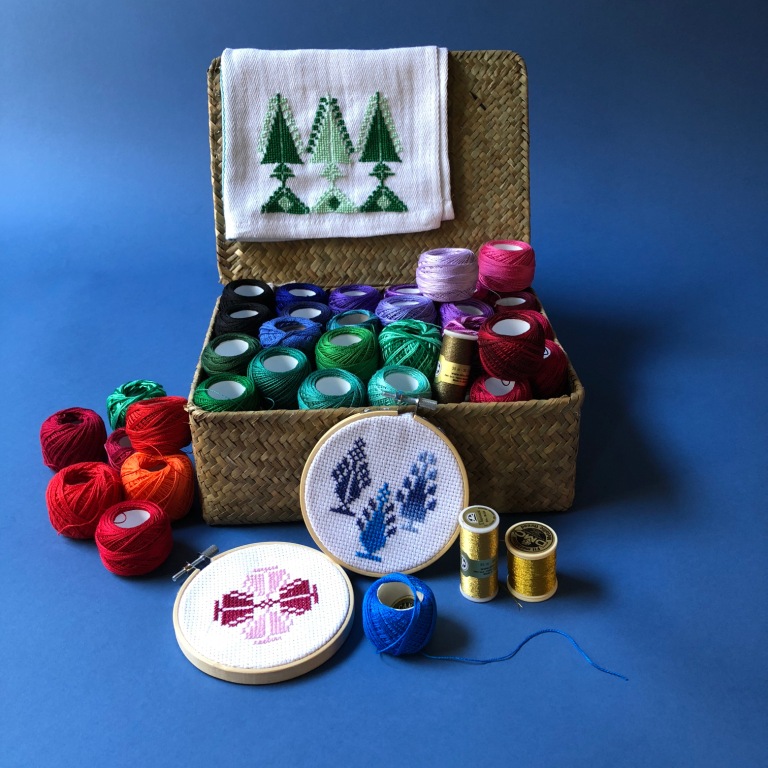 ---
The Tatreez & Tea Workshops are a series of high quality hands-on classes, at low cost and low commitment.
Palestinian tatreez embroidery is a centuries-old folk art, traditionally passed from mother to daughter over a cup of tea. Tatreez & Tea's mission is to provide educational resources, namely through workshops, lectures and publications, to preserve Palestinian tatreez embroidery, folk arts and storytelling traditions in the diaspora.
The workshop will focus on preservation of the indigenous, endangered art of Palestinian embroidery. The workshop is centered on Wafa's digital book, Tatreez & Tea: Embroidery and Storytelling in the Palestinian Diaspora, which preserves the craft of embroidery as well as the art of storytelling that is encapsulated in each traditional Palestinian motif.
For generations, Palestinian women have gathered together with their daughters to work collectively on embroidery projects, bonding with one another over a cup of tea. Over time, and after the exodus of Palestinians from Palestine in 1948, embroidery has become an endangered art that has been subjected to decades of cultural appropriation. But embroidery represents more than just a village craft of old Palestine -- it became the primary form of communication for Palestinian women who used needlework as a way to express their opinions, share their stories, and document their protest of occupation, war and violence.
To learn more about the project, please visit www.tatreezandtea.com. Donations are 100% tax-deductible through the Brooklyn Arts Council.
---