TASTY-Female Chefs on Maui Documentary Premier, Tasting & Meet the Chefs
About this Event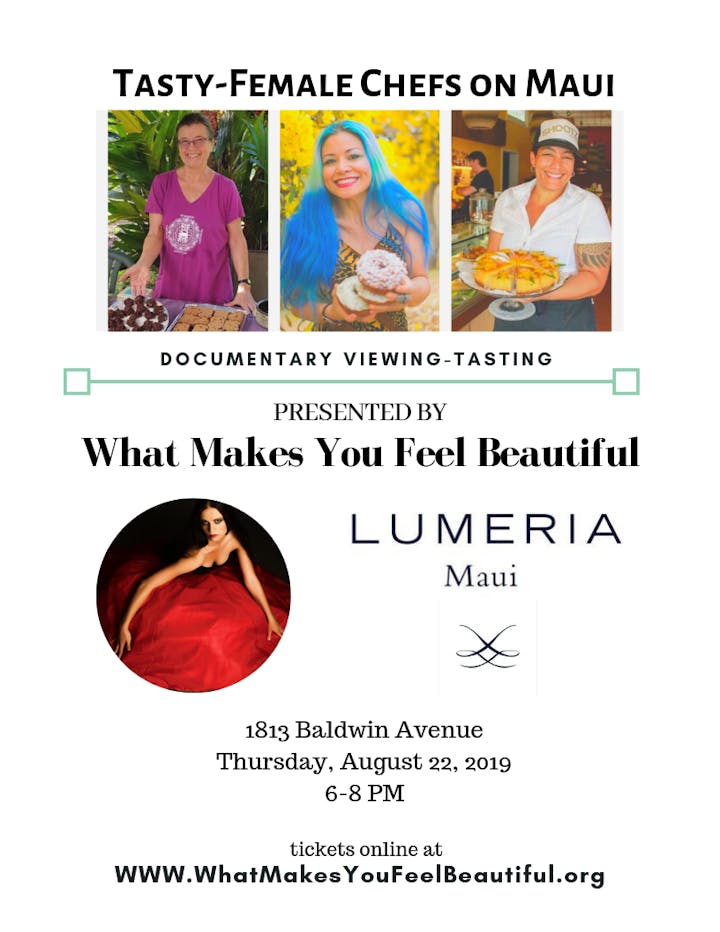 Join us for a very special celebration honoring the Female Chefs from the documentary TASTY-Female Chefs on Maui.
A delightful uplifting documentary about three passionate female chefs on Maui. Woman Led Businesses are the Blooms of Maui, Hi. Women who do what they love are the happiest and you'll see that in this film with Chef Cindi Nand, Madame Donut and Chef Alyse Jenkins.
These Chefs of excellence share their passion, love and desire to cook and feed people. Learn what it means to be a chef and work with some of the finest, freshest tropical ingredients in the world. Get to know them as they explain what they do and what their most grateful.
DOCUMENTARY viewing
Meet the Chefs and taste pupus
Hosted by What Makes You Feel Beautiful
What Makes You Feel Beautiful, is a non-profit inner beauty project that honors and celebrates all women! It explores the relationship between inner beauty and what is considered visually beautiful. A movement that helps women to thrive and realize the love and beauty that can only be felt from within.
Admission $10-25 online
Discount tickets for senior citizens $10
Early-bird discount 40% off ends August 1st
check out the teaser to TASTY-Female Chefs on Maui