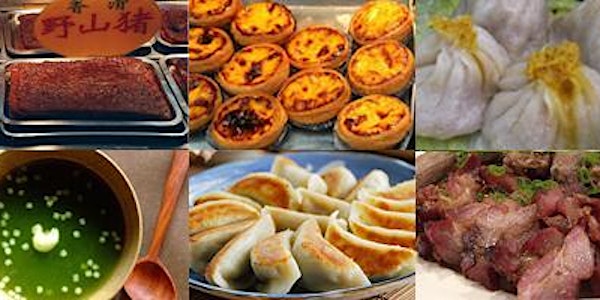 Tastes of Chinatown Tour $75 w/ BBQ (Guided by Local Chinese)
Tastes of Chinatown Tour w/ BBQ (Guided by Local Chinese) $75
When and where
Location
Chinatown Tourism Kiosk at a traffic island across street from 220 Canal Street New York, NY 10013
About this event
This Chinatown tour takes you to secret eateries, restaurants, and specialty shops – the authentic Chinese way! A Chinese local guide will expose you to a wide variety of Chinese regional cultures including those of the Taiwanese, Shanghais, Pekingese, Cantonese, and Hongkonger. It will be an eye-opening and mouth-watering experience! 
Your food-tasting journey allows you to savor the following gastronomic delights:
(Seated) Cantonese BBQ including roasted duck and pork: crisp and juicy (a sit-down dining experience)
(Seated) Authentic Chinese Wonton Soup: thin wonton skin with generous fillings of shrimps and pork (a sit-down dining experience)
Dim Sum Pastry: pick from a variety (e.g. roasted pork bun, or fried sesame ball)
Asian Beef Jerky: mouth-watering; softer and sweeter than the American style
Taiwanese Teas: from the most well-known and popular tea house in Asia (no sample during COVID)
Shanghai Scallion Pancake: light and crisp, delicious snack
Pekingese Dumplings: filled with meats, and veggies - tender on the inside, crunchy on the outside
Asian Popular Snacks
*(Optional) A variety of exotic Asian flavored ice-cream
Want to experience a wide variety of authentic Chinese foods with a local guide in a small group? Join us today! All tastings are included in your ticket price of $75. You should be full by the end of the tour!
For more information, please visit http://foodtoursofny.com. We are looking forward to touring with you!
* The optional tasting is not included in the tour ticket but you can choose to purchuse it.
If you are having an issue and using chrome, make sure "Block third-party cookies and site data" is unchecked under Settings > Privacy > Content Settings.
Tour Information
Terms and Conditions: Must Read! By submitting this order, you affirm that you understand and agree to New York Food Tours's Terms and Conditions and Waiver and Release of Liability.
Duration: 3.5 hours
Dress: Wear comfortable shoes and clothing.
Weather: Takes place rain or shine.
Food: Most are "taste on thego"; some are seated. There should be plenty of food to eat. Note: food tastings are subject to change without notice.
Capacity: Small group usually; Max 12 persons per tour.
Number of Attendants: If the total number of attendants is less than 4 persons, the tour is subject to cancellation.
Gratuity: A standard NYC tip is 18-25%.