Description
SUNDAY, SEPTEMBER 13 | BROOKLYN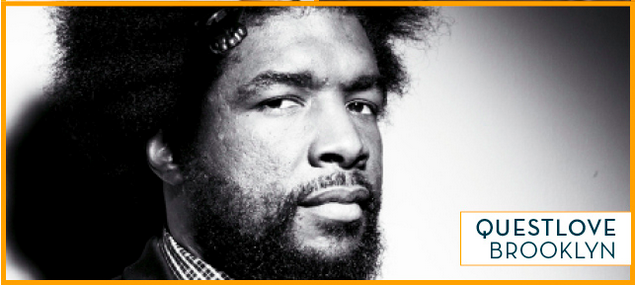 2015 All-Star BBQ Curator: Questlove
Taste Talks is a national series of festivals celebrating the future of taste through symposia, tastings, dinners and parties. Taste Talks brings together thought leaders and luminaries from around the world together with everyday food enthusiasts to engage in great conversation, amazing food and one-of-a-kind experiences.
Celebrate a day of discovery and indulgence at Taste Talk's All-Star BBQ, a sampling feast that brings together world-renowned chefs making signature dishes outdoors at 50 Kent Avenue in Williamsburg. Expect to mix & mingle with top chefs from around the world while dining on their brilliant, delicious BBQ creations.
---
ALL-STAR BBQ LINEUP & MENU

CURATOR QUESTLOVE WITH ORIGINAL DJ SET
Matty Matheson (Parts & Labour) // Dan Santoro & Bert Krak (Smith Street Tattoo)
RAW LAMB LARD & BBQ YUZU CABBAGE | With fish sauce, brown butter, mint, and thai basil

Ben Conniff (Luke's Lobster) // Matt Timms (The Takedowns)
CHILI-BUTTER LOBSTER TAILS | With grilled cabbage and corn slaw

Laura O'Neill & Ben Van Leeuwen (Van Leeuwen Ice Cream) // Sharon Van Etten (Musician)
TRIPLE PEANUT | Peanut butter ice cream with a peanut butter swirl and crunchy peanut brittle
BUTTERMILK JAM | Buttermilk ice cream swirled with house made raspberry jam

Allison & Matt Robicelli (Robicelli's Bakery) // George Takei & Telly Leung (Actors, Allegiance A New Musical)
FUJI APPLE PIE | With miso caramel and vanilla bean tofu cream

Alex Stupak (Empellón) // Damian Higgins AKA Dieselboy (DJ/Producer)
LA HAMBURGUESA CAMPEÓNA | Grilled shortrib patty on a potato roll, tex mex style queso, red pepper-chorizo relish, crispy gaufrettes, smoked mayonnaise

Daniel Eddy (Rebelle)
GRILLED DUCK SAUSAGE | With plum jam

Justin Smillie (Upland) // Heems (Musician)
GRILLED VEAL RIBS | With charred cherry tomato salsa

Russell Jackson (SubCulture Dining) // Lea DeLaria (Orange is the New Black)
GRILLED MUSSELS | with Korean gujoung pork fat butter and fermented cornbread peptia crumble

Rob Newton (Wilma Jean, Nightingale 9, Wilma Jean, Smith Canteen) // Lee Gregory & Joe Sparatta (Southbound)
GRILLED PORK SHOULDER | With rice noodles, Virginia peanuts, cucumbers and herbs

Michael Psilakis (MP Taverna, Kefi, Fishtag) // Jarobi White (Musician; Eats, Rhymes & Life)
PULLED LAMB SLIDERS

Pierre Thiam (Pierre Thiam Catering) // Island Creek Oysters
GRILLED OYSTERS I With Spicy Smoked Crayfish Mignonette and Cassava Leaves with Peanuts

Roblé Ali (Roblé & Co. & Streets BK)
ROBLE & CO. SPECIAL

Shannon Shaffer (Design Cuisine) // Lauren Wagner (Street Art Throwdown) & Jenna Morello (Street Artist)
KOREAN BBQ BEEF BRISKET | Asian pear and fennel slaw, wasabi pearls, puffed rice cracker

Hugue DuFour (M. Wells) // Mark Hegedus (Blue Point Brewing)
DEEP SEA RED CRAB
---

---

VIDEO
---
CHOOSE ONE OF TWO ENTRY TIMES
Entry A: 12:00 noon
Entry B: 2:30pm
---
For more information, visit the Taste Talks website.
To purchase this ticket as part of a discounted All-Acess Pass, click here!
Tickets only available online in advance. Purchases are non-refundable. Event is rain or shine. Cash bar.