Description



Are you hungry for a just, ecological, local food system?
EDIT 8/18/2018: The Taste is now sold out! But you can still support our mission by donation AND you play the raffle. If you like you can join us for the raffle drawing at 7:00 at the Taste! Cashbar will be available as well.


Join us for our annual Farm-To-Table dinner, made with organic produce grown fresh by hand at Wellspring education farm and retreat center! Celebrate the season's cream of the crop with the farmers and community organizers that make Wellspring possible!
*We are proud to announce that dinner tickets will be offered on a sliding scale! $15-$75. We are looking forward to this opportunity to celebrate and give back to our community.* For more info please visit our website.

Special thanks to some of the most talented and passionate local chefs and producers who have volunteered their time to cater this event in support of our mission and the greater movement for local food, including:
-Karen Gill, Down to Earth
-Dave Jurena, The Soup Market
-Eric Fix, Out and Out Catering
-Stephanie Ulma, Grasshopper Restaurant
-Tony Koebel, The Norbert
Drawings will be done after dinner.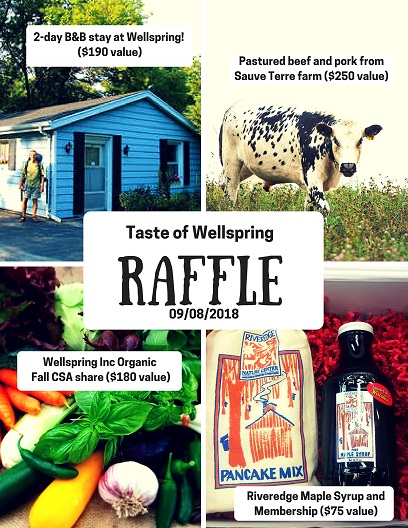 Bring your dancin' shoes! Live music for the event will be provided by local artists:
Caley Conway: dreamy folky singer-song writer artist you don't want to miss! https://www.caleyconway.com/
David Gent: Wellspring's own talented farm intern will treat you to some of his covered classics and originals on the keys!
We will have a cash bar set up on site for your enjoyment, as well as t shirts, books, CSA shares, and event sign ups.
If you or your organization might be interested in sponsoring this event, please email us at board@wellspringinc.org for more information! Many options available, which include tickets, gifts, and promotional incentives dependent upon your level of commitment.
Don't miss the most delicious opportunity of the year to support the work that Wellspring does to build local food systems. Year after year, we train more organic farmers, offer public workshops, host educational field trips for youth, and partner with various local food merchants and community leaders to distribute fresh, nutritious food in SE Wisconsin and the greater MKE area. Tickets on sale now till August 24th. Get your space reserved today!
Schedule:
5:00: Doors open. Our volunteer parking lot attendant will greet you as you arrive!
5:00-6:00: Registration, raffle ticket sales, silent auction bidding, cashbar, hors d'oeuvres, music by Caley Conway
6:00-6:45: Dinner is served buffet-style; music by David Gent
6:45 -7:00: A word from our speakers
7:00-7:30 Dessert is served, Dance floor open
7:30: Raffle Drawing, Silent Auction Winners announced
8:00: Closing time! Our parking lot attendants will be available to see you safely on your way
Thanks to our sponsors for making this event possible
Educators Credit Union, Riteway, Suave Terre Farm, WEngergies, State Bank of Newburg, Pointer Marketing, Lakefront Brewery