VSSN's most delicious food, drink, and product event of the year! This food festival benefits veteran hunger relief. Tastings from 5-9 pm.
About this event
Marketplace opens at 10am...
Tastings & Cheer Beer & Wine Garden from 5-9pm
Foodies and Event-goers come together to sample wonderful tastes of food, drinks, beer & wine, products, resources, local music, employment, educational opportunities, and more.
This event is VSSN major toy drive and fundraiser for VSSN's veteran & military hunger relief and suicide prevention programs.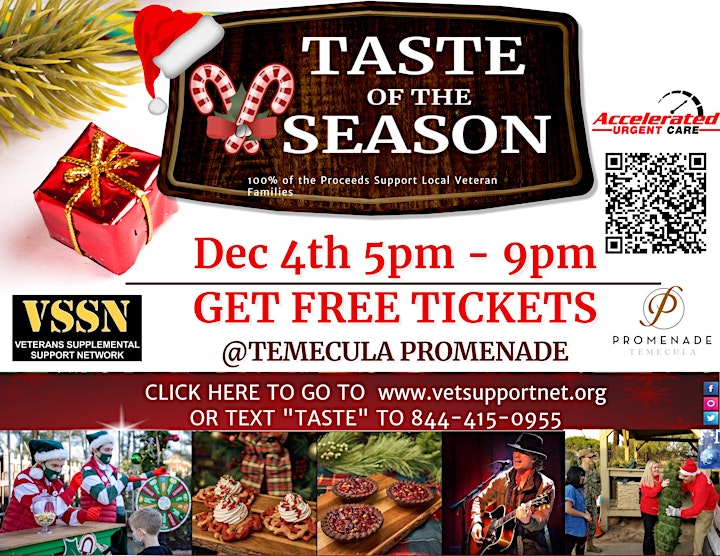 Marketplace opens at 10am...
Tastings & Cheer Beer & Wine Garden from 5-9 pm
Follow us on our Social Media:
Facebook- https://www.facebook.com/VeteranSupplementalSupportNetwork
Instagram- https://www.instagram.com/vssnvets/
Twitter- https://twitter.com/VSSNVets
visit our website at vetsupportnet.org
Organizer of Taste of the Season Attendee Page
 VSSN is a champion for ANY hero (military, veteran first responder, teachers, community workers, etc) who give selflessly to improve or save a life and/or the planet!
Veterans Supplemental Support Network (VSSN) mission is to end and prevent homelessness and hardship among veterans, military and/or their family members.
Each VSSN chapter across the world is an alliance of concerned community members (veterans, individuals, groups, nonprofits, and businesses) who leverage give emergency food, toiletries, resources and volunteerism efforts to develop supplemental support for Veterans, Military uniform service members and their families. VSSN typically gives support to veterans referred from DVA Vet Centers or other Veteran Service Organizations.