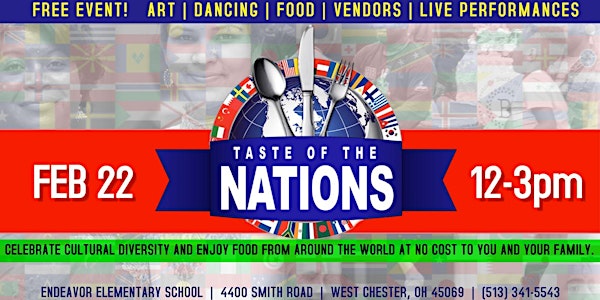 Taste of the Nations
Come celebrate the world and the beauty of its diverse cultures through food, dance, music, and entertainment.
When and where
Location
Endeavor Elementary School 4400 Smith Road West Chester Township, OH 45069
About this event
It is time for the 5th annual Taste of the Nations, hosted by Life Changers Church. While attending this free event, you will be able to travel the world in ONE place! You will be offered a guided tour through the nations, with the opportunity to taste food from around the world.
Families and friends have joined together to create culturally diverse masterpieces for your enjoyment. We will have raffles and giveaways, a children's zone, and a parade of nations for the children to participate in. A variety of vendors will also be selling crafts, jewelry, clothing, and much more.
This event will be held at Endeavor Elementary on Saturday February 22nd from 12:00pm-3:00pm. The address is 4400 Smith Rd. West Chester, Ohio 45069. Mark your calendars, pack your bags, grab your passport, and come learn about and enjoy our beautiful world!
Taste of the Nations is open and free to the public!