Description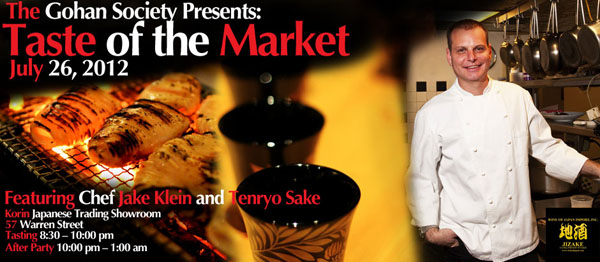 The Gohan Society
In Association With
Korin Japanese Trading
and
Wine of Japan Import, Inc.
Present
Taste of the Market
a Summer Evening of Fresh Tastes to Benefit the Gohan Society
Featuring the Food of Chef Jake Klein and Tenryo Sake
Join The Gohan Society, Korin Japanese Trading, Wine of Japan Import Inc., and Chef Jake Klein for a summer evening of market fresh food and refreshing sake.
Chef Jake Klein, Executive Chef of Morrell Wine Bar, who has cooked extensively throughout Asia and apprenticed under Chef Masaharu Morimoto, will explore and present Japanese approaches to local market ingredients.
Chef Klein's dishes will be accompanied by Tenryo Koshu Junmai Dai-Ginjyo and Tenryo Hidahomare Junmai Ginjyo, each a multiple award-winning sake from Tenryo Sake Brewery of Gifu, Japan
Following the tasting, please stay and join us for an After-Party gathering of chefs, friends, and supporters of the Gohan Society.
Because of the unique venue – the internationally renowned Korin Trading showroom – this will be a casual, standing tasting.
Save 15% on All Knives throughout the event (excluding Masamoto and Glestain)
July 26, 2012
Tasting 8:30 – 10:00 pm
After Party 10:00 pm – 1:00 am
Korin Japanese Trading Showroom
57 Warren Street
New York, NY 10007
Admission
General Public $30
Gohan Society Members $15
For additional information:
212-385-3550
info@gohansociety.org