Taste of the Marcellus - A Fundraiser to Fight Fracking in New York State
Description
A Benefit for Chefs for the Marcellus and New Yorkers Against Fracking
TASTE OF THE MARCELLUS
The land, air and water of upstate New York's 28-county Marcellus region are threatened by the prospect of hydrofracturing ("fracking") -- a dangerous and dirty method of extracting natural gas from shale. With a passion for local food production and water quality, we're working to ban fracking in New York State.
Please join a group of the city's leading chefs in delicious defiance and savor the food, beer, wines and spirits from this beautiful, bountiful region.
Chef Michael Anthony, Gramercy Tavern
Okra Stuffed with Eggplant Puree, Sherry Vinegar, Parsley and Mint
Chef Elizabeth Falkner, Krescendo
Summer Squash and Peach Salad with Ricotta and Almonds
Chef Peter Hoffman, Back Forty & Back Forty West
Romano Bean Salad with Basil, Black Olives and Salvatore Ricotta Cheese
Chef David Colston, Brooklyn Winery
Sungold Tomato Gazpacho with Smoked Trout, Burrata Cream, and Toasted Millet
Chef Daniel Holzman, The Meatball Shop
Chicken Meat Balls with Pesto and Corn Salad
Chef Zak Pelaccio, Fatty 'Cue & Fatty Crew
Smoked Lamb Belly with Fermented Tofu, and Summer Bean Salad
Chef Bill Telepan, Telepan
Carolina Gold and Black Forbidden "Fried Rice'' with Oxtail and Seasonal Vegetables
Chef Chris Santos, The Stanton Social
Whipped Ricotta Jewel on Toast with Grilled Peaches, Chili Basil and Honey
Chef Heather Carlucci, PRINT. Restaurant
Butterscotch Parfait with Roasted Strawberries
Chef Mary Cleaver, The Green Table & Cleaver Co.
Blueberry Brown Butter Cakes with Black Raspberry Compote
VIP Admission 6:00 – 7:00 PM ($250)
VIP reception in the Atrium with a guided tasting of beers and wines from the Marcellus region paired with canapes by Brooklyn Winery's Chef David Colston. VIP tickets also include admission to the general event, and admission to the after-party at Brooklyn Bowl.

General Admission 7:00 – 10:00 PM ($125)
Tastings throughout Brooklyn Winery by more than a dozen chefs paired with wines and beers from the Marcellus; Tuthilltown cocktails created by Richard Knapp, Mixologist at Mother's Ruin; Pairings by Jimmy Carbone, beer geek, Jimmy's No. 43 and Conor McCormack, winemaker, Brooklyn Winery.

Transportation: Brooklyn Winery is just one block from the L train at Bedford Avenue; coming from Manhattan get out at the front of the train, you'll be at North 7th St & Driggs Ave, walk one block north to North 8th St, turn right and we're right there!

Ommegang After-Party at Brooklyn Bowl 10 - 12:00 MIDNIGHT ($25) - Brooklyn Bowl is just a few blocks from Brooklyn Winery

Complimentary Ommegang and Music!! 61 Wythe Ave, Brooklyn 11211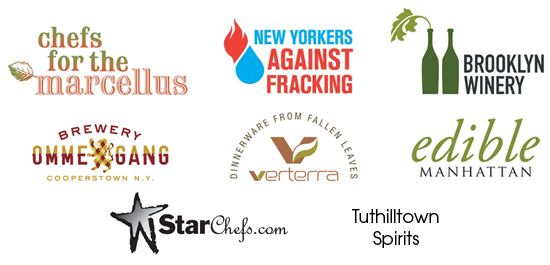 Sponsors: Brooklyn Winery, Brewery Ommegang, Chefs for the Marcellus, Edible Manhattan,

New Yorkers Against Fracking, StarChefs.com, Tuthilltown Spirits, Verterra
Organizer of Taste of the Marcellus - A Fundraiser to Fight Fracking in New York State
Chefs for The Marcellus, a program of Public Market Partners, is a group of chefs, producers and other food professionals whose mission is to protect our regional foodshed from fracking while promoting the farms, wineries, breweries and other food producers of the Marcellus region. http://www.chefsformarcellus.org
With New Yorkers Against Fracking, a broad-based state-wide coalition, we are inspiring businesses and organizations to work for a ban against fracking in NY. http://www.nyagainstfracking.org