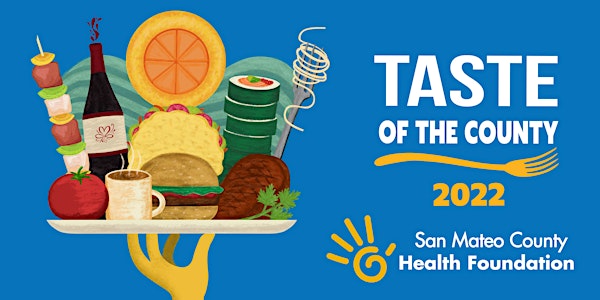 Taste of the County, Food and Entertainment Festival Benefiting Healthcare
Location
San Mateo County Event Center
2495 South Delaware Street
San Mateo, CA 94403
BE PART OF THE SOLUTION, COME FOR FUN
About this event
Announcing the 2nd Annual Taste of the County Event, an outdoor food and entertainment festival!
San Mateo County Health Foundation (SMCHF) is proud to bring back Taste of the County at the San Mateo County Event Center on Saturday, October 1st at 12-4 PM.
Food Samplings from Local Restaurants
Drink Pours from Local Wineries and Breweries
VIP Lounge with Upgraded Bar
Live Music
Children's Fun Area with Games and Activities
During the pandemic, many restaurants rose to the occasion by donating tens of thousands of meals that fed families in need and frontline workers at San Mateo Medical Center. This inspired us to invite all of you to take part in this endearing community spirit and enjoy delicious samplings from the same amazing restaurants.
We wanted to create a food and entertainment festival to celebrate the resilience of healthcare staff and local businesses through these unique times, something the community could enjoy year after year while bringing awareness to medical needs at San Mateo County's only public hospital.
100% of sales from admission tickets and all event proceeds go directly to healthcare programs and patient care – yes, all of it! Your support means that together we can provide assistance to over 77,000 people who come through the Medical Center, many of whom are uninsured and underserved.
Back by popular demand joining us on stage is our house band, Identity Problem, an eclectic classic and modern blues & rock cover band from San Jose, CA. Rock out to their cool sound spanning decades of alternate versions of songs we know and love and spend an unforgettable afternoon with family and friends - eat, drink, and be merry all for a great cause!
There are several ticket levels to choose from and kids up to 14 years old attend for FREE with a paid adult ticket. This year we are adding a VIP Plus pass, which gives you access to a special VIP section with an upgraded bar (better wines, craft beer, and signature cocktail). Please choose a Ticket Pack to receive a discount for multiple VIP and VIP Plus tickets. To purchase your tickets, click on the Tickets button on this page. We realize there are a lot of ticket options. We're here to help you with your order. Please feel free to give us a call at (650) 573-2655.
Every attendee must have a printed copy of their ticket to get a wristband to enter the event. Please also bring your ID in case we need to verify any over 21 guests at check-in.
We understand that things happen and sometimes plans change. Since this is a fundraiser and 100% of ticket sales go directly to funding the healthcare programs and vital medical needs for the hospital, tickets are considered a tax-deductible donation and are nonrefundable. Please use your receipt for your tax records. Thank you so much for your support!
Note: Parking is FREE. Alcohol service ends at 3:30 PM.
If you are a San Mateo County restaurant or craft vendor who would like to participate, please email c_dfloro@smcgov.org for more information. If your business would like to sponsor our event, please continue below to Event Sponsorship.
EVENT SPONSORSHIP
You can sign up to be a Presenting, Gold, Silver, or Bronze sponsor by pressing the Tickets button on this page.
Sponsorships play a huge role in our fundraising. We rely on partnerships with businesses to be able to put together these community events. For over 30 years, SMCHF has established truly wonderful relationships with our event sponsors. We invite you to become part of this legacy. Below we have listed some of the benefits of being an event sponsor for Taste of the County.
Exposure to the thousands of SMCHF supporters and event attendees
New customers for your business and followers on your social media
Promotional Marketing on our event website and social media, print and digital ads, and event signage at no additional cost. Top sponsors will be featured on transit advertising and the main marquee display at the Event Center.
Your donation is a tax write-off
Complimentary tickets based on your sponsorship level
Restaurant sponsors are placed on a preferred vendor list for our Meal Train program, which purchases large order meals for frontline workers and county families in need, generating additional revenue for their business.
Presenting, Gold, and Silver business sponsors will be invited to a wine tasting event at a local winery
Swag Bag that includes SMCHF merchandise, treats, and other fun surprises
Complete sponsorship information can be found in our Event Sponsor Guide. If you're ready to sign up as a sponsor and would like to pay online, press the Tickets button on this page. Click here to choose a different payment method.
ABOUT SMCHF
San Mateo County Health Foundation was founded in 1989 by four extraordinary women. Our mission is to provide healthcare access to all county citizens regardless of their ability to pay.
During the past year, our donor family helped us support the county hospital and clinics with over $1.7 million in funding. We distributed hundreds of thousands of pieces of PPE, fed frontline healthcare workers with tens of thousands of meals, provided over one hundred thousand diapers to families in need, and gave thousands of food boxes to COVID positive households and families dealing with food insecurity.
These results were made possible thanks to an amazing community of Foundation Supporters dedicated to promoting the overall health and well-being of every San Mateo County citizen.