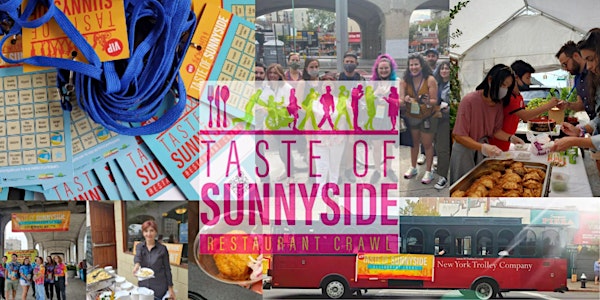 Taste of Sunnyside 2022!
Find out why Sunnyside, Queens is the latest foodie destination at the 2022 Taste of Sunnyside Restaurant Crawl!
When and where
Location
Restaurants throughout Sunnyside! Lowery Plaza, 40th Street & Queens Blvd Sunnyside, NY 11104
About this event
The 2022 Taste of Sunnyside Restaurant Crawl will spotlight the diverse flavors of Sunnyside, Queens. Come discover the best-hidden gems of NYC!
With a wide variety of food, beer & wine offerings, and live entertainment, the Taste of Sunnyside is back and better than ever as an open-air restaurant crawl celebrating the resilience of this unique neighborhood.
Our annual food crawl feature carefully curated guided and self-guided tours offering you a flavor of Latin, Italian, French, Asian and Middle Eastern cuisines. ( See our growing list of participating restaurants below) .
The Check-in point will be at Lowery Plaza at 40th Street and Queens Boulevard, under the elevated 7 train. Your ticket covers it all---you will get a wristband upon check-in that gets you a tasting portion at each participating business on the crawl, and you will receive a crawl map to guide you along the stops (we will have guided group options as well!) Trolley transportation is available all along the route.
VIP Admission ticket holders will have early access to priority check-in, Trolley Transportation, a "Fast Pass" for designated access at tour stops, and more!
FOLLOW US on Instagram @Sunnysideshines for updates!
PARTICIPATING FOOD AND BEVERAGE SPONSORS: Our list of participating venues is growing and currently includes (list updated daily):
1. 43rd Bar & Grill
2. Arcobaleno Gelateria NYC
3. Alewife Brewing Company
4. Arriba Arriba
5. Ariyoshi
6. Bliss 46 Bistro
7. Bolivian Llama Party
8. BK Dim Sum
9. Cardamom Indian Cuisine
10. Carlito's Philly Cheese Steaks
11. Chakra Café
12. Danubius
13. Dave's Wing Stop
14. Dazie's Restaurant
15. De Mole
16. Elio's Ice Cream
17. Empire Shop
18. Fat Puppies
19. Firefly Petite Bistro & Café
20. Healthy As a Motha
21. Izzie's Jawn: Cheesesteaks, Burg
22. Jack's Fire Department
23. Kasbah Café
24. La Adelita de Woodside
25. La Catrina de Luis
26. La Flor
27. La Vienessa
28. Little Meatball
29. McGuinness's Saloon
30. Mr. Buncha
31. QBK Sports
32. QNSY
33. Ricas Pupusas y Mas
34. Rincon Melania
35. La Pollera de Mario
36. Sanger Hall
37. Senso Unico
38. Single Cut Brewing
39. The Spot Café
40. SoleLuna
41. Sotto le Stelle
42. Sweet Avenue
43. The Globe Tavern
44. The Lowery Bar & Kitchen
45. Tito Rad's
46. To the Macs
47. Wonder Pig Korean BBQ
48. Black Eye Peas and Collard Greens
50. Footprints Cafe
51. Courtyard Alehouse
52. The Goat Bar
53. Mr. Dee's Burgers and Dogs
DRINK: Guests 21 and over may sample alcoholic beverages. Non-alcoholic beverages will also be provided.
If you have any questions or need more information, feel free to contact Sunnyside Shines at info@sunnysideshines.org or 718-606-1800.
Taste of Sunnyside Frequently Asked Questions
Q: Does my ticket include food and drinks?
A: Your ticket includes food and drinks from participating locations.
Q: How does it actually work?
A: Each bar or restaurant you visit will have exclusive food and/or drink samples you can only get with your printed card – alcohol will require you to have a wristband. There are fun social media games where your participation is voluntary. Most of our participating locations are serving their samples from in front of their storefronts, in open-air format. A map will be provided either in print version available at check in or digital HERE.
Q: Is tipping acceptable or required?
A: Tipping is totally at your discretion. While it is encouraged, but not required. Many of our guests appreciate good service and choose to reward it to the bartenders and servers at the places we visit.
Q: How do we use the event trolly?
A: Trolley stops will be located along the crawl route and are marked by signs. They are also listed on the printed crawl map you will be provided with at check-in, and on our event website.
Q: Is the crawl accessible?
A: Unfortunately, our trolleys are not ADA-accessible, but we will have one ADA-accessible bus which can transport anyone in a wheelchairs.
Q: Can I buy my ticket anywhere else besides online?
A: Our tickets are sold exclusively online on the Sunnyside Shines website and via Eventbrite – www.sunnysideshines.org; Taste of Sunnyside typically sells out in advance. If any tickets are still available the day of the event, you will be able to purchase on-site at Lowery Plaza, under the elevated 7 train at Queens Boulevard and 40th Street.
Q:What if medical attention is needed for me or my family member?
A: We will have a first aid kit available at the check in table in the Plaza. In case of emergency Find the nearest Sunnyside bid staff member (we'll have shirts on!) or communicate in our event chat on WhatsApp and they will direct you accordingly.
Q: Are bathrooms available?
A: Single stall bathrooms are available in the plaza for participants to use.
Q: Can we bring our own booze or carry cocktails from bar to bar?
A: No! As much as we would love to let you, the law is pretty specific on both of these points. And we will enforce them rigidly! This means no flasks, no bar-noculars, no pocket beers for the road, and no hiding a bottle and then pulling it out at the next bar. No outside alcohol is permitted…period, no exceptions.
Q: What should I wear?
A: Be sure to wear comfortable walking shoes. Dress appropriately for the weather (if it's raining we highly recommend raincoats and/or umbrellas). Shoes and shirts are required in all cases.
Q: Which restaurants do we visit?
A: Follow the map/location list provided to you at check-in via your mobile device. You have access to every location but we have curated a few routes that you can use.
Q: I don't want to be around a bunch of drunken fools, what ages come to your pub crawl events?
A: Good question – obviously all ages are welcome to come to the event (email us to make arrangements if you are bringing children). To drink you must be 21 or older; however, our groups will be mixed. Guests of all ages, 21 & up, have mingled on the crawls and had a great time.
Q: How long does the crawl actually last?
A: Each crawl will vary based on participating locations. The average crawl will be around 3 or 4 hours. Check your specific event for details. However, if you have a curfew or if you turn into a pumpkin at midnight you are free to leave when necessary. However, participants must be present to receive awards and prizes. We encourage you to end your evening by dining out or drinking at one of the establishments you've discovered during the crawl!
This year we will have a closing event at QBK Sports from 7-10 PM. We will also have a launch event on Friday, October 7 at Alewife. Look on our social media for more details on both.
Q: How long (distance) is the Taste of Sunnyside Restaurant Crawl?
A: It depends on which route you take but in most cases the entire restaurant crawl is approximately 2-3 miles total, depending on where you walk, but folks usually only walk short distances between bars and restaurants. While it is far from strenuous, we do recommend that you wear comfortable walking shoes and dress for the weather!
Q: Can we bring cameras or video equipment?
A: Sure!!! This is encouraged! How else are you going to show all your Facebook friends how cool you are, and how much fun Taste of Sunnyside is?! Please tag SunnysideShines in your social media posts!
Q: Does the event happen rain or shine?
A: Yes, our events happen in all-weather unless it's dangerously windy. If we run into a weather situation, we will advise all ticket buyers and participating restaurants and announce a plan.
Q: Is the crawl route wheelchair accessible?
A: Yes, the crawl is very doable via wheelchair through our sidewalks and crosswalks.
Q: I am running late for the Taste of Sunnyside, will you wait for me?
A: Please give yourself plenty of time to get to the crawl and find parking!
Check-in for VIPs starts at 2 pm and General Admission check-in starts at 3 pm. We will have staff at our info table in Lowery Plaza throughout the duration of the event, so you can check in anytime until we shut down at 7, but we encourage you to show up on time so you're able to fully enjoy the event.
We will have an After-party this year with a short program and drink specials at QBK Sports – from 7-10 PM on Sunday, October 16.
Q: Is there parking near the crawl?
A: There is parking under the elevated 7 train from 42nd to 47th Streets as well as parking along Queens Boulevard and neighboring streets and avenues. Meters are not active on Sunday, so finding a spot can be competitive---plan ahead and build in time for finding parking!
Q: Do we go inside buildings during the crawl?
A: Most of our participating establishments are serving from outside in front of their storefronts; a handful of them will serve from inside.
Q: Do I need to bring an ID?
A: ABSOLUTELY! You must bring a VALID, state-issued ID to the event. You will not be issued our "21+" wristband without ID, and if you plan to stay in the neighborhood after the crawl and dine and drink inside, you will need it.
Q: I can't make it to the event. Can I get a refund?
A: No. There are absolutely no refunds on ticket purchases to any of our events. Your ticket is transferable to another individual, so long as they present a valid, state-issued ID and your purchased ticket which will have a unique QR code (bar code).
If you have further questions or need assistance, please contact Dirk McCall de Palomá at director@sunnysideshines.org