Find out why Sunnyside, Queens is the latest foodie destination at the NEW 2021 Taste of Sunnyside Restaurant Crawl!
About this event
The 2021 Taste of Sunnyside Restaurant Crawl will spotlight the diverse flavors of Sunnyside, Queens. Come discover the best hidden gem of NYC!
With a wide variety of food, beer & wine offerings, and live entertainment, the Taste of Sunnyside is back and better than ever as an open-air restaurant crawl celebrating the resilience of this unique neighborhood.
Our first ever food crawl feature carefully curated guided and self-guided tours offering you a flavor of Latin, Italian, French, Asian and Middle Eastern cuisines. ( See participating restaurants below) .
Check-in point will be at Lowery Plaza at 40th Street and Queens Boulevard, under the elevated 7 train. Your ticket covers it all---you will get a wristband upon check in that gets you a tasting portion at each participating business on the crawl, and you will receive a crawl map to guide you along the stops (we will have guided group options as well!) Trolley transportation is available all along the route.
VIP Admission ticket holders will have early access to priority check-in, Trolley Transportation, a "Fast Pass" for designated access at tour stops and more!
FOLLOW US on Instagram @Sunnysideshines for updates!
Please note that this event is open only to those who can show proof of COVID-19 vaccination or documentation of a medical exemption. Documentation is required at point of ticket check-in, no exceptions.
PARTICIPATING FOOD AND BEVERAGE SPONSORS: Our list of participating venues is growing and currently includes (list updated daily):
43 Bar & Grill (Home of the Atomic Wings!) • Alewife Brewing Company • Ariyoshi (sushi) • Arriba Arriba (Mexican) • Austin East Ciders • Big aLICe Brewing • Big Shane's Ice Cream (Ice cream!) • Bliss 46 Bistro (French) • The Boiis (mochi creations) • Cakes by Claire • Caribbean Cuisine (jerk chicken and Caribbean faves) • Chakra Cafe (Cafe Eats with Turkish Flare) • The Courtyard Ale House (Craft Beer) • Dazies Restaurant (Italian) • Firefly Petite Bistro Cafe(Latin American & Southern European) • The Globe Tavern • Jack's Fire Department(American) •La Adelita de Woodside (Mexican) • La Vienesa Bakery (Colombian cafe) • The Lowery Bar & Kitchen (Irish American Pub) • Maggie Mae's Bar • Mangal Kebab (Turkish) • QNSY (sparkling cocktails) • Rincon Melania (Ecuadorian)• Riko Peruvian(Peruvian) • Sanger Hall (American)• Senso Unico(Italian) • Single Cut Beersmiths • SoleLuna (Italian) • Sotto le Stelle Neopolitan Pizza) • Sweet Avenue (taproom devoted to local brews) • Takesushi (sushi) •• Tito Rad's (Filipino)
DRINK: Guests 21 and over may sample alcoholic beverages. Non-alcoholic beverages will also be provided.
If you have any questions or need more information, feel free to contact Sunnyside Shines at info@sunnysideshines.org or 718-606-1800.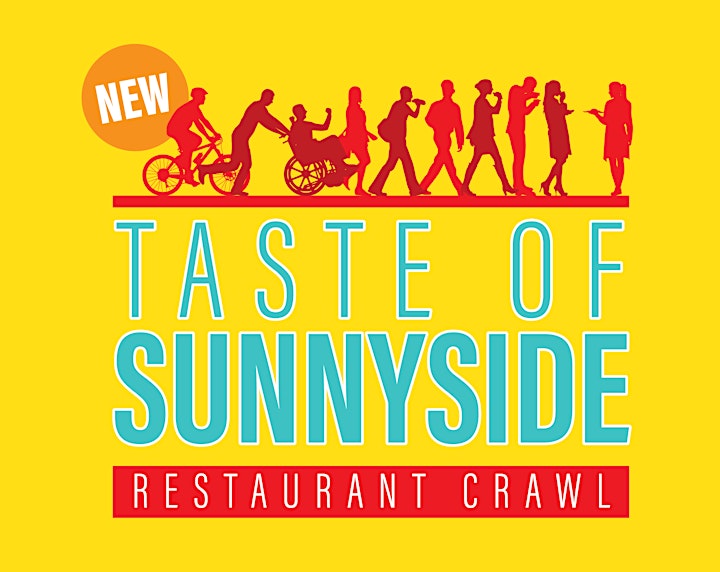 Organizer of Taste of Sunnyside 2021!
Sunnyside Shines is a business improvement district (BID) covering all properties fronting Queens Boulevard from 38th Street to 50th Street, as well as Greenpoint Avenue from Queens Boulevard to mid-block between 42nd and 43rd Streets.
Sunnyside is home to a wide variety of locally-owned businesses offering goods and services catered to a mixed residential and commercial community. There are approximately 300 individual businesses within the Sunnyside Shines district. Sunnyside Shines is funded through a voluntary assessment on area property owners. Sunnyside Shines was born out of the desire of neighborhood stakeholders to have a direct impact on the community. After a five year process to organize property owners into a business improvement district, the Sunnyside Shines BID was signed into law in October, 2007. Sunnyside Shines' name was created to reflect the hopes for the bright future of the community. Sunnyside Shines kicked-off in April 2008 and moved into its renovated offices in July 2009.
Like all BIDs in New York City, the Sunnyside Shines board is comprised of property owners, business owners, residents and representatives of local elected officials.