Description
The Taste of Round Rock is a community wide event featuring area restaurants showcasing their cuisine to more than 1,000 attendees.

The 15th Annual event will take place on April 25, 2017 at the Round Rock Sports Center from 6:00 p.m. – 8:00 p.m. There is a special VIP admission at 5:00 p.m. with limited tickets available. VIP ticket holders also get access to a VIP only room for beer tasting!
RS3 Catering will host as cash bar offering beer, wine, soda, and water for sale during the event.

Taste of Round Rock is a great opportunity for you to try different menu items and discover new culinary creations while enjoying an evening with colleagues and friends.
Children 10 and under are free.
Purchase tickets before April 20 to get the advanced ticket price. After April 20, general admission tickets will be sold for $30.00 /each. VIP ticket will only be sold through April 20!
Contact: jschoenradt@roundrockchamber.org
Website: www.tasteofroundrock.com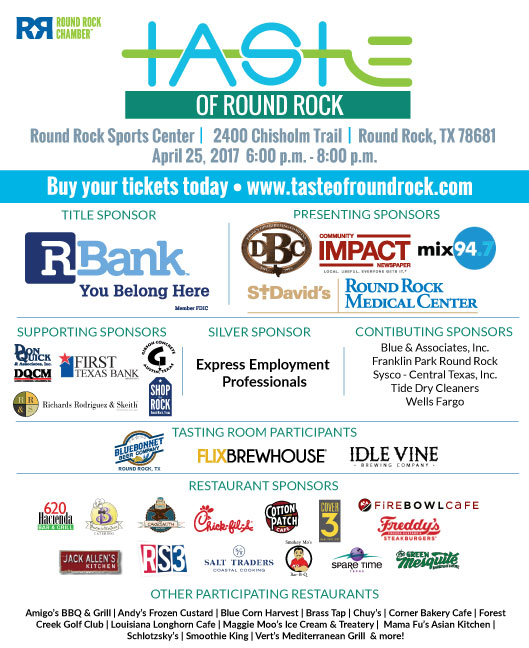 FAQs
What time do the doors open?
VIP ticket holders - 5:00 p.m.
General admission ticket holders - 6:00 p.m.
What are my transport/parking options getting to the event?
There are about 500 parking spots at the Round Rock Sports Center. We recommend carpooling if possible to alleviate traffic and parking congestion. There is additional parking in the back of the building and it is okay to park in the grassy area adjacent to the back parking lot. Parking is free.
Where can I contact the organizer with any questions?
Call Jennifer Schoendradt, Events Manager for the Round Rock Chamber at 512.255.5805
Do I have to bring my printed ticket to the event?
You can print your ticket and bring it or present your ticket from your mobile device. The ticket confirmation email will come from EventBrite not the Round Rock Chamber. You may also access your ticket from the free EventBrite app. You must have either a printed ticket or mobile ticket to enter the event.
What is the refund policy?
Tickets are non-refundable.
How much is a ticket for my child?
10 years and under are free tickets are $30 for 11 years old and up.
What time is the event?
Taste of Round Rock is from 6:00 p.m.- 8:00 p.m. (VIP Ticket holders get early entrance at 5:00 p.m.)
How many vendors?
Thirty-five vendors are participating.
Who hosts this event and where do the funds go?
Round Rock Chamber hosts this event and the funds go to create programs that are in line with the chamber's Eight Pillars of Economic Generation. For more information roundrockchamber.org.
The event doors have not opened and I need to use the restroom—where can I go?
You may use the outdoor arena. There are restrooms open and available for you to use.
I bought 4 VIP tickets; can I have my minor aged children's wristbands?
Unfortunately, due to TABC laws, we have to monitor how many ounces of free alcohol are given to each person.Therefore, we are unable to give you more than the 5 drink tickets provided.
Can my child enter the beer tasting room with me?
Yes, as long as they are with an adult.
I'm waiting in line for my friend who has the tickets, is this OK?
Only people with tickets may wait in line since we are checking people in prior to the doors opening.
My company bought tickets or is sponsoring the event and is owed tickets—where can I get my tickets?
You can check-in with the ticket booth and return to the line.
I'm a volunteer.
Volunteer check-in is located at the ticket booth.
Is there anything to drink?
RS3 will have a cash bar as well as soda and water. Some booths may also provide samples of beverages.