Actions and Detail Panel
Taste of Microfinance San Francisco benefiting Opportunity Fund
Thu, May 18, 2017, 5:30 PM – 8:30 PM PDT
Description
Celebrate and support entrepreneurship in San Francisco at Opportunity Fund's Taste of Microfinance cocktail party!
With a "Microfinance Marg" and a @VengaEmpanada in hand, we'll come together to support the next 10 rising chef entrepreneurs in San Francisco—helping them build the businesses they've dreamed of, so their families can get ahead instead of just getting by.
Taste of Microfinance is a food festival and cocktail party featuring cuisine from renowned culinary entrepreneurs, all of whom used an Opportunity Fund microloan to launch or grow their businesses!
Opportunity Fund is the #1 non-profit microlender in California and the #1 lender of food trucks statewide, having backed beloved mobile entrepreneurs including @3-3-3 Truck and @JohnnyDoughnuts and local restaurants like @VengaEmpanadas.

With a hosted bar and stellar menu, the night is fun and the purpose is clear: you'll be providing a hand up—not a hand out—to your neighbors who are women, immigrants, and minority business owners looking for a chance to write their own American story, even as the odds get tougher.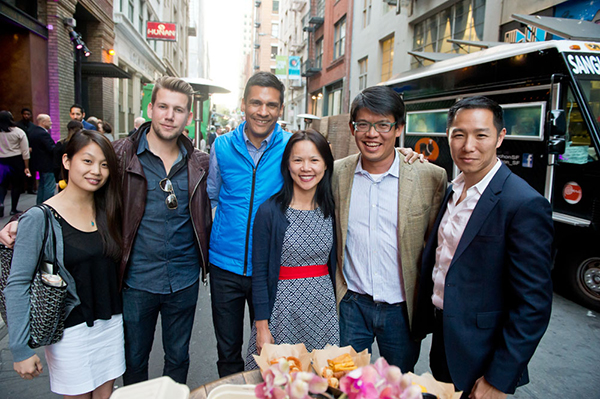 Tasting Menu
The tasting menu represents flavors from around the world, with vendors like @3-3-3 Truck, @VengaEmpanadas, and @JohnnyDoughnuts. Full lineup to be announced.

Cocktails + Music + Fun
Enjoy a hosted bar, music, and the uniquely urban ambiance at Terra Gallery.
Support a Great Cause
Join hundreds of local philanthropists, food lovers, microfinance enthusiasts, impact investors and civic leaders for an evening of culinary delights, cocktails and giving, with proceeds benefiting Opportunity Fund's microfinance clients.

Cocktail Attire
21+ (adults only)
---
For Sponsorship information, contact Maritsa Cholmondeley at maritsa@opportunityfund.org
To join the Host Committee, contact Kelly Hardesty at kelly@opportunityfund.org