Actions and Detail Panel
Taste of Microfinance Los Angeles benefiting Opportunity Fund
Thu, March 23, 2017, 6:00 PM – 9:00 PM PDT
Description
Celebrate and support entrepreneurship in Los Angeles at Opportunity Fund's Taste of Microfinance cocktail party!
With a "Microfinance Marg" and a @RickysFishTaco in hand, we'll come together to support the next 10 rising chef entrepreneurs in Los Angeles—helping them build the businesses they've dreamed of, so their families can get ahead instead of just getting by.
Taste of Microfinance is a food festival and cocktail party featuring cuisine from renowned culinary entrepreneurs, all of whom used an Opportunity Fund microloan to launch or grow their business!


Opportunity Fund is the #1 non-profit microlender in Southern California and the #1 lender of food trucks statewide, having backed beloved mobile entrepreneurs including @CoolhausLA and @RickysFishTacos and local restaurants like @LosBalconesPeru.
With a hosted bar and stellar menu, the night is fun and the purpose is clear: you'll be providing a hand up—not a hand out—to your neighbors who are women, immigrants, and minority business owners looking for a chance to write their own American story, even as the odds get tougher.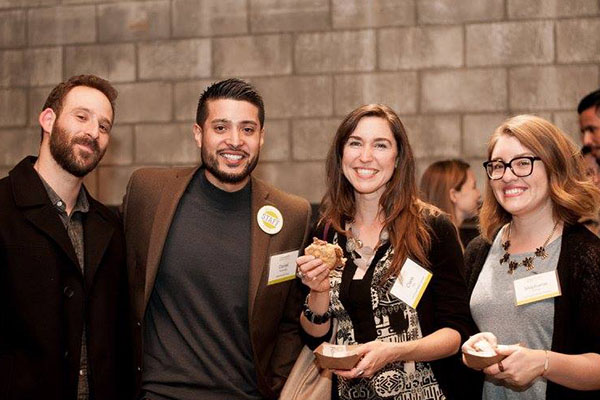 Tasting Menu
The tasting menu represents flavors from around the world, with vendors like @LosBalconesPeru, @RickysFishTacos, and@CoolhausLA. Full lineup to be announced.

Cocktails + Music + Fun
Enjoy a hosted bar, music, and a unique urban oasis at SmogShoppe.
Support a Great Cause
Join hundreds of local philanthropists, food lovers, microfinance enthusiasts, impact investors and civic leaders for an evening of culinary delights, cocktails and giving, with proceeds benefiting Opportunity Fund's microfinance clients.
Cocktail Attire:
Anything from jeans and a blazer or slacks and a button down shirt for men will work. Ladies can rock jeans, too (with heels and statement necklace, perhaps!) or glam it up a bit with a dress... Or maybe you're ready to bring out your jumpsuit for the season? (Because, we'd love to see it!)

21+ (adults only)
---
A Special Thanks to our Southern California Regional Board & Host Committee for Hosting this Event
Amanda Byrd | Natasha Case | Betsy Densmore | Laura Ferretti | Marta Ferro | David Greco | Parker Hudnut | Fredrick Lee | Vivienne Lee | Shauna Nep | Sylia Obagi | Tara Roth | Patrick Sinclair | Arnold Ventura
Thank You to our Sponsors


---
For Sponsorship information or to join the Host Committee, contact Iosefa Alofaituli at
iosefa@opportunityfund.org