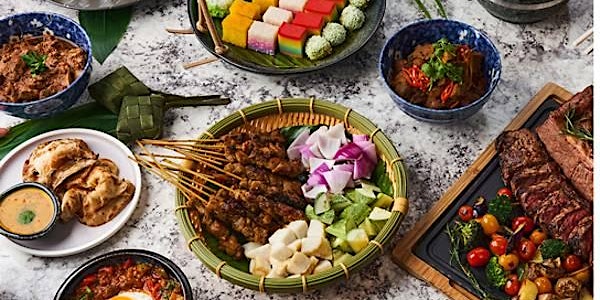 Taste of Malaysia
Taste of Malaysia 2021 will feature multiple booths from Malaysian food vendors in Illinois to showcase different Malaysian cuisine.
When and where
Location
Ty Warner Park 700 Blackhawk Drive Westmont, IL 60559
About this event
We will have Nasi Lemak Bungkus, Char Koay Teow, Roti Paratha, Chicken Curry, Satay, Nyonya Kuih, Curry Puff, Otak-otak, ABC, Teh Tarik and more ... (All food are first come first served).
Attendees will purchase tickets to buy different dishes. (Subject to change)
Feel free to bring your lawn chairs, picnic mat, hat, sunscreen etc.
Early birds (end Aug 31, 2021): $20 for 20 tickets
Regular (after Aug 31,2021): $25 for 20 tickets
Walk-ins: $25 for 20 tickets
**NO CASH accepted for walk-ins per park regulation. Only payment through Zelle or Venmo at the site.
Payment Method:
1) Eventbrite OR;
2) Zelle/Venmo our Treasurer Cliff Chew at cliff.chew@gmail.com (Please write "MCC" and the names of each attendee)
*All sales are final. Tickets are not refundable but transferable.
NUMBER OF TICKETS NEEDED FOR EACH DISH (Subject to change)
Satay- 2 tickets (per stick)
Roti Paratha & curry chicken - 4 tickets
Nasi Lemak Bungkus (Kedai Tapao) - 6 tickets
Char Koay Teow - 6 tickets
Shrimp Briyani (Delicious by SRJ) - 6 Tickets
Nyonya Kuih box (La Patisserie de Lisa)- 6 tickets
Crispy Apam Balik (La Patisserie de Lisa) - 3 tickets
Lontong & Ketupat -3 tickets
Pulut Panggang (2pcs)(Kedai Tapao) - 6 tickets
Curry Puff (2pcs) (Kedai Tapao) - 6 tickets
Otak-otak (2pcs) (Kedai Tapao) - 6 tickets
ABC - 4 tickets
Teh Tarik - 2 tickets
Ice Milo - 2 tickets
Bottle Water - 1 ticket
And more…
*Complimentary watermelon & infused water
MCC COMMITTEE ELECTION (2021-2023 TERM)
On that day, we will also be holding an election for the MCC Officers. Ballots will be collected upon registration. Candidates are as follows:
President: Cath Wang
Vice President: Amy Looi, Swee Cheng
Treasurer: Cliff Chew
Secretary: Alex Sik
Attendees Registration
All guests must report to the registration desk to pick up tickets and ballot.
HOW WE ARE KEEPING EVERYONE SAFE!
- Mask is strongly recommended for this event.
- Hand Sanitizer station will be available.
If you are feeling ill, we kindly ask that you keep everyone safe and refrain from entering the venue to avoid the spread of illness
----------------------------------------------------------
WAIVER OF LIABILITY
By participating in MCC Taste of Malaysia, you will be expressly assuming the risk and legal liability and waiving and releasing all claims for injuries, damages or loss which you or your minor child/ward might sustain as a result of participating in any and all activities connected with and associated with this program/food/activity (including transportation services, when provided). You will fully release and forever discharge the Malaysian Club of Chicago from any and all claims for injuries, damages, or loss that your minor child/ward or you may have or which may happen to any family member or your minor child/ward and arising out of, connected with, or in any way associated with this program/activity or any act of nature.