Description
Jewelry Basics: Earrings or Pendant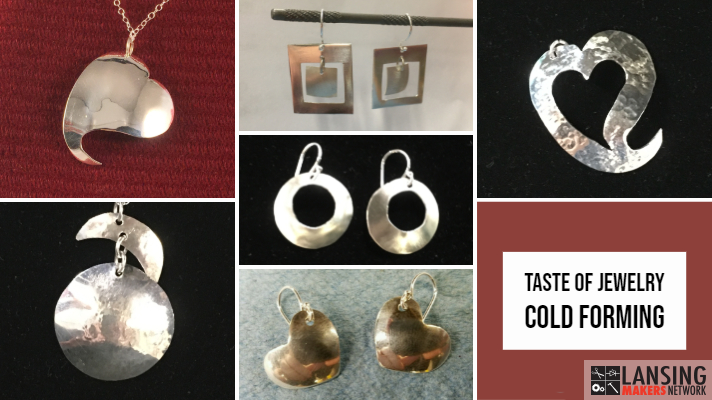 Learn the basics of jewelry making. Make your own custom pair of earrings or a pendant while learning how to use a jewelers saw, piercing practices, cold smithing and finally polishing to a finished shine.

This class is beginner focused and participants are not expected to have prior knowledge of jewelry making. The course is open to participants age 16 and over. (Participants under 18 must be accompanied by a parent/guardian who is also participating in the class.)

FAQ:
Additional class policies can be found on our website: https://www.lansingmakersnetwork.org/classes-and-workshops/class-policies
I have a question that's not answered here. Can you help me?
Of course, just send us an email at education@lansingmakersnetwork.org!

Should I bring anything with me to class?
Everything you'll need to complete the projects will be provided including any necessary safety equipment. If you have safety glasses or hearing protection you prefer to wear, please feel free to bring them along. (Safety glasses must meet ANSI Z87 standards (most do).)

What should I wear ?
Plan to wear comfortable clothing that you're prepared to get dirty and/or a work apron. Shoes should be closed-toed (no sandals or flip-flops).