Sales Have Ended
Ticket sales have ended
Thank you from the bottom of our hearts for your support to Taste of Indonesia. We are looking forward to having you at the event and sharing this culinary experience a long with the culture diversity of Indonesia.
Sales Have Ended
Ticket sales have ended
Thank you from the bottom of our hearts for your support to Taste of Indonesia. We are looking forward to having you at the event and sharing this culinary experience a long with the culture diversity of Indonesia.
Taste of Indonesia is an event created to introduce, promote & uplift Indonesian cuisine and culture to the Bay Area.
About this event
Come join us for a one of a kind food and cultural experience.
A curated sit down meal with dishes created by three different Indonesian chefs. We offer a prix-fixe menu that showcases each chef's unique knowledge and point of view. They will present their food to the guests with their background story.
During both lunch and dinner services, we will have a slide show presentation that shows the beauty of Indonesia. For the entertainment, we will feature Gamelan Sekar Jaya, which is an assembly of traditional musicians and dancers in the Bay Area.
You will be transported to our gorgeous islands.
Alcoholic drinks are not included. Asiento SF will provide our bar service. Due to the pop up nature of our event there will only be cash accepted at the bar. Please make sure you come with plenty on hand.
This event is supported by Consulate General of The Republic of Indonesia in San Francisco.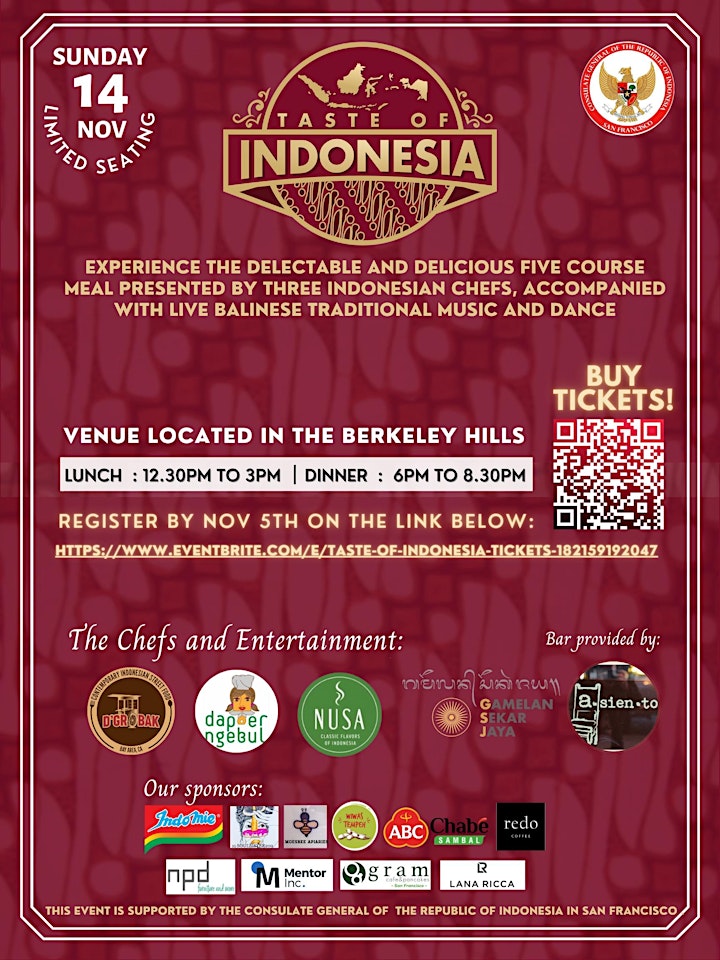 NOTE: Tickets will only be available online through Eventbrite. Please register to this event by November 5th, 2021. No tickets will be sold at the door. Please purchase your tickets in advance. Limited Seating.
SUSTAINABILITY: Taste of Indonesia strives to have strong environmental practices by decreasing the use of single use plastics. We use bamboo, palm leaves, ceramic, glass and paper in all of our beverage and service ware.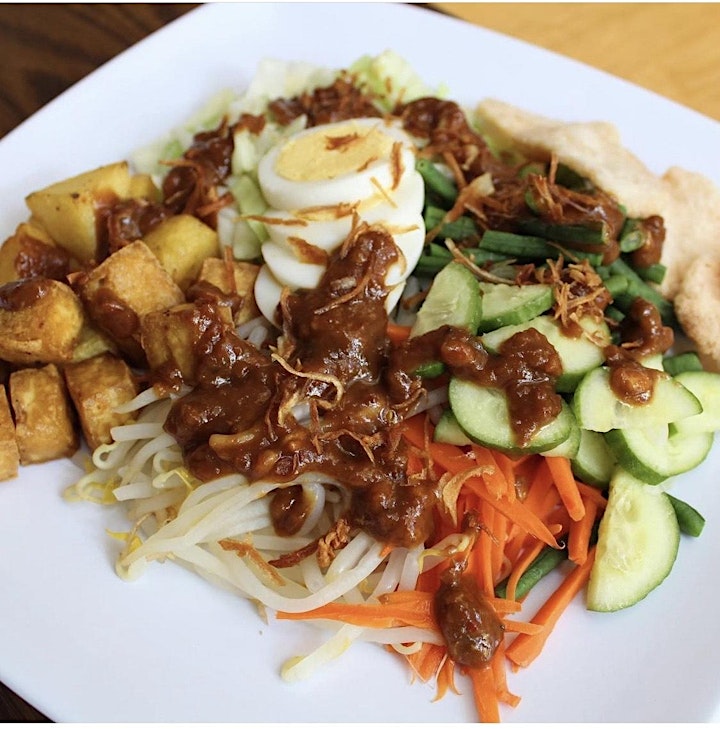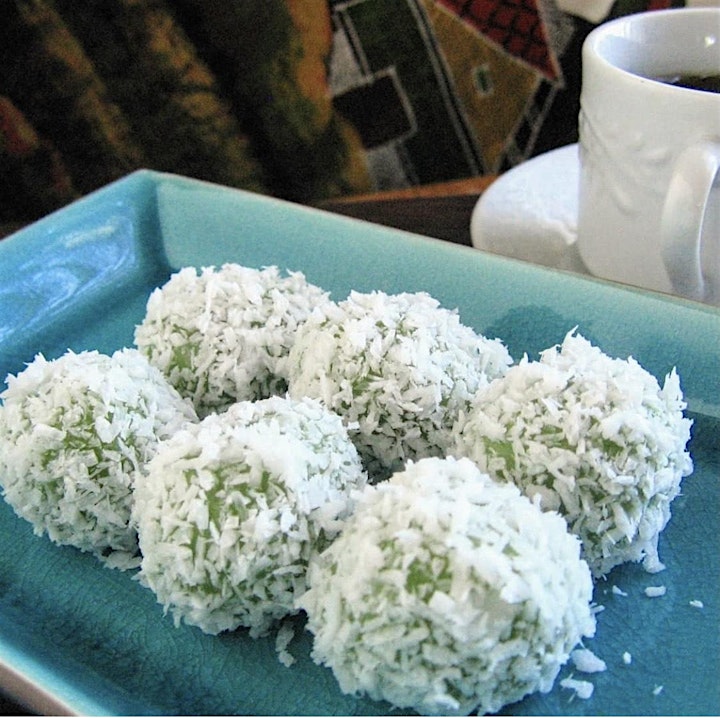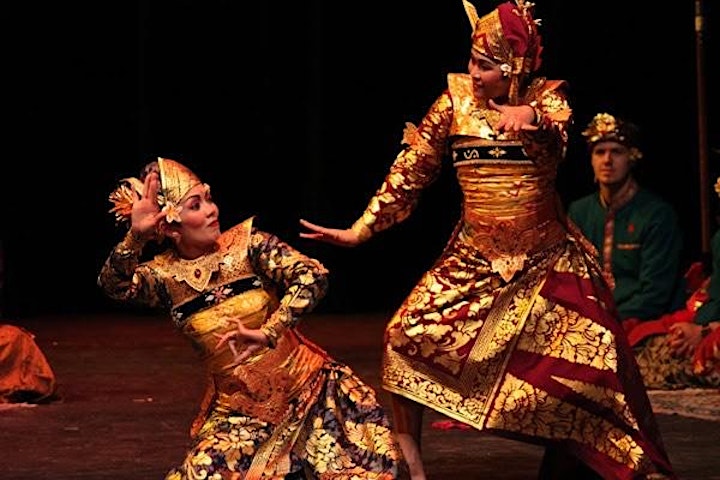 THE CHEFS AND THE FOOD
Chef Yohanes Ng from D'Grobak will serve you their famous, delicious bowl of goodness, Bakso, along with their Indonesian appetizer, Tempe Doeloe. He is originally from Pontianak, West Borneo.
Chef Henny Minderman from Dapoer Ngebul will create her authentic Nasi Padang Tumpeng, which is an Indonesian rice plate with beef Rendang and other sides. She is from Jakarta, the capital city of Indonesia which located on northwest coast of Java.
Chef Jennifer Huang from Nusa SF will present her delectable dessert offerings which consists of three of the most popular Indonesian desserts, Klepon, Seri Muka/ Ketan Srikaya Pandan and Lapis Legit. She will also serve us Gado Gado, which is an Indonesian salad with peanut dressing. She is originally from South Sumatra.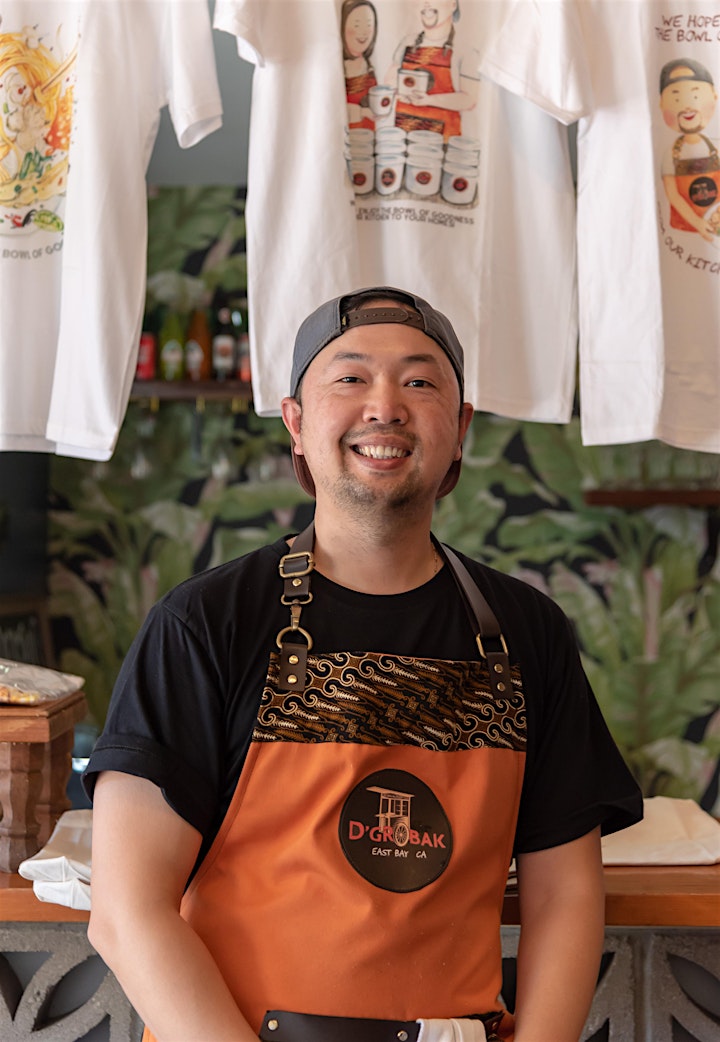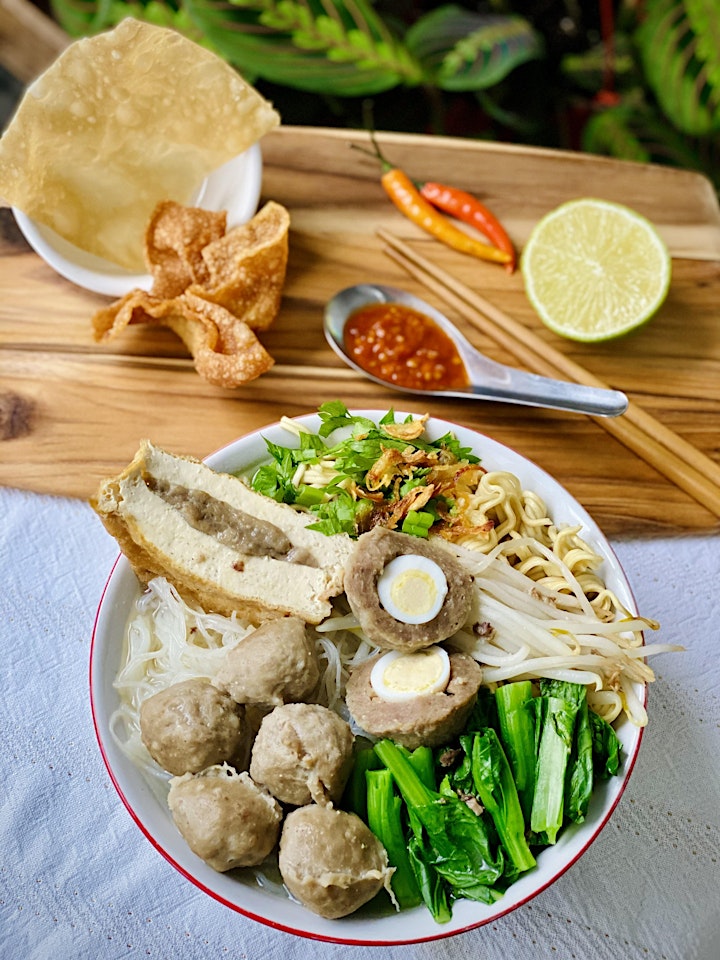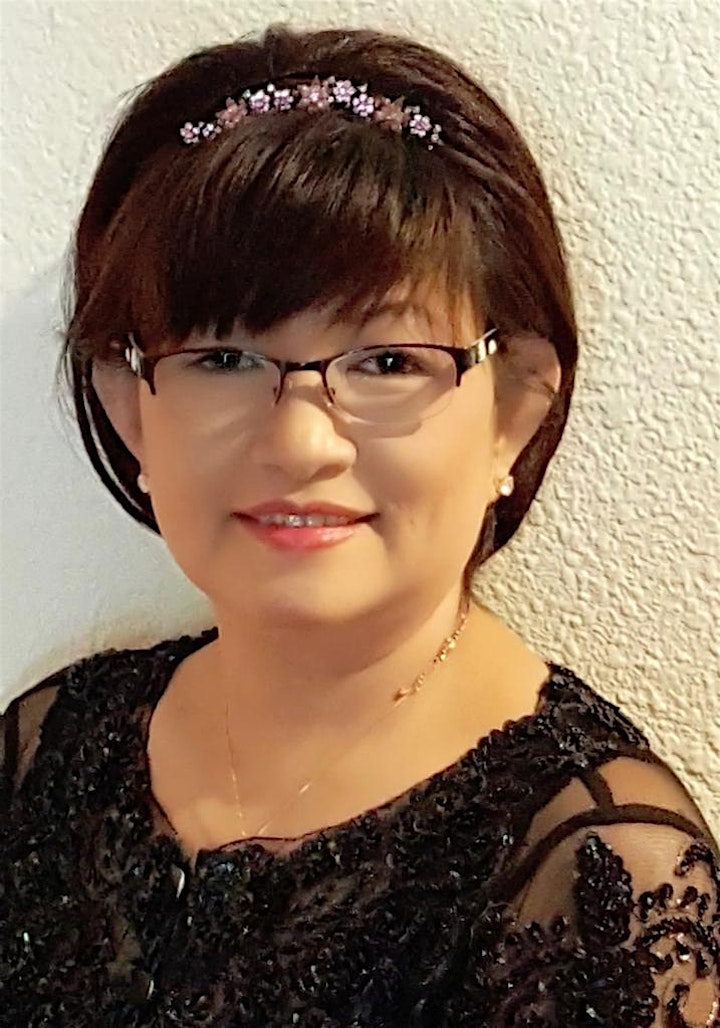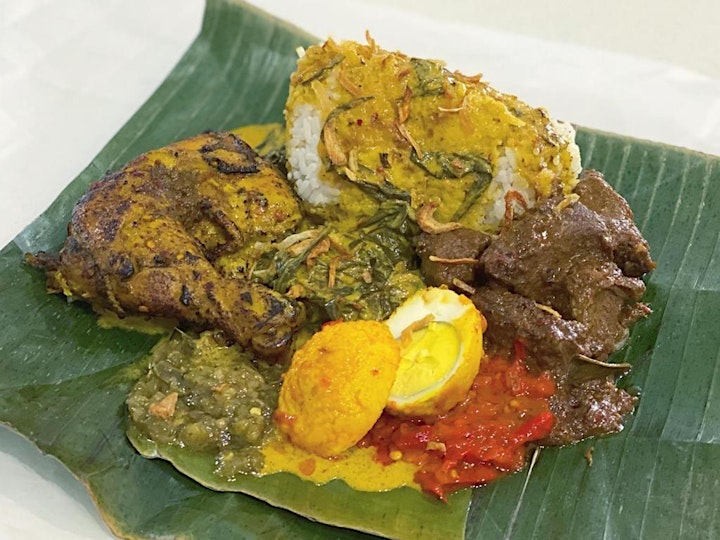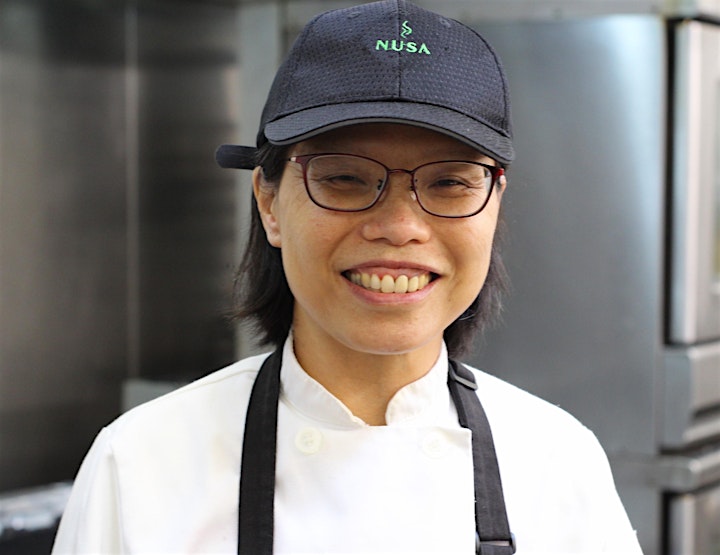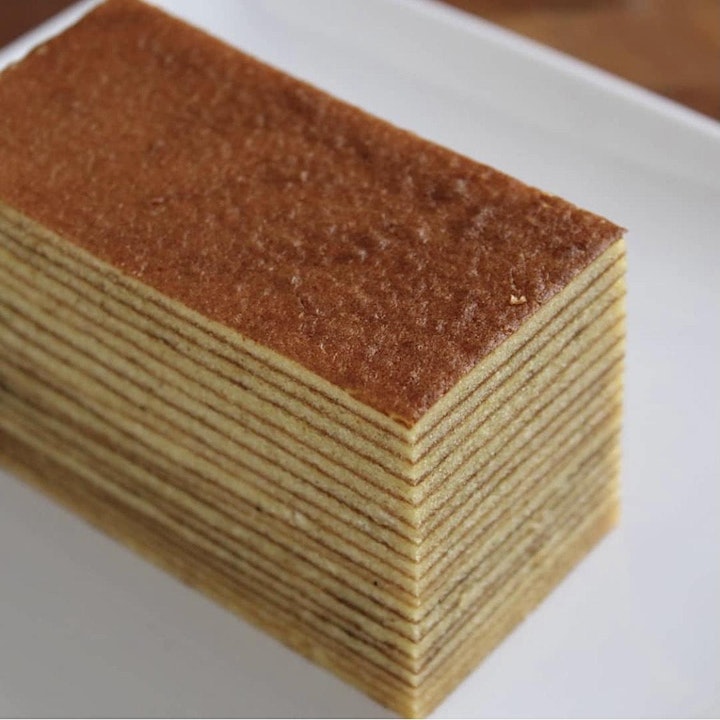 THE VENUE
UUCB is conveniently located on a hilltop in the East Bay in Contra Costa County. The facility offers a panoramic view of the Bay and Golden Gate Bridges. The venue is an elegant and tranquil space for a celebration. There is free parking for all guests.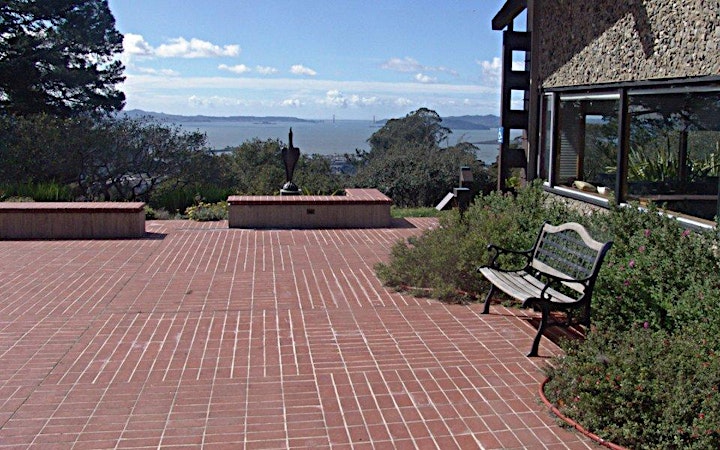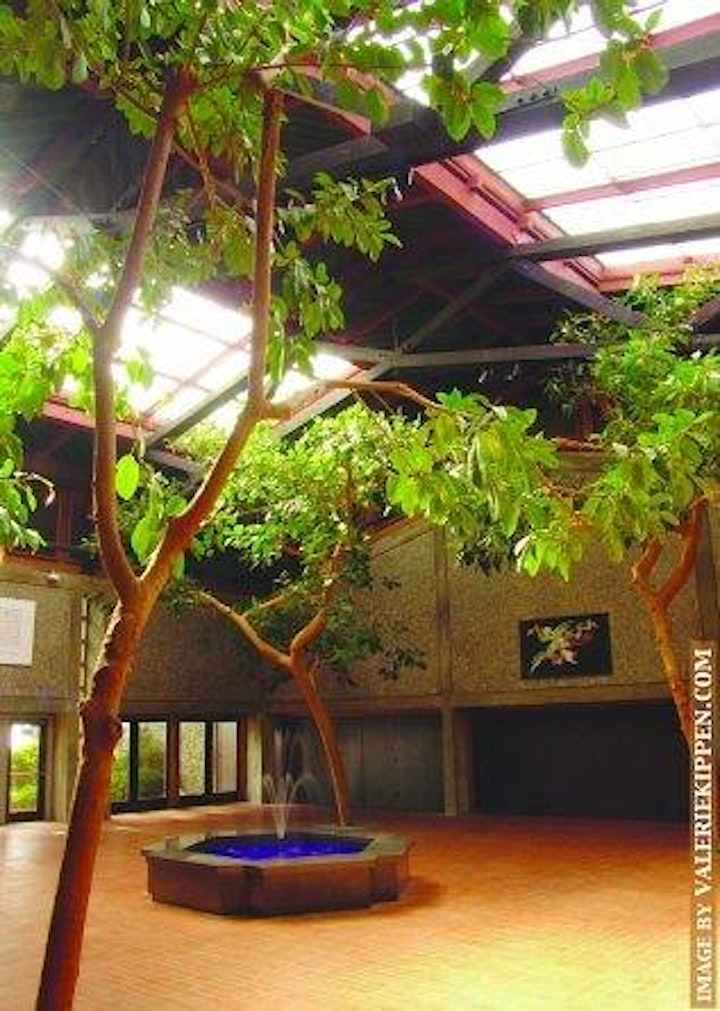 OUR MISSION
As proud Indonesians that live in the Bay Area, Angela and Christna noticed the under-representation of this cuisine. The country is very diverse and is the fourth most populous country in the world. We think Indonesian cuisine and culture should be more prominent and accessible around the world.
A Taste of Indonesia will be an outlet to shine the light to this underrepresented cuisine and culture.
You can sign up to be a sponsor by pressing the Tickets button on this page or email us at tasteofindonesiasf@gmail.com. The extent of benefits you enjoy will vary depending on your level of involvement. Platinum, Gold, Silver, or Bronze sponsor packages.
Bronze Package $500.00
Name placement on the program and banners.
A social media post announcing sponsorship.
Name, logo and link on the ticket website management.
Guarantee two VIP seating at the event with purchased tickets.
One 5% discount code for the event ticket.
Silver Package $1000.00
Logo placement on the program and banners.
A social media post announcing sponsorship.
Name, logo and link on the ticket website management.
Recognition in pre-event online collateral.
Guarantee four VIP seating at the event with purchased tickets..
Two 5% discount code for the event ticket.
Gold Package $1500.00
Prominent logo placement on the program and banners.
Logo placement on all printed materials.
A social media post announcing sponsorship.
Name, logo and link on the ticket website management.
Recognition in pre-event online collateral
Guarantee six VIP seating at the event with purchased tickets.
Four 5% discount code for the event ticket
Platinum Package $2000.00
Premier logo placement on event signage.
Premier logo placement on the program and banners.
A social media post announcing sponsorship.
Name, logo and link on the event ticket website management.
Recognition in pre-event online collateral.
Guarantee eight VIP seating at the event with purchased tickets.
Six 5% discount code for the event ticket.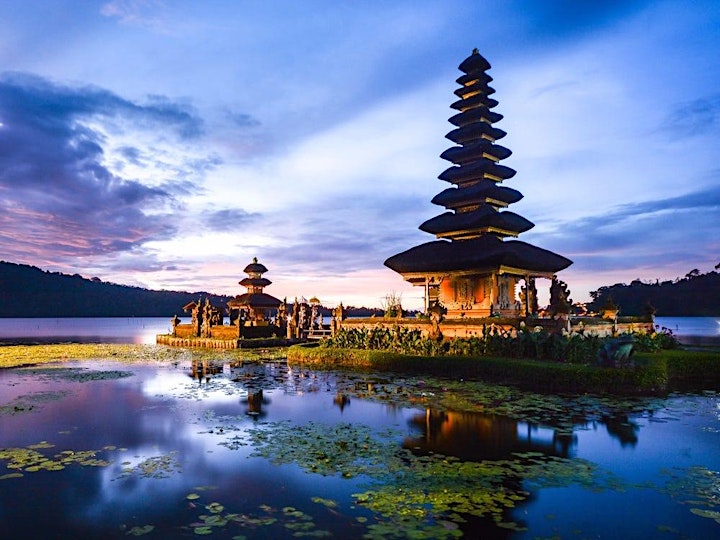 FAQs
Are minimum age requirements to enter the event?
We will accommodate children under the age of 5 for free entry, please email us at tasteofindonesiasf@gmail.com with the name and age. We do not have high chairs. Young guests ages 5 to 12 are welcome to enjoy our children's prix-fixe menu for half the price with ID or birth certificate. There will be a section designated for families with children.
Dress code is business casual.
What about food allergies?
Our food may contain traces of allergens (including nuts, soy and wheat) and is not made in a nut free facility. For the vegetarian option please email us at tasteofindonesia@gmail.com after you purchase your tickets.
Do I need to wear a mask throughout the event?
Unless you are eating or drinking, you are required to wear a mask.
What is your policy on COVID-19?
This event will be following current COVID-19 social distancing guidelines mandated by the Contra Costa Department of Public Health. All guests must wear masks inside the venue when not eating or drinking. Proof of vaccination or a 72 hours negative covid test result must be shown to gain entry to the event.
Do I have to print my ticket and bring it to the event?
No. We accept both printed or emailed tickets.
What's the refund policy?
No refunds will be made. You can transfer your ticket to someone else if you are unable to attend.
Are there in and out privileges?
There are no in and out privileges.
How can I get involved in Taste of Indonesia?
We are receiving applications for volunteers to help pre-, during and/or post- Taste of Indonesia. Please email tasteofindonesiasf@gmail.com if you are interested. Thank you in advance.
OUR SPONSORS:
Thank you to all of our sponsors. With your generosity we are able to put this grand event together. Taste of Indonesia will hopefully become one of many events that celebrate this beautiful and diverse archipelago.
We proudly and honorably present our sponsors:
INDOMIE https://www.indomie.com/homepage
About Indomie
Indomie is produced by Indofood, the pioneer of instant noodles in Indonesia and is one of the largest instant noodles manufacturers in the world. Indomie comes in many varieties from the classic soup flavors such as Chicken, Vegetable, and Chicken Curry, to our most popular flavors Indomie Mi Goreng. Available in over 100 countries around the world such as Australia, New Zealand, USA, Canada, throughout Asia, Africa, Europe and Middle Eastern countries. With 19 billion packs annual production capacity, it's no wonder that Indomie is favored by the world.
Soulsister209
About Soulsister209 https://www.instagram.com/soulsister209/?hl=en
Original Ink Drawings and Paintings for sale. A talented and multifaceted independent Artist, Teacher and Stylist in California with more than 30 years experience. With vision to support Women that are opening the world to a greater mission in life. Artist's Note: The large hands in the painting of these women represent the power that can be expressed through our hands.
Wiwas Tempeh www.wiwastempeh.com
About Wiwas Tempeh
Tempeh originated in the Island of Java, Indonesia, centuries ago. As individuals who grew up in Indonesia, Wiwas Tempeh owners are passionate in bringing this traditional iconic food "tempeh" into every family in the United States; a nation with diverse cultures. Tempeh is delicious. Being immigrants in the USA, we had been missing good quality tempeh with original authentic taste and texture like what we had back in Indonesia. For these reasons, we were motivated and started Wiwas Tempeh in 2019. Our missions are to introduce authentic Indonesian tempeh taste and to help people improve their quality of life by incorporating tempeh into daily diets.
Moesbee Apiaries https://www.instagram.com/moesbeehoney/?hl=en
About Moesbee Apiaries
Our company raises queens, sells package bees, provides pollination service and produces honey. Moesbee Apiaries provides quality services.
Family-owned apiary with almost 30 years of experience.
Located in Willows, CA.
New Pacific Direct, Inc. www.newpacificdirect.com
About New Pacific Direct, Inc.
Founded in 2000, New Pacific Direct offers curated fashionable Home Furnishings from transitional to modern style. The company is committed to delivering stylish design while providing quality excellence at an exceptional value. All customers' orders are fulfilled within 48 hours from the California warehouse. NPD's customer base includes leading Top 100 retailers, and a mix of mid-sized and smaller retail businesses in the United States and neighboring countries.
Fusion Gourmet, Inc. | ABC Foods | Chabe
https://www.abcsauces.com/ IG: @abcsauces @ChabeChili
About ABC Sweet Soy:
As a market leader in sweet soy category since 1976 in Indonesia, ABC is the undisputed favorite in over 50 countries globally.
It is a marinade, stir-fry, grilling sauce, glaze & dip, that adds depth of flavor, umami richness, color, and gloss to dishes.
A trending secret ingredient for plant-based and fusion dishes.
About Chabe Sambal Chili:
Made with FRESH garlic and chili peppers, Chabé Sambal Chili is a Vegan chili sauce that is bold, hot, rich and thick with robust flavor, heat and a little sweet. It is perfect as a dip or drizzle.
Our authentic Indonesian recipe uses NO artificial colors and replaces the need for salt and oils in achieving flavor and richness.
Lana Ricca https://www.lanairicca.com/
About Lana Ricca:
Lana Ricca & Woomere collections are made with the finest cashmere and pure virgin wool of double-faced fabric, creating a luxurious, feather-light, and supremely comfortable fit. Each garment is handcrafted using sustainable and environmentally conscious practices.
Double-faced wool-cashmere is not only warm and of the ultimate softness, but is also very lightweight. Artisan stitching techniques are required to achieve a flawless finish with invisible seams.
Pure manual sewing requires high technical skill. Even a veteran crafter with many years of sewing experience will take about three days to finish just one coat. One inch has about nine stitches and each coat has on average 500 inches of stitcing. That is a total of 4500 hand-stitches per coat! The limited supply of cashmere along with the arduous production means those who own one of our luxury double-faced wool-cashmere coats belong to an exclusive club.
Gram Cafe & Pancakes in San Francisco https://www.gramcafeusa.com/
About Gram Cafe & Pancakes:
Gram was founded in December 2014 by Takeshi Takata in Osaka, Japan. In less than five years, Gram has opened over 60 outlets all over Japan, Thailand and Hong Kong, with additional cafes opening in Singapore, Indonesia, Australia and Canada. Gram San Francisco is the first outpost in the United States.
The premium soufflé pancakes are Gram's signature dish. The premium pancakes are fluffy and light which could be a delicate choice for brunch. The process of making the premium pancakes requires extra time and attention to detail, requiring approximately 30 minute wait time.
Gram San Francisco opens on April 5th 2019 inside Stonestown Galleria Mall – Main Level, in San Francisco, California. It is an all-day brunch café serving savory and sweet pancake dishes, soups, sandwiches and smoothies. The bar at Gram will serve California wines and Japanese beers. Lattes and other espresso drinks will be made with coffee beans from a popular San Francisco coffee roaster, Sightglass. Many of our ingredients will be sourced from local producers such as Clover Sonoma.
Redo Coffee https://redo-coffee.com/
About Redo Coffee:
Founded in 2019. In cooperation with Catholic Diocese of Manado, we conducted seeding and planting arabica coffee by agroforestry method at the area Mount Mahawu, North Sulawesi.
Our coffee plantation applies organic system. the coffee processing wastes will be reprocessed and utilized to become liquid organic fertilizer.
Our roast level can be customized based on demand of our customer. We do this to accommodate the market desire. We serve Business to Customer (B2C/ retail), and Business to Business (B2B) marketing.
Mentor Inc. https://linktr.ee/mentorinc
About Mentor Inc.
Mentor Inc. is a mentoring platform designed to accelerate knowledge sharing for individuals and corporations.
We facilitate quality mentoring relationships, program building, effectiveness monitoring, and data driven insights for institutions to help them build mentoring culture and advance people development.
Mentor Inc. also helps individuals in finding mentors and guides to help with their career building and planning. We believe that access to quality individuals can be made easier using technology and mentoring should be a privilege accessible to everyone.
SPECIAL MENTIONS:
Besides all of the generous companies that were able to sponsor us, we have sponsorships from our friends as well. We are so grateful and lucky to have these people in our lives. Thank you from the bottom of our hearts, we cannot have this event without our community's generosity and support.
- Bapak Nugroho Yuwono and KJRI team for your generous help, support, advice and connection. We are so proud to be Indonesian. We are grateful that you can see our mission to introduce, promote and uplift our country.
- Gillian Irwin from GSJ for partnering with us and trusting us not just with arranging the entertainment from Gamelan Sekar Jaya, but to agree to be the MC of the event.
- Andrew Gosnell for providing us with technology services to make sure the event run smoothly without a hitch. Also for being one of our biggest supporter since the beginning. Without your humongous helps it will be a lot harder to make Taste of Indonesia a success.
- Andrea Joe for all of your generous support and advice from the beginning. You are an event rock star.
- Jenny Kwan and Ilma Davina from iFund Education for your humongous help to make sure this event possible. You two are our angels.
- Marcia Santana for providing us with all of the gorgeous flowers for the event. We are sure your magical artistic touch will transform the venue into tropical paradise. Thank you for all your generous support.
- Bill Sutterfield for your sponsorship and providing us with rare, high end art from Indonesia.
- Arvian Heidir for your generous sponsorship and friendship.
- Debi from Asiento SF for providing us with Bar Service.
- Anonymous, you know who you are. Thank you for being so generous and selfless.
We also want to acknowledge our collaborators, Our Chefs. We are forever grateful for your trust in us and believing in our vision to present your delicious creations to people of the Bay Area.
Last but not least we want to thank our staff, entertainers and volunteers. It takes a village to make Taste of Indonesia a success. We realize you are the backbone of this event. Your hard work ensures the event will run smoothly. We are so thankful for your time and effort.
To all of our Guests, you are our main Stars. Without your support to attend this event, Taste of Indonesia would not be possible. We worked so hard to make sure you will have a delicious and fabulous two and a half hours tropical experience. Thank you for choosing to spend your time with us. We are delighted to have you at the event.