Description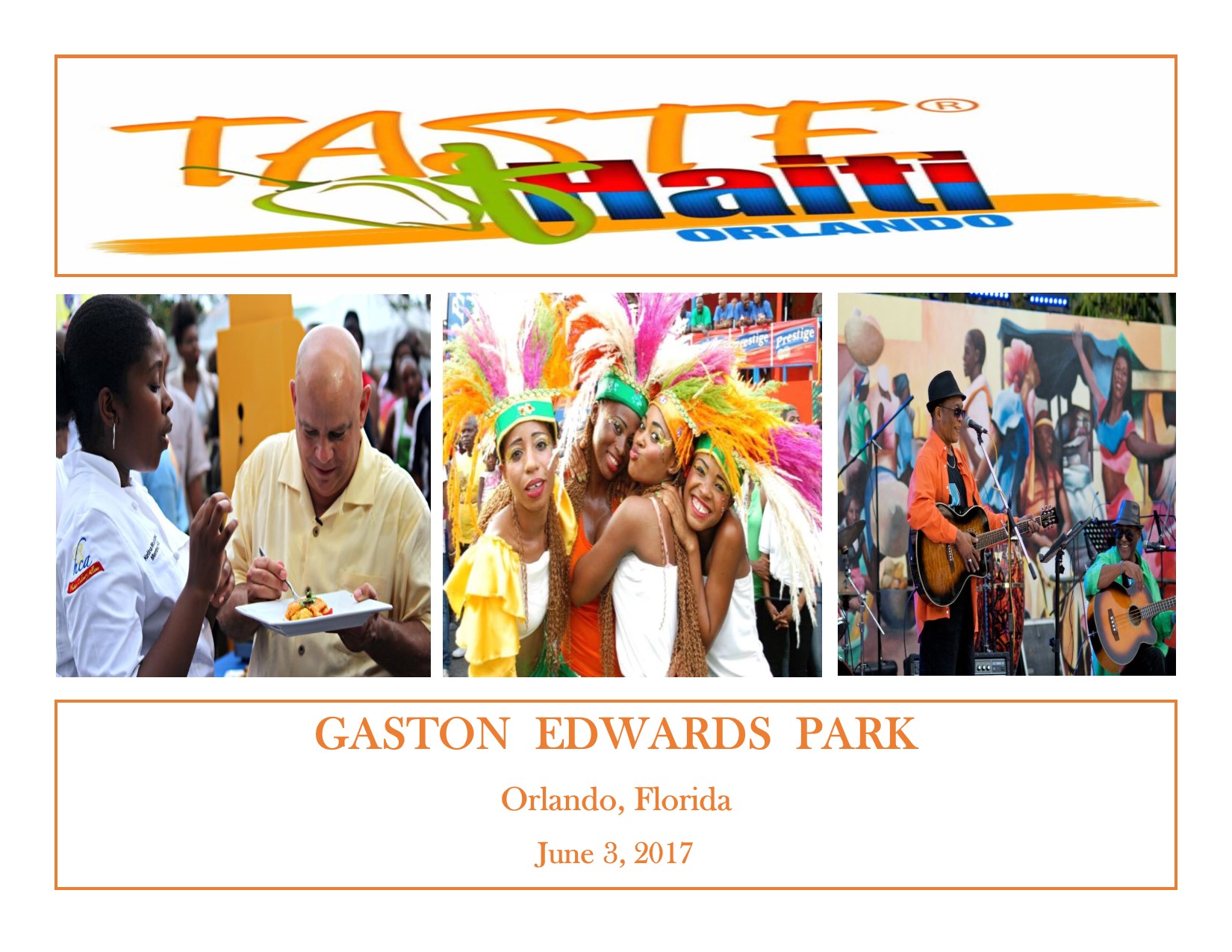 A Gastronomic Celebration of Haitian Culture
Modernique Events and Co, in partnership with the Haitian Culinary Alliance, invites you to come discover the essence of Haiti at the Orlando, Florida debut of the gastronomically acclaimed, TASTE OF HAITI ORLANDO Culinary, Art & Music Expo on Saturday, June 3, 2017, at picturesque Gaston Edwards Park (Lake Ivanhoe).
TASTE OF HAITI ORLANDO is set to offer the foodie and cultural enthusiast in all of us a day of art and music, as well as events, activities, promotions, contests and tournaments with something to do for the entire family. Local restaurants, bakeries, chefs and vendors will be showcasing some of the best Haitian dishes, delicacies and other specialties. The festival brings together the best of Haiti's culinary offerings and shines a spotlight on the range of cuisine available throughout the city, from the most elite dining experiences to hidden eateries off the beaten track.
At TASTE OF HAITI ORLANDO, you will discover the vibrant multi-faceted fusion of traditons and heritages that define the Haitian experience therefore channeling a positive light on the Haitian narrative. The aim of TASTE OF HAITI ORLANDO is to be not just another gathering, but a cultural expo that will add a new dimension to the standards of previous culinary, music, arts and cultural festivals, while giving back to the community.

Proceeds from the event will go to the Haitian Culinary Alliance's Haiti Chefs for Education. The Haitian Culinary Alliance is dedicated in making a difference in South Florida, Haiti and globally. The mission of Haiti Chefs for Education is to raise funds to support hospitality education in Haiti and in the US.
Come explore, experience, and sample the tastes, sights and sounds of Haiti at Taste of Haiti Orlando Art & Music Expo.

Because of our committment to giving back, the event is free, though a $10.00 donation not only helps us to support organizations that promote the enrichment of the community, it includes a sumptious tasting at any two food vendors of your choice.


Free Admission Includes:
Access Food Vendors
Entry to Game, Contests, Tournaments
Access to Kids Corner
Access to Live Performance Art Presentation
Access to Live Band / Cultural Music Pavillion
Cultural Dance Troupe Show and MORE


$10 Donated Admission Includes:
Free Food Tasting Samples
Priority in Game Contests
Priority in food tasting during cook off
Free Event Souvenirs giveaways
VIP: $40
Exclusive Seating Lounge Area
Private VIP Chef to prepare Food tasting of a delectable array of Traditional Dishes, (exclusively for VIP).
Haitian Cocktails & Drinks
Location: Gaston Edwards Park on the Lake 1236 N Orange Ave, Orlando, FL (corner of Orange & Highland Ave)
Parking: FREE with Admission print out ticket from EventBrite (accross at Lake Highland Prepatory School Campus on Highland Ave)
HASHTAGS: #tasteofhaitiorlando #tasteofhaiti #tohorlando
For details visit: www.tasteofHaitiUSA.com
***FOR Game Contests // Tournaments - Sign up ******TasteofHaitiOrlando@gmail.com*****
******FOR VENDORS / SPONSORS: TasteofHaitiOrlando@gmail.com*******