Description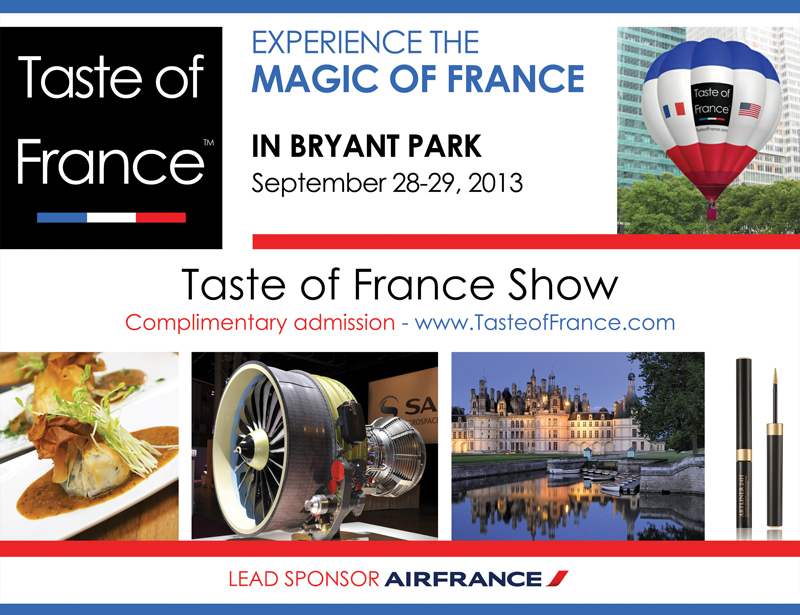 Welcome to Taste of France!
The second Taste of France is back this fall, this time in Bryant Park in the heart of New York City. Our exciting events and special daily programs explore the diversity of the French world: its Lifestyle, Technology, Beauty, Cuisine, Wine and Spirits, Tourism, Culture, Children and Fun.
You are in for a very special treat because we like to think of ourselves as a first class ticket to France. The French of the world have united to give you a complete sensory experience of their motherland. Come hungry and ready to shop, learn a little or a lot, smile, relax and have a great time in France …in Bryant Park
Picture yourself on the last warm weekend of the year, walking through Bryant Park with shopping bags filled with French goods, nibbling away on delicious charcuterie samples from D'Artagnan and sipping a chilled white wine from Bourgogne. You'll be debating on whether to listen to a cooking demo, participate to a discussion with a famous French writer, take a French lesson, see how the Boing and Airbus engines are made, visit regions of France, have an amazing Grand Wine tasting experience, have a cabaret brunch, view a 3D interactive presentation on the construction of Paris, do some shopping, get a facial at the L'Oreal booth….or all of the above. Choices, choices, all we offer are choices to live the Taste of France however you wish! And there are endless possibilities for all tastes.
IMPORTANT :
DON'T MISS THE OFFICIAL INAUGURATION OF THE TASTE OF FRANCE ON SATURDAY 9:45AM : OPEN TO THE PUBLIC
Organizer of Taste of France Show New York 2013
Taste of France is a not-for-profit organization hosting the world's largest event dedicated to France. Our mission is to promote the image of France, the Franco- American friendship, and to offer New Yorkers the ability to experience France in a brand new way. It is brought to you by all the major French organizations in New York and the whole New York French community, with the support of the French embassy. Our first event took place last year on Pier 54 in a much smaller version, and based on the amazing success it gathered, we have decided to make it a major event in Bryant park, covering all aspects of France, and with  100 000 visitors expected.