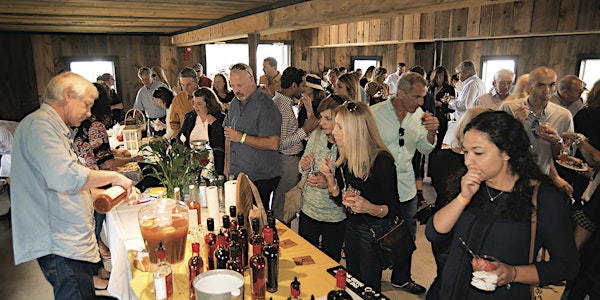 Taste of Fairfield - WinterFest
When and where
Location
Brooklawn Country Club 500 Algonquin Road Fairfield, CT 06825
Description
Taste of Fairfield - WinterFest brings together restaurants, markets, vintners, distillers, brewers, and the people to enjoy it all. The focus on this winter edition is comfort food, party food, and food you'd serve at a Super Bowl party. There will be music, standup comedy, silent disco, bowling, and roving entertainment. The venue is the lavish Brooklawn CC, offering a great, warm indoor space, with plenty of parking and elbow room.

When is the Taste of Fairfield - WinterFest?
Sunday, January 28, noon to 4 pm
Where is the Taste of Fairfield - WinterFest?
Brooklawn Country Club, Fairfield, CT

Where do I park?
There is plenty of free parking at the venue.

How much does the Taste of Fairfield - WinterFest cost?
Pre-purchased general admission is $50, which includes food, drink, and entertainment all afternoon, plus access to the Fairfield Comedy Club and the exclusive eight-lane bowling space. A VIP pass is $100 and provides food service, open bar, entertainment, and access to a lounge. 21 and under are $20. Children under 10 are free. Day-of-the-event tickets, if available at the door, are $60 for general admission and $110 for the VIP lounge.

Will there be entertainment?
Indeed, there will be music, awesome silent disco, a photo booth, and live comedy routines. Plus there will be bowling, in the facility's state-of-the-art, eight-lane bowling alley in the lower level.

Is there a charity associated with the event?
Yes, Operation Hope will receive proceeds from the Chances to Win, when guests donate money and have their name placed in a drawing to win a two-day, two-night stay at the luxurious White Elephant Resort in Nantucket, including dinner for two.

Who is the organizer of the Taste of Fairfield - WinterFest?
TownVibe/Fairfield Magazine, the leading publisher of high-quality magazines for the people of Fairfield County, Litchfield County, Westchester County, and Berkshire County. TownVibe creates quality content that strengthens communities by connecting its people, organizations, and businesses. Like at the Taste of Fairfield, good things happen when people connect.
Does Taste of Fairfield - WinterFest benefit a charity?
Yes, 100% of the money taken in from our Chances to Win program goes to Operation Hope. The chance to win prize is a weekend, plus dinner, at Nantucket's exquisite White Elephant resort. We will also provide a list of goods that attendees can bring to Taste of Fairfield - WinterFest that will go directly to Operation Hope.
Will it be a great way to spend the only winter Sunday without pro football?
No doubt about it.
Do you have to be 21 years of age to attend the Taste of Fairfield - WinterFest?
No, you do not have to be 21 to purchase a ticket and attend, but you do have to be 21 to drink alcohol, so please bring a government-issued photo ID.
What can I not bring to the event?
You cannot bring outside food or alcohol or any devices that play music that can be heard by fellow attendees. Pets: no tigers, no bears, no dogs, no cats. Non-talking, shoulder-perched birds are welcome.
Where can I contact the organizer with any questions?
Geoffrey Morris at gmorris@townvibe.com or Kim Zeiss at 203-431-1708 ext 111

Is my registration/ticket transferrable?
No, tickets cannot be refunded or transferred.
How do you make an egg roll?
Just give it a push.
Any other food jokes?
A chef put two cupcakes in the oven. One cupcake said, "It's hot in here." The other screamed, "Ahh! A talking cupcake!"
Is that it?
Ok. One more. But that's it. Why didn't the sesame seed leave the casino on time? Because he was on a roll.