Taste of Ethiopia: A Southeast African Brunch with Bati

Sunday, June 1, 2014 from 1:00 PM to 4:00 PM (EDT)
Event Details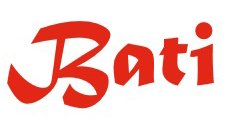 Komeeda Service Announcement!!!

An Ethiopian Brunch Party
Komeeda was created to introduce a new dining dynamic to the casual diner, foodies and their friends. Komeeda teams up with restaurants to host events for Komeaters to hang out one another and interact with managers and chefs, over a savory and appetizing meal - all culminating into a great night of dining.
On Sunday May 31st, 2014, BATI, a traditional Ethiopian restaurant aimed at serving both Vegan and non-Vegan dishes, is ready to give us a flavorful adventure of the Ethiopian cuisine through a seven dish menu. Come join BATI; featured in New York Magazine, for a fun and appetizing Sunday brunch where you'll learn about and eat the Southeast African cuisine, partake in the Ethiopian coffee ceremony, and mingle with fellow Komeaters for an afternoon of mingling and brunching.
Event Platter
BATI  |  747 Fulton Street Brooklyn, NY  |  June 1, 2014 @ 1:00
Host & Head Chef: Hibist Legesse   |  Cuisine: Ethiopian
- SEATS ARE LIMITED -
TICKET PRICE INCLUDES FOOD, NON-ALCOHOLIC BEVERAGES, TAX AND TIP
-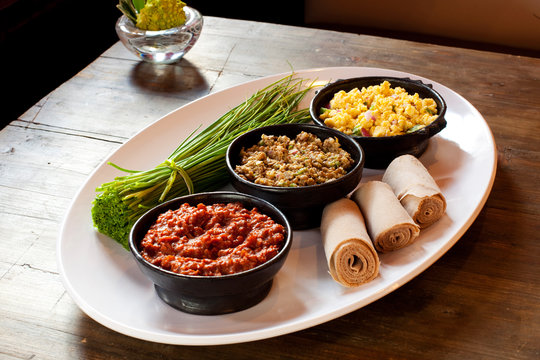 Brunch Menu
Gomen (vegan)
finely chopped collard greens seasoned with garlic & ginger
Tongue Tibs
beef tongue pieces sautéed in a blend of spices
Messir Wett (vegan)
berbere stewed split lentils
Atir Kik Alicha (vegan)
split peas in a mild sauce
Ye Siga Wett
beef sirloin stew
Ye Beg Alicha
lamb stew with turmeric and other African herbs
Desert
Baklava
layered filo dough filled with chopped nuts , held together with honey
Happy Hour
Tej Sangria $8  |  Beer $5
Cash Bar Available Throughout the Brunch
About Chef Hibist Legesse
An Addis Ababa Native, now New Yorker, Hibist Legesse moved to the US in her teenage years. The lack of restaurants that served authentic Ethiopian foods in those days gave her inspiration to open an Ethiopian restaurant. Many years later that inspiration resulted in the birth of Bati. Hibist takes pride in successfully finding ways to give Ethiopian dishes a simpler and healthier flair. She aspires to change the misconception of Ethiopian food being a ceremonial food. Hibist has implemented small yet vital details into the cuisine to create a day-to-day meal to the western audience of Bati. Undoubtedly, Fort Greene can expect more than traditional Ethiopian food from this Addis girl.
-
About Bati Ethiopian Kitchen
Bati is a traditional Ethiopian restaurant, located in the heart of Fort Greene, Brooklyn, dedicated to serving authentic delicacies that possess homemade quality flavors. The menu offers organic beef, poultry and a wide variety of delectable vegetable dishes, which also meet the western standards of vegan food preparation. Bati offers the option of individual or the traditional communal serving to its valued clientele. Bati also plans to add to the experience by serving more than good food. Features such as wine pairings, introduce talented Ethiopian artists and a monthly newsletter on the future Bati website will be implemented.
About Komeeda
FACEBOOK  -  INSTAGRAM  -  TWITTER  -  WEBSITE
People are always looking to connect; whether it be with friends, family or complete strangers.  Stories are shared; sports and politics discussed which equals people connecting.
Meet, Greet and Eat: Komeeda is a social dining platform where friends, foodies and casual diners alike can socialize, enjoy and rate a variety of restaurant dishes during unique and interactive dining events. We are partnering with select New York City and outer borough restaurants to help curate fun, socialization as well as informative and appetizing dining experiences that you will not forget.
When & Where

Bati
747 Fulton St
New York, NY 11217


Sunday, June 1, 2014 from 1:00 PM to 4:00 PM (EDT)
Add to my calendar