Description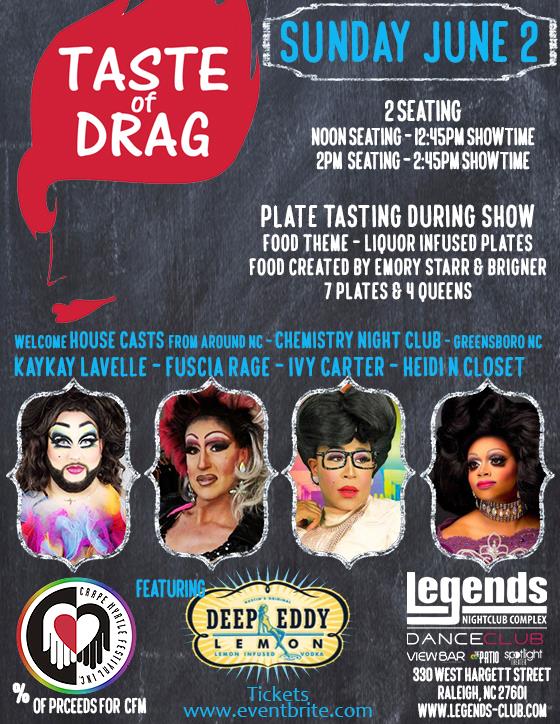 Sunday June 2nd

2nd Seating = 2pm Show = 2:30pm

Plate Tasting during show Food Theme - Liquiour Infuzed plates
Cash Bar Only
Plate 1 Bozzy Fruit Salad (appetize) Plate 2 Brandy Swedish Meatbalsl (appetize) - Plate 3 Mixed Greens with Tequila Vinaigrette (appetize) - Plate 4 Bourbon Brisket Sliders (entree) - Plate 5 Vodka Sauce Pasta - Plate 6 Fireball Cupcake (dessert) - Plate 7 Bourbon Ball (dessert)

Food created by Emory Starr & Brigner 7 plates & 4 queens. Taste of Drag welcomes house casts from around NC. Our 1st house cast is Chemistry Night Club (Greensboro NC) featuring KayKay Lavelle, Fuscia Rage, Ivy Carter, & Heidi N Closet.
Sponsor Wasteland Cakes will bake up a raffle cake for each seating - yes you might be a winner
https://www.facebook.com/wasteland.cakes/
Supported by Deep Eddy Lemon - Vodka is proudly made in America, right here in Austin, TX. Where strangers are just friends you haven't met yet.

% of proceeds go to Crape Myrtle Festival (CMR) www.crapemyrtlefest.org

CMF Mission...
To encourage and promote the development of services for persons with AIDS and/or HIV infection, additionally, to raise money to provide financial assistance, outreach and education to realized needs within the local gay and lesbian community. To encourage the growth and healthy diversity, creativity and communication within the gay and lesbian community and to honor these accomplishments through grand celebration.