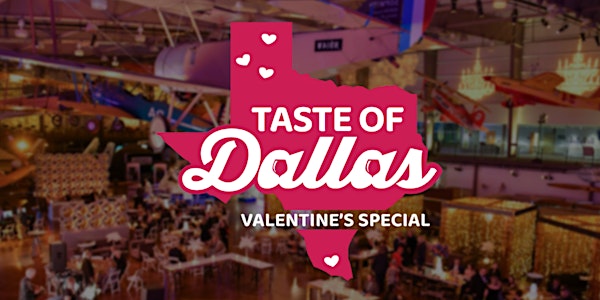 Taste of Dallas Valentine's Special
An all-inclusive experience where you can enjoy the best cuisine in Dallas paired with exciting cocktail creations and more! 21+ event ..
When and where
Location
Frontiers of Flight Museum 6911 Lemmon Avenue Dallas, TX 75209
About this event
The Taste of Dallas Valentine's Special is specifically designed to provide a unique and elevated experience to appeal to couples who want to celebrate this romantic holiday by being able to sample and enjoy some of the best the great city of Dallas has to offer.
This is a 21 and over event. No children please.

This special area will feature a few of the hottest new restaurants in the Dallas area. If you've had trouble getting a reservation at one of these spots which opened the last year then this is your chance to sample their delicious food.
OneSam Dim Sum & Sushi
Chef: Ray Skradzinski
Dish: Thai Chicken Dumplings Green & Thai Curry Coconut Cream
Cry Wolf
Chef: Mike Stites
Dish: Heritage Berkshire Porkchop w/ Kimchi Collard Greens
Crossbuck BBQ & Smokehouse
Chef: Jimmy Niwa
Dish: Smoked Brisket & Bacon Deviled Eggs
Dea
Chef: Roman Harper
Dish: Rigatoni Genovese
Birdie
Chef: Joshua Harmon
Dish: Nashville Hot Katsu BAO
Niwa Japanese BBQ
Chef: Jimmy Niwa
Dish: Wagyu Deviled Eggs

Here we will feature six of the hottest new chefs in the 214. These chefs have built their resumes in exclusive pop-ups, food trucks, restaurants and their cutting edge creations will be a highlight of the event.
Burger Schmurger
Chef: Dave Culwell
Dish: The Schmurger
Smoke & Bone
Chef: Ross Marquette
Dish: Loaded Elotes
Hustle Town Pizza
Chef: Desmon Coleman
Dish: The Love Below
Resident Taqueria
Chef: Parker Cantera
Dish: Braised Pork w/ Apple Slaw & Pickled Chile
Mas Cabron Test Kitchen
Chef: David Deleon
Dish: Albondigo de Chosizo

We couldn't host Valentine's themed event without a delicious area featuring the best pastry and dessert chefs in Dallas. This area may not work with your Keto diet but it will be the area you are likely to visit twice.
Nena Postreria
Chef: Diana Zamora
Dish: Gansitos De Gabby
Virgin Hotel
Chef: Lisa Coats
Dish: Opalys Pot De Crem
La Casita Bake Shop
Chef: Marisca Trejo
Dish: Bete Noire - Chocolate Cake w/ Raspberry
Soceity Bakery
Chef: Roshi Muns
Dish: Original Chocolate Chip Cookie
Cathedral Bistro
Chef: Daniel Rosales
Dish: Raspberry & Hibiscus Chocolate Bombe
The Finch
Chef: Diamond Singleton
Dish: Mini Ube Bunt Cakes w/ Coconut Ice Cream

Wine, beverages, and delicious light meals are among the many options we provide, but we also wanted to include an area for people who like whiskey and red meat. The perfect creation is our Whiskey Kitchen w/ Designer Beef, which offers succulent prime steak and some of the most popular whiskeys and bourbons in the world.

Dallas is the birthplace of the frozen margarita, and we're thrilled to collaborate with creator Mariano's Hacienda Ranch to take you on a fun historical tour of the preferred Texan cocktail. Sample the various styles that have become trendsetters over the years.

Dallas is home to several iconic restaurants that are a must-see for both locals and tourists. We are delighted to feature legendary restaurants like Sonny Bryan's Smokehouse, Cane Rosso, Kuby's, Dunston, and Café Brazil!