A "Taste of Black Spirits" is an event that supports, highlights and brings awareness to African American Beer, Wine & Spirit brands.
About this event
A "Taste of Black Spirits" is a event that supports, highlights and bring awareness to African American Beer, Wine & Spirit brands for the purpose of worldwide distribution.
Presented by Black Spirits Legacy LLC , The Garden Theater, Yum Village
Buddah Foods, Us Media, Biltmore Entertainment Group and Funny Acting Entertainment.
Curated by Lazar Favors
Tickets: include food, 6 drink taste tickets, Cocktail ticket, live entertainment, swag bag and some amazing stories from brands leadership.
Customers will be able to taste Whiskey, Tequila, Vodka, Gin, Rum ,Cognac,
Scotch, Liqueur, Beer and Wine.
Lead Mixologist
@Jennifer Peeples
The Perfect10 Mobile Mixology Service, LLC
Featuring Cocktails from
Uncle Nearest Premium Whiskey
Duke & Dame Salted Carmel Whiskey
IslandJon Vodka
LS Liqueur
Equiano Rum
Ten to One Rum
NYAK Cognac
Phoenacolada Vodka
Whiskey Wright
Red Hazel spiced Whiskey
Den of Thieves Chocolate Whiskey
Birdie Brown Plain Hooch
Motu Viget
FKing Vodka
and more.....
Beer:
Cajun Fire Brewing Company
Desserts by
Brick house bakery Detroit
(This event will be Filmed)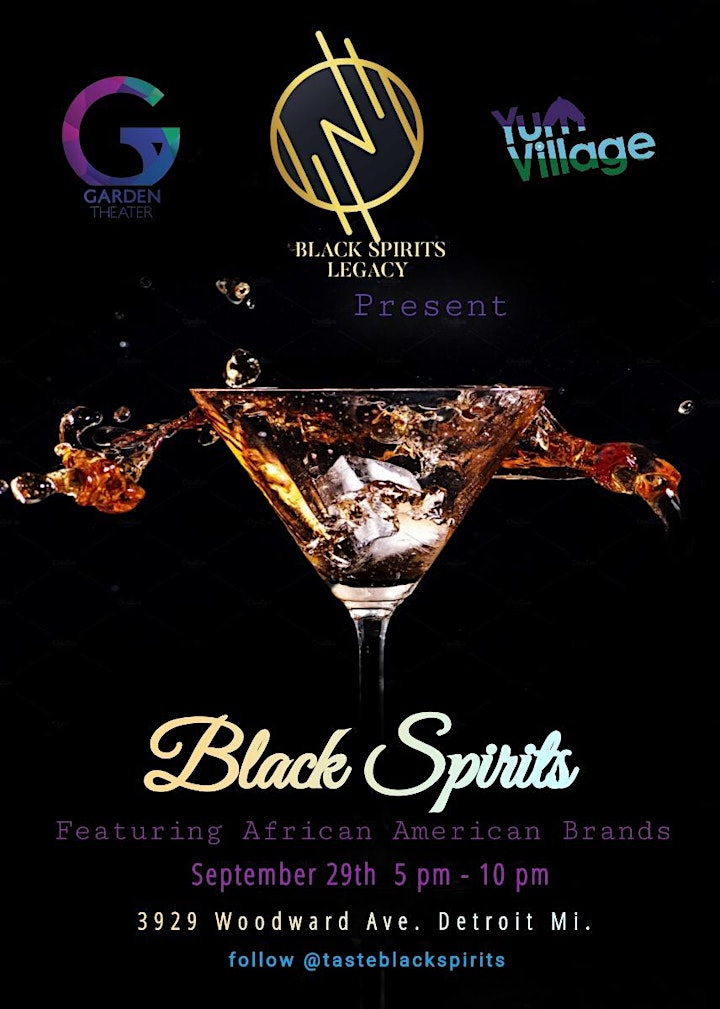 Organizer of Taste Black Spirits ( The Distro)
Detroit'sTrinity International Film Festival provides a platform for artists around the world to showcase their films, network and gain access to industry resources.
The TI Film Festival has hosted industry professionals locally and nationally to share their knowledge and expertise in various workshops and industry discussions. Special guests have included famed Actress and Producer, Tangi Miller, Sydicated Radio Host and Film Producer, Russ Parr, Former BET Executive Producer, Ralph Scott, currently with the Aspire Network (Owned by Magic Johnson), film segment producer/head of production for more than 100 episodes of SNL, Tanya Ryno and Writer, Director, Qasim Basir, Actress/Singer Deborah Joy Winans. of the acclaimed TV series "Greenleaf," which airs on Oprah Winfrey's OWN network.
The highlight of this event over the years has been all of the innovative work we've showcased by indie filmmakers and our audience that supports the TI Film Festival.