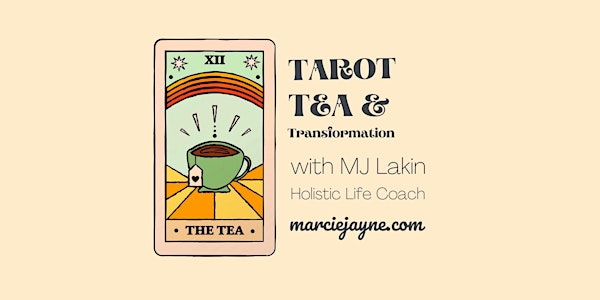 Tarot, Tea & Transformation
A Women's Circle to connect over tea, using tarot for insight and to bring a deeper narrative for our collective transformation!
Refund Policy
Contact the organizer to request a refund.
Eventbrite's fee is nonrefundable.
About this event
Be part of this epic women's circle where we sit together in support of each other, drink tea, experience healing and wisdom through tarot and connect with like minded friends.
You'll experience:
1. Tarot as a tool for reframing your perceptions, gaining wisdom and transformational growth. The question asked will be: "What would you like to shift or change or what do you want support around?" I will choose 3-4 questions that are the most empowering and healing for our group. If you would like your question to be considered, please send to mj@marciejayne.com prior to the event.
2. A community of women who all want to support each other, share and be part of the collective healing. Each question chosen reflects the energy of the shared experience and will give value and healing to all.
3. Personalized spiritual counseling that leaves you with more confidence, overall joy and wellbeing. We will connect personally as we grow together spiritually and raise our collective vibration.
This is a monthly event where we meet online. We will also be having in person events in the Miami area, that you will be notified about.
This class is for women who want to share in a sisterhood and genuinelywant to create a happier life.
⭐️ Who: Holistic Life Coach, Tarot and Energy Healer, MJ Lakin brings you her wisdom and decades of supporting women through their transformation in this intimate women's circle. She's a certified Soul Coaching Oracle Reader, Reiki master, Theta Healer and Meditation Instructor, who's mission is to empower women to heal and grow into their best version of themselves!
🏡 Where: ONLINE (you'll receive zoom details upon registration)
✅ Bring: Make yourself a lovely cup of tea, bring a journal, be in a comfortable quiet place and have an open heart.
🎟 Tickets: Suggested donation is $33
📲 Follow: Instagram | Facebook
Book your session or learn more about MJ: marciejayne.com
COMMUNITY PRAISE
"I am so grateful to have connected with Marcie! She is easy to talk to and we connected deeply sharing our spirituality. She has a way of making things light and funny but also going deep. Her reading was really helpful in giving me the validation that I needed that I am on the right path and that I just need to focus on loving myself and celebrating my self some more. For anyone looking to break through, especially in self-love, I highly recommend her!" - Natasha Nirvana Olson, Spiritual Business Coach + Reiki Master
"Marcie Lakin is a genuine and lovely intuitive card reader. She is patient and holds space for you to do what you need to do, to be present. I am beyond grateful that we crossed paths and I will be going back to her for readings. I felt supported and I believe because of that I was able to absorb so much from her reading. No words can really explain the experience I had with her!" - Kaiya Krikstan. Artist + Student
"Marcie brought me light and strength at a moment when I was feeling down and frail. She helped me reconnect to my inner self where I found the positive ideas to push me forward and up again. Her influence was instant. It's all in the mind, and Marcie knew just how to guide mine back towards the light. A blessing." -Monica Shaka, Yoga Instructor, France