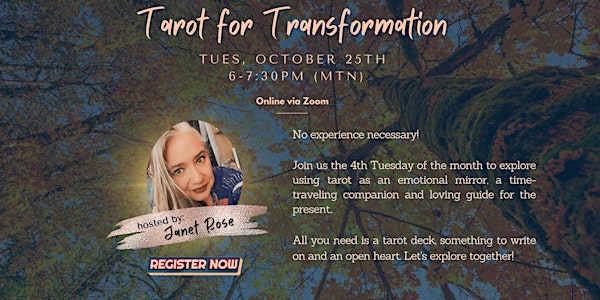 Tarot for Transformation (Oct)
Wake up your intuition by learning how to use tarot for personal transformation. Offered the 4th Tues of each month.
Refund Policy
Refunds up to 1 day before event
Eventbrite's fee is nonrefundable.
About this event
No Experience Necessary!
Come learn how to use tarot as an emotional mirror🪞a time-traveling companion⌚ and a loving guide for the present 😍 in this monthly 90 min workshop. ✨
"We can predict the future, when we know how the present moment evolved from the past." – Carl Jung
What you can expect
Join us on the 4th Tuesday of the month for this drop-in, virtual class. The theme for October will be the suit of Cups to go with that watery Scorpio energy.
We'll start with analyzing a few cards together to warm up our intuitive muscles 🏋️‍♀️ before exploring some common themes and practicing interpreting cards through new spreads each month.
The class is limited to 20 participants.
Requirements
Tarot Deck
Journal/pen
Space to shuffle/layout cards
Open Heart
----------
More information
❤️‍🔥The most essential tool we need as heart-centered leaders is an insight into our own selves. How can we change the world if we are a mystery to ourselves?
🙏When we listen to our own wisdom, we break free of the cold rigid thinking that makes our systems so harmful. This allows us to see the intuitive connections that will help us build a better world.
🔮Tarot uses the language of our intuition, to reveal deeper insights into ourselves and the world around us, giving us a new dimension of awareness.
💪Once we understand our own motives, options, and reactions the path of transformation becomes clear.
✨" All knowledge is worth having."✨
---
Meet your host: Janet Rose
Welcome, friends!
I am a proudly bisexual, disabled Chicana and professional do-gooder originally from Pueblo, Colo. After twenty years working in public policy, law, and nonprofit where burnout nearly cost my life, I opened Rose Connections in 2020 to share my gifts in a more authentic, accessible, and integrated way. I am here to help emerging heart-centered leaders create a more loving, just, and trauma-informed world.
As a former social justice attorney, mediator, and policy advocate, law school never prepared me for how to manage suffering I would encounter in my work or how dangerous it would be for my clients to navigate interpersonal trauma and the revolving door of systemic social harm.
I once believed that the only way I could heal the world was by changing the laws or winning someone's disability case. Instead, it came through how I served people - by meeting them where they are, by connecting to our shared humanity. In using my intuitive gifts as a writer, educator, and mystic, I found that only in showing up as my authentic self could I serve the deeper interconnectedness between us all.
I have been reading tarot cards privately for friends and charity events since 1995. In 2020, I started reading tarot cards publicly on YouTube, Instagram, TikTok and my blog, SharpSweetBella.com. In 2021, I became a Reiki practitioner to better channel the healing work I had been doing privately for years. I am also writing a historical fantasy series about an interconnected family of souls connected through time and space with previews available on my Patreon along with full and new moon readings.
Check out more at: https://www.rose-connections.com
DISCOUNTS AVAILABLE:
Members of my Patreon receive extra discounts 🤩
Check it out here: https://www.patreon.com/RoseGoldHeart