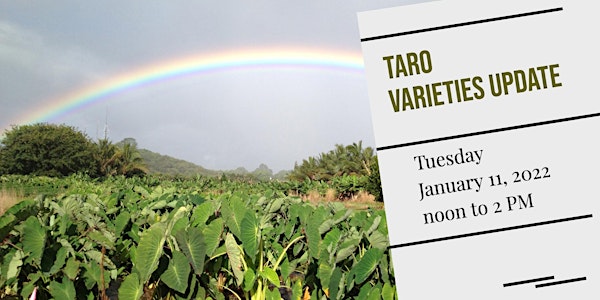 TARO Varieties Update
Research Update on New Taro Varieties: Mini-Conference on Taro Varieties evaluated for Yield, Quality, and Resistance to Taro Leaf Blight
About this event
You are invited to attend the Research Update on New Taro Varieties: Mini-conference on Tuesday January 11 at 12:00 noon to 2:00 p.m. HST. New taro varieties were produced by conventional cross-pollination of taro flowers. The most promising ones were multiplied in tissue-culture, and distributed to College of Tropical Agriculture & Human Resources (CTAHR) Research Stations on the Islands of Hawaii, Kauai, Maui, and Molokai. These new varieties were evaluated for yield, quality, and resistance to Taro Leaf Blight.
TOPICS (Speakers)
Overview of State-wide Evaluation of new Taro varieties that are Resistant to Taro Leaf Blight (Susan C. Miyasaka); Participatory Taro Breeding: A Model for the Future? (James Keach); Results of State-wide Taro Variety Trials (Roshan Paudel); Citizen Science: On Farm Taro Variety Evaluation by Maui Taro Growers (Rosemary Gutierrez); DNA Analysis: Comparing Traditional Hawaiian Taro Varieties to Newly Developed Breeding Materials (Bjarne Bartlett); and Future Research: Where do we go from Here? (Michael Shintaku).
Questions: please contact
Susan Miyasaka, miyasaka@hawaii.edu
or Michael Shintaku, shintaku@hawaii.edu
History of New Varieties
Mr. Christopher 'Popo' Bernabe (UH Agricultural Technician) used conventional cross-pollination of taro flowers to produce hundreds of different individual taro plants. These taro plants were planted in a field outside of Hilo, and evaluated for yield, quality, and resistance to Taro Leaf Blight. After evaluation for two years, the most promising individuals were placed into tissue-culture, multiplied, and distributed to research stations on Maui, Molokai, and Oahu for further evaluation.
more information at
https://sites.google.com/hawaii.edu/taro/home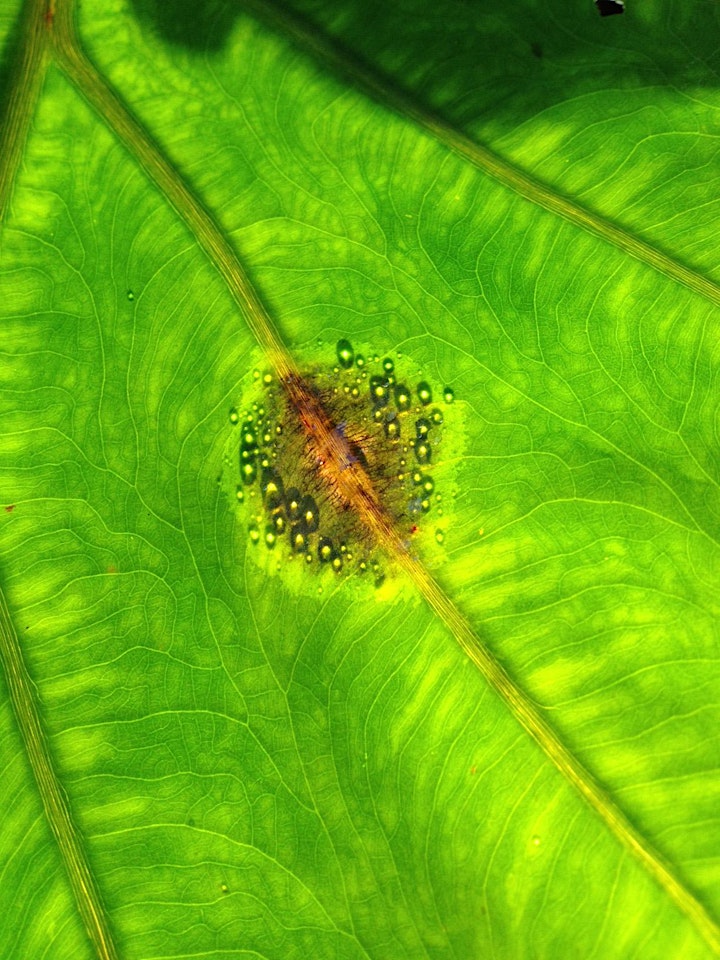 Research Update on New Taro Varieties: Mini-Conference
Tuesday, January 11, 2022 at 12 noon to 2:00 p.m. HST
Program
12:00 – 12:15 p.m. "Overview of State-wide Evaluation of new Taro Varieties that are Resistant to Taro Leaf Blight" Susan Miyasaka, Agronomist, College of Tropical Agriculture & Human Resources (CTAHR), Department of Tropical Plant & Soil Sciences
12:15 – 12:30 p.m. "Participatory Taro Breeding: A Model for the Future?" James Keach, Asst. Extension Agent, CTAHR, TPSS
12:30 – 12:45 p.m. "Results of State-wide Taro Variety Trials (2016 through 2021)" Roshan Paudel, Graduate Research Assistant, CTAHR, Department of Plant and Environmental Sciences (PEPS)
12:45 – 1:00 p.m. Questions & Answers by panel of three speakers Moderator: Mike Shintaku, Interim CTAHR HI county administrator
1:00 – 1:15 p.m. "Citizen Science: On-farm Taro Variety Evaluation by Maui Taro Growers" Rosemary Gutierrez, Asst. Extension Agent, CTAHR, TPSS
1:15 – 1:30 p.m. "DNA Analysis: Comparing Traditional Hawaiian Taro Varieties to Newly Developed Breeding Materials" Bjarne Bartlett, PhD Candidate, CTAHR, Department of Molecular Biosciences and BioEngineering (MBBE)
1:30 – 1:45 p.m. "Future research: Where do we go from here?" Michael Shintaku, Interim CTAHR Hawaii county administrator
1:45 – 2:00 p.m. Questions and Answers by panel of three speakers Moderator: Susan Miyasaka, Agronomist, CTAHR, TPSS