About this Event
Friday December 6, 2019
Tariku
Locobeach
Los Cumpleaños
8pm doors/DJ Bongohead
$10 advance / $15 day of show
Tariku
The music of Tariku is driven by the graceful and ebullient interlocking polyrhythms for which West African music has become famous. This is the region musicologists credit with the roots of jazz, blues, funk, and hip hop, and that sonic DNA is clearly audible in the playing of percussionists Mangue Sylla and Matt Dean, drum set player Avery Collins, and bassist Frank Brocklehurst. Coloring inside these percussive lines are the smooth, elegantly filigreed guitar lines of lead guitarist, Mamady "Jelike" Kouyate, and the swirling yet unerringly precise cascades of young flute phenom Dylan McDonnell. Rounding out the melodic mix, Arouna Kouyate doubles on the kora- a 21 string calabash harp with a tone like the beautiful lovechild of a lute and an oud- and the vocals, whose flavor to Western ears might fall somewhere between Flamenco and the blues. Our influences range from the almost operatic style of classical Mandè virtuosos like Kouyate Sory Kandia and Toumani Diabate, to the golden age West African jazz bands like Balla et Ses Balladins and Bembeya Jazz National. The result is a surprisingly versatile and accessible sound which can be both mild and sweet enough to serve as a unique alternative to a jazz combo or string quartet, or bold and lively enough to drive people onto the dance floor.
Locobeach
LOCOBEACH is the musical moniker of the NYC supergroup comprised of José Luis Pardo on guitars/vocals (Los Crema Paraiso, Los Amigos Invisibles), Neil Ochoa on congas/percussion/electronics (Chicha Libre, Los Crema Paraiso), Joshua Camp on accordion/keyboards/vocals (Chicha Libre, C.A.M.P.O.S., One Ring Zero), Edward Marshall (La Muy Bestia Pop) on bass, and Fernando Valladares on timbales & drums (Guaco). The dynamic group has forged a sound blending cumbia pop and Latin disco with a psychedelic edge. Their debut album is aptly titled Psychedelic Disco Cumbia and is coming out on October 25, 2019 (Dorsal fin Records/Peace & Rhythm).
The tight-knit unit came together through collaborating with each other on other bands. Cheo Pardo met Joshua Camp when he was subbing for the legendary Chicha Libre, which Cheo got introduced to through Neil Ochoa. Joshua and Cheo clicked immediately and Joshua started inviting Cheo to play live for his C.A.M.P.O.S. project, which until then was a one man studio band. The live playing eventually evolved into LOCOBEACH.
Cheo adds "those live shows were fun and marked the first LOCOBEACH shows. We wanted to keep going because we were having fun playing together. I wrote more for the band and after doing a fair share of live shows and getting the band tight we thought it was time to make a record. We wanted to work it old school; try the tracks live, make them tight, bulletproof and then get in to the studio."
Neil, Edward, and Fernando joined in and rounded out the band. The results are diverse, fun, and infectious with classic cumbia meeting psychedelic rock, as well as disco, funk, and Latin house mixed with surf and spaghetti western influences to build a cohesive LOCOBEACH sound that equals "dance music for your brain."
Psychedelic Disco Cumbia came to fruition in a very New York way between busy schedules and recording in tight spaces. Joshua elaborates, "Cutupra Studios, which is co-owned by Cheo and Neil, is a very small space, amazing considering the number of records Cheo has recorded and produced there. The bulk of this album in terms of basic tracks was recorded in just a few hours in the morning when we all had full schedules and quickly dispersed before even listening back to see what we captured. We were pleasantly surprised by the performances when we finally had a chance to listen back to that days work. It's a testament to how tight we had gotten from all the live shows and the talent of the band and how good we all sound together in a very small room!" He adds, "This band reflects the diverse/international city that we all live and work in. The fact that you have musicians from Venezuela, the United States, and Mexico, working and writing together and bringing all of our different perspectives and commonalities to bear on the songwriting and sound. This can only happen in a place like New York!"
Many of the songs on the album strike a unique balance between classic cumbias, Latin dance music, and psychedelic influences. The kickoff track "Dream of the Bell Flower" really gets into the classic cumbias peruanas of groups like Los Mirlos, Los Wembler's and Los Destellos with a psychedelic guitar groove. The title is a reference to a family of flowers that grow in the Amazon all of which have various medicinal and hallucinogenic properties. "Six on the Stairway to Seven" is another composition with classic cumbias peruanas and 60's psychedelic rock in mind. The title playing with references to some very famous classic rock songs, of course. "Javelin" comes from the point of view of the colonized and marginalized. Sung in English with a deeper message, but still a danceable vibe.
"The Devil is a Charmer" is a single already out and brings in some of the band's favorite surf and spaghetti western influences on the tune; Ennio Morricone, The Ventures, and Dick Dale. The next single from the album is "Rata" which is influenced by chicha music. The song takes cues from the Peruvian scene and their use of electric guitars. The lyric refers to "so-called friends" that don't behave and go behind your back, a.k.a. "rats." For the DJs and late night sweaty vibes head to "Guaracheo" for a cumbia house track that goes off on the dancefloors.
The album is a perfect introduction to the LOCOBEACH sound, but only leaves you wanting to see them live. As Joshua states, "We are a well-oiled dance machine! People that have never heard of us before, will be up and dancing within the first song, we're confident of that. At the end of the day we are a dance band and it's our job to get the audience moving." Catch them at a city near you as tour dates will be announced soon.
https://www.youtube.com/watch?v=FM8fNwvC7-o&list=PLVLUzjRwz3XSm5FAEYuIihMb-6yljpU26
https://www.youtube.com/watch?v=-KaLNyoBQ1I&list=PLVLUzjRwz3XSm5FAEYuIihMb-6yljpU26&index=2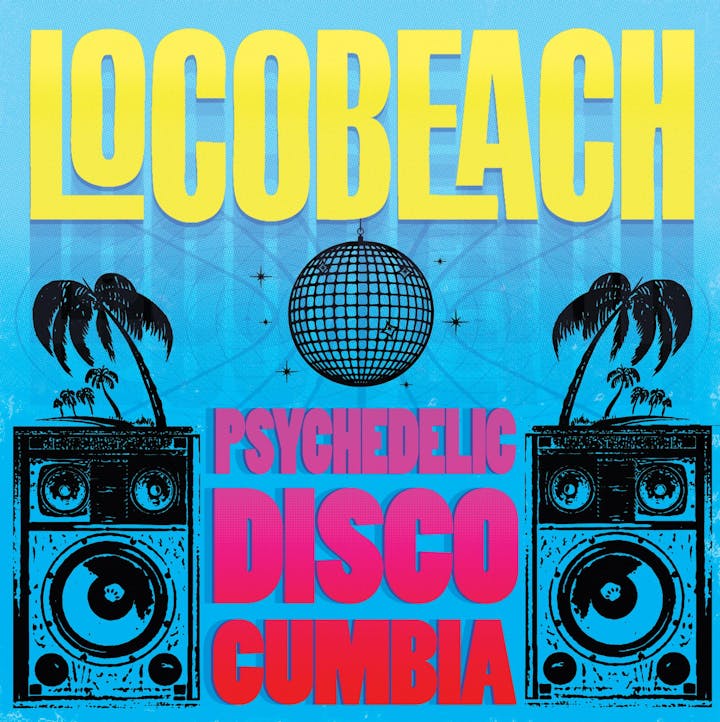 Los Cumpleaños
Los Cumpleaños play tropical rhythms from Colombia washed in psychedelic soundscapes. They seamlessly combine heavy grooves and experimental sounds into a energetic, danceable, one-of-a-kind musical experience. Los Cumpleaños features virtuoso percussionist/vocalist Nestor Gomez from Barranquilla, Colombia, Lautaro Burgos from Chaco, Argentina on Drumset as well as Eric Lane on Keyboards and Alex Asher on Trombone from the USA. Members of Los Cumpleaños have played with a variety of notable artists including: Anival Velazquez, Lizandro Meza, Porfi Baloa y sus Adolocentes, Juan Piña, Alfredo Gutierrez, MAKU Soundsystem, Orquesta Dee Jay, Beyoncé, Joan as Police Woman, People's Champs & The Superpowers.
Performers
Date and Time
Location
Refund Policy