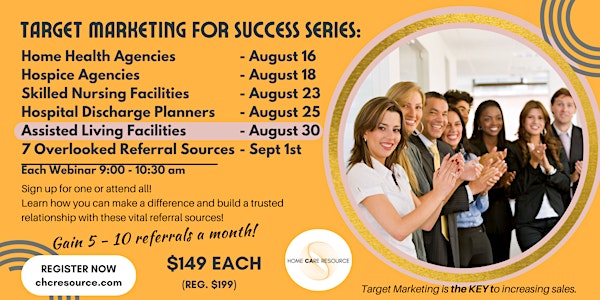 Target Marketing for Success: Assisted Living Communities
You should be receiving 2 to 5 qualified referrals a month from assisted living communities. If you're not, you need this webinar!
About this event
The Target Marketing Formula For HCO Success to Assisted Living Communities
Target marketing can be your key to increasing sales
Learn everything you need to know in this 90-minute webinar with a focus.
The primary reason why most of the home care organizations fail to grow quickly is because they do not have an effective marketing plan to attract assisted living community customers and grow their sales and profits.
Today, we are going to introduced a 7-point formula which can guarantee to grow qualified referrals from assisted living communities successfully without wasting time and money on unproductive marketing.
You will learn everything you need to know to start generating qualified referrals from residential care and assisted living communities.
What is assisted living services
Why do assisted living communities need home care organizations
How to find assisted living communities
What are the requirements to receive home care in assisted living communities
Understanding the assisted living community's business
The formula for turning pain points for assisted living communities into solutions by your home care organization
How to add value to your assisted living community customers
Added Bonus: we guarantee that you will learn at least two (2) new things today!
Who Should Attend?
Owners of Home Care Organizations
Licensees of Home Care Organizations
Administrators
Sales and Marketing Directors & Representatives
Investors in Home Care
Learn from the Sales Experts!
Edwin Peterson and Kira Anthofer, TrustedADVISERS at CA Home Care RESOURCE and experienced sales champions!
Cost: $149.00 - Valued at $199
ACT NOW! Sign up for one or all six in the series.
Registration: Zoom Information is sent out 90 minutes before the start of the event.